The design competition deadline is extended to 2pm Friday 19 November, as leading architects Piers Taylor, Anna Liu, Jonathan Hagos and Garreth McMahon join the judging panel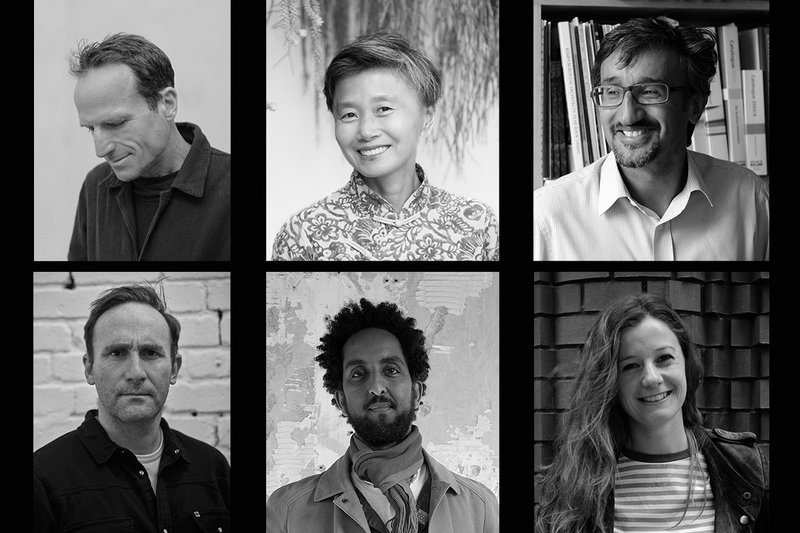 Judges for Wanderer's Wonder (clockwise from top left): Piers Taylor, Anna Liu (credit Alex Peacock), Iqbal Johal, Isabelle Priest (credit Charlotte Collins), Jonathan Hagos (credit Ivan Jones) and Garreth McMahon (credit Aidan Monaghan).
Architects Piers Taylor, Anna Liu, Jonathan Hagos and Garreth McMahon have been announced as the judges for the RIBA Journal Wanderer's Wonder competition, held in partnership with the Galvanizers Association. The panel will be joined by Iqbal Johal from the Galvanizers Association and chaired by RIBAJ acting managing editor Isabelle Priest.
A one-off free-to-enter competition for 2021, Wanderer's Wonder calls for proposals for a fun, playful building or structure for rest and recuperation that would enhance a walk in the great outdoors – rural or urban, near to home or far, in which you could spend a few minutes or stay overnight.
The brief is purposefully broad, and designs can include any imagined facilities, perhaps inspired by ideas gained during lockdown walks. The only conditions are the structure be sustainable and use galvanized steel. Judges will be looking for projects that demonstrate circular economy principles and designs that ideally exhibit galvanized steel's structural and/or aesthetic qualities.
The competition is open to qualified Part 1, Part 2, Part 3 architectural students and architects, and entries should be laid out on no more than two A3 sheets.
The judges will choose one overall winner as well as three highly commended proposals. Prizes include £1,000 for the first place while the three runners up will receive £250. The winner, highly commended and shortlist will be published on ribaj.com, and in the print edition of RIBA Journal in February 2022.
And there is now more time to enter as the deadline has been extended to 2pm, Friday 19 November.
About the judges
Piers Taylor, founding director of Invisible Studio and TV presenter
Taylor is an architect and the founder of Invisible Studio, a multi award winning practice that works internationally. He studied in Sydney, Australia and at London's Architectural Association. He holds a PhD in architecture from the University of Reading. Taylor is specifically interested in rethinking practice and in 'contingent making' as an opportunity for empowerment, rather than merely as a mechanism to project fully formed ideas onto inert space. He started Studio in the Woods in 2005, which is an influential summer school where ideas are tested at 1:1. He was a design fellow at the University of Cambridge and the inaugural studio master on the Architectural Association's Design & Make Masters Programme. Invisible Studio's work has been published internationally, and Taylor has lectured widely about the work of the practice. He lives between an olive grove in Greece and the UK in a self-built house in a 100 acre Woodland that he manages alongside practice. His studio was built by unskilled 'amateurs' from waste thinnings from the woodland.
Anna Liu, founding director, Tonkin Liu
Liu is an architect with more than 18 years of experience. She founded Tonkin Liu with Mike Tonkin in 2002 and leads the studio's public landscape and sculpture projects. Her experience has encompassed practice and teaching in the UK, China, Japan, in the US where she grew up, and in Taiwan where she was born. Liu has also been a tutor, examiner and juror for leading architecture schools and awards, including at the Architectural Association and for the RIAS Building of the Year. Tonkin Liu won the architecture category of the Galvanizers Association annual awards for Old Shed, New House in 2018.
Jonathan Hagos, founding director, Freehaus
Hagos is a director of Freehaus. He is an RIBA conservation registrant and has a wealth of experience delivering sensitive, civic focused design interventions to existing buildings and within historic contexts across the country and abroad. He has taught at various UK universities, and is an external examiner at Oxford Brookes University as well as an Ardagh Young Creatives Mentor at the Design Museum. Hagos sits on the Quality Review Panel for the London Legacy Development Corporation and the Hackney Regeneration Design Advisory Group. In 2020 he was named as one of the Architects' Journal's '40 under 40'.
Garreth McMahon, co-founder and director, MMAS
McMahon is a co-founding director of architecture and urban/rural design practice MMAS, based in Belfast. He is responsible for the creative direction and management of the practice, which has recently been recognised as an RIBA Practice Role Model. Client and community focused, he aspires to make buildings, spaces and places that are contextually sensitive and socially conscious, with the ultimate ambition of contributing to a higher standard of built environment within its regional urban and rural surroundings. Current projects include a number of public realm proposals, including Castle Place, a public realm scheme to revive a city centre area of Belfast that has suffered a drop in footfall since the pandemic. McMahon has also worked as a design tutor and guest critic at Belfast School of Architecture and Ulster University.
Iqbal Johal, marketing manager, Galvanizers Association
Developing the Association's marketing programme forms a major part of Johal's work, including production of technical literature, continuous professional development material and specific communications strategies. Johal sits on the editorial board of the internationally distributed Hot Dip Galvanizing magazine and chairs the judging panel for the association's annual GAGA competition that focuses on the diverse use of galvanized steel. He has also contributed to the panel for the triennial Global Galvanizing Awards.
Isabelle Priest, acting managing editor, RIBA Journal (chair)
Priest joined RIBA Journal in 2015 having worked previously at Architecture Today, The Architects' Journal, The Modern House and 10 New European Architecture in Amsterdam. She has a degree in architecture from the Bartlett (UCL) and later graduated from there with distinction in MA Architectural History. She is an award-winning journalist, having been shortlisted for multiple International Building Press awards and having won the Architecture Writer of the Year category in 2016 and 2019.
---
Wanderer's Wonder timeline
2pm Friday 19 November: Closing date for entries (extended from original deadline of 15 November)
End of November: Judging process
January: Publication of all shortlisted entries on ribaj.com
February: Publication of winner and commended in RIBAJ February issue
For more information and to enter Wanderer's Wonder 2021 competition click here
---