Collaborating with manufacturers and fit-out specialists is the key to creating fully inclusive, sustainable solutions for shared spaces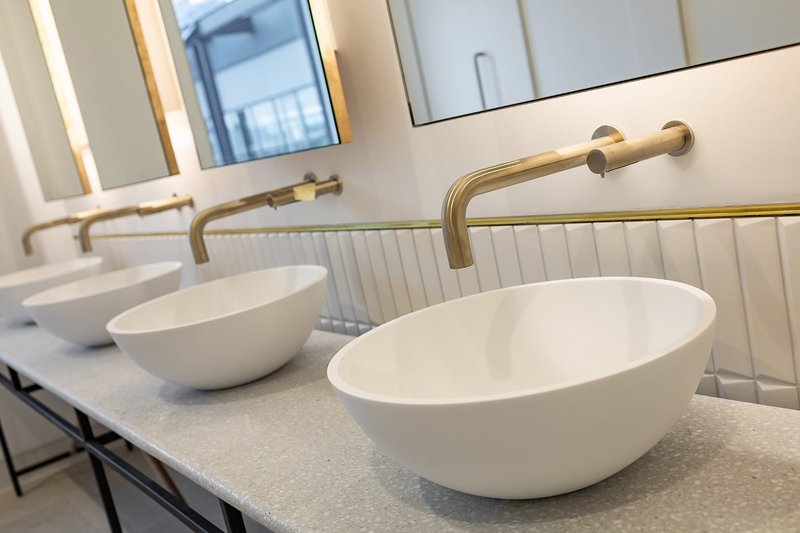 Washroom Washroom and Cre8: Vanities manufactured using reclaimed crushed Diespeker marble.
Designing common area for offices is all about considering aesthetics alongside the practical demands of a workplace.
Washroom, shower, tea point and reception desk solutions must all meet the needs of staff, visitors and business owners alike.
One of the key themes of current office design is inclusivity; creating a workspace that appeals to all and feels comfortable for everyone.
But accessibility doesn't have to come at the expense of aesthetics.
The superloo: Making office washroom facilities accessible to all
One example of this is the superloo: a self-contained cubicle including toilet, vanity unit and hand-dryer, designed so the user doesn't need to share space with others for handwashing and drying as in traditional washroom layouts.
Superloos can be easily designated as gender neutral or unisex facilities – making them more inclusive and accessible to everyone.
They are typically housed behind a full-height, floor-to-ceiling door so offer more privacy.
Superloos offer a space-saving solution and a way to maximise available floor space - something that is particularly useful for refurbishments in older buildings.
With the right material specification superloos can add another dimension to office design.
Ensuring sustainable specification
Sustainability is a driving force for refurbishments and new-build office projects. Working to SKA and BREEAM Excellent standards requires all members of a supply chain to play their part and choosing the right materials can make a big difference.
Getting manufacturers and fit-out specialists involved in the initial design and material specification stage may offer up alternative materials that are manufactured more sustainably, will last longer or need less maintenance.
Ensuring only FSC-certified timber is used will also impact on a project's sustainability credentials.
Man-made materials, which can be created to resemble natural materials such as stone, often bring with them a host of high-performance benefits too, making them more durable for a long-lasting finish.
Collaborating with manufacturers and fit-out specialists
Working with washroom and interior fit-out experts such as Washroom Washroom and Cre8 Joinery Solutions is an ideal way to make sure specifications meet the needs of all stakeholders.
On a recent joint office refurbishment project, the two companies manufactured bespoke vanity units using crushed Diespeker marble reclaimed from the floor of the reception area. This provided a link back to the original design through the new washroom areas and reduced material waste, making the project more sustainable overall.
Washroom Washroom has a superloo range called Your Space. It is fully bespoke and customisable so can be created to suit any design, from ultra-contemporary to heritage for older buildings.
For more information and technical support, visit washroom.co.uk and cre8joinery.co.uk
Contact:
0800 999 8888
---