Washrooms are reaching new levels of design excellence. Washroom Washroom's Iconica Collection brings together wood veneers, anodised aluminium and Corian for the ultimate bespoke feel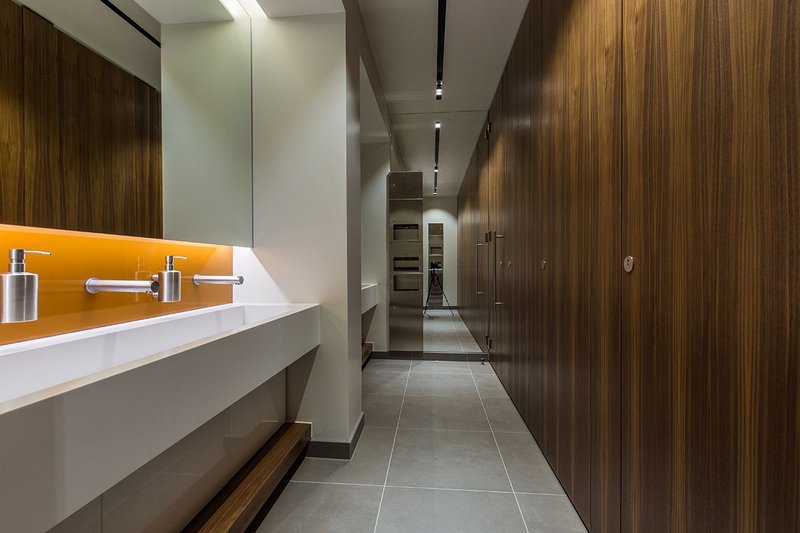 Washroom Washroom's Iconica Collection.
The demand for bespoke, design-led washroom spaces continues to gather pace. It's a trend which has shaped the development of Washroom Washroom's stunning Iconica Collection. Ideal for projects demanding exacting aesthetic and performance standards, Iconica gives architects and specifiers the tools to create quality, stylish washrooms and showers to suit the most discerning of clients.
High specification materials
Material choice is everything. Using materials not traditionally associated with washrooms such as solid surface Corian, anodised aluminium, cast acrylic, Silestone and real wood veneers is an ideal way to create a unique design.
Innovative products like Fenix NTM, which has a tough acrylic resin surface with a super matt appearance and boasts anti-bacterial properties, are becoming more readily available. Washroom's Alto FENIX toilet cubicle, is available in 15 different shades, providing the perfect balance of form and function.
Unusual finishes
Iconica provides virtually endless design possibilities across washroom cubicles, vanities, benching, lockers and integrated duct panelling. Its vast array of finishes including textured glass, stainless and textured steel, acid etching and anodised aluminium plus huge choice of colours and the option to incorporate digitally screen printed designs are perfect for those looking for a unique design.
Bespoke designs as standard
Features such as integrated handbag shelves, concealed consumables or duct panelling which doubles up to offer concealed storage enable architects to create a unique washroom space designed around clients' individual needs.
The Iconica Collection is designed to inspire so is not simply a finite range of products, but a flexible, tailored solution.
For more information and technical support visit: www.washroom.co.uk
Contact:
0800 999 8888
---