Revamped glass brick captures solar power as light passes through it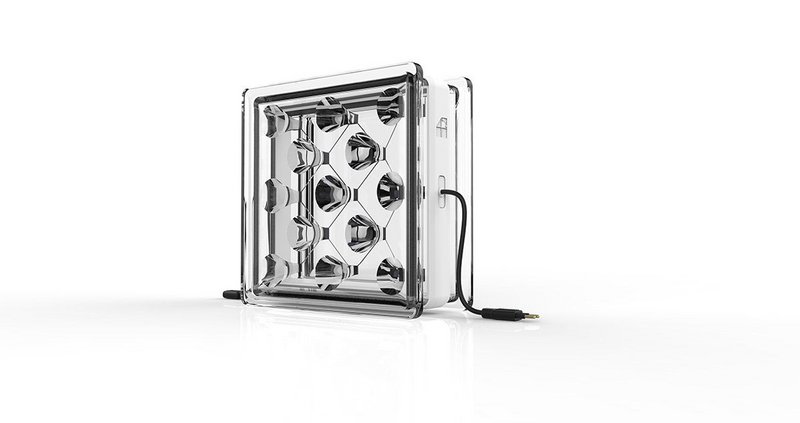 The humble glass brick may have had its heyday in the 1980s, but a group of researchers from the University of Exeter has given it a 21st Century revamp with a product able to generate electricity from sunlight.
Academics from the engineering, mathematics and physical science department have created Solar Squared, a patent-pending design for a solid glass brick embedded with optical elements that focus sunlight onto a series of small solar cells.
The product simultaneously functions as a method of power generation, a building material with a high level of thermal insulation, and a source of high levels of natural daylight, say researchers.
It forms part of a drive by the department to incorporate solar technologies into the building envelope and so overcome the limitations of standard solar technology – such as its large area requirement and negative visual impact.
Solar Squared is based on the concept of concentrating photovoltaics, whereby sunlight is magnified and focused onto a solar cell. An intelligent inner optic is designed to harness the maximum amount of sunlight as the sun moves across the sky throughout the day and collect diffuse components of sunlight, making it suitable to capture solar energy in urban areas.
Subject to testing and certification, the product will be available in three different configurations that deliver different levels of daylight and electricity generation, depending on where the bricks are installed. Those on a south-facing facade would be able to generate similar power to conventional PV array, say researchers.
Thermal insulation performance may exceed that of existing glass bricks, says Dr Hasan Baig, who led the project and is based at the Environment and Sustainability Institute in Cornwall: 'The inclusion of the solar optic system and small pockets of air inside the bricks reduces convective heat transfer, which significantly cuts the U-value. We plan to inject argon glass into the system, similar to conventional glass bricks, which will reduce U-value even further, to help it outperform existing glass brick products.'
According to Baig, the team has received 'hundreds of emails' from people keen to apply the bricks in different types of architecture.