What is the role of tactility in the built environment and are designers at last poised to add texture to their repertoire? The RIBA Journal brought together a group of architects to discuss
Bitter, sweet, umami… We have an extensive vocabulary to articulate our sensory experiences of taste. But, says webinar chair Eleanor Young, there is no comparable lexicon for touch; to describe it we must resort to similes and comparisons. This linguistic insufficiency does a disservice to architecture; when advocating for a particular specification, perhaps, or arguing against value engineering, it poses a challenge for designers if there is a struggle to express the haptic qualities of a material.
This webinar, in partnership with fibre cement facade materials manufacturer Equitone, sought to answer the questions: How can designers create more texture in architecture? How can we create a tactile city? How can we use materials from the high-tech to the local in creating a multi-sensory environment?
Helping delegates get in touch with their senses and perceive texture in metaphysical ways, the webinar began with a short film excerpt from Equitone's highly regarded Texture in Architecture CPD, which was created with Building Centre poet Lionheart, whose well respected work explores 'emotional inhabitancy'.
Handling a range of materials - paper, fruit, textiles, construction materials - he explored his emotional responses and the memories evoked. 'Texture makes me feel alienated and welcomed,' he observed. 'This could be a spiritual understanding.'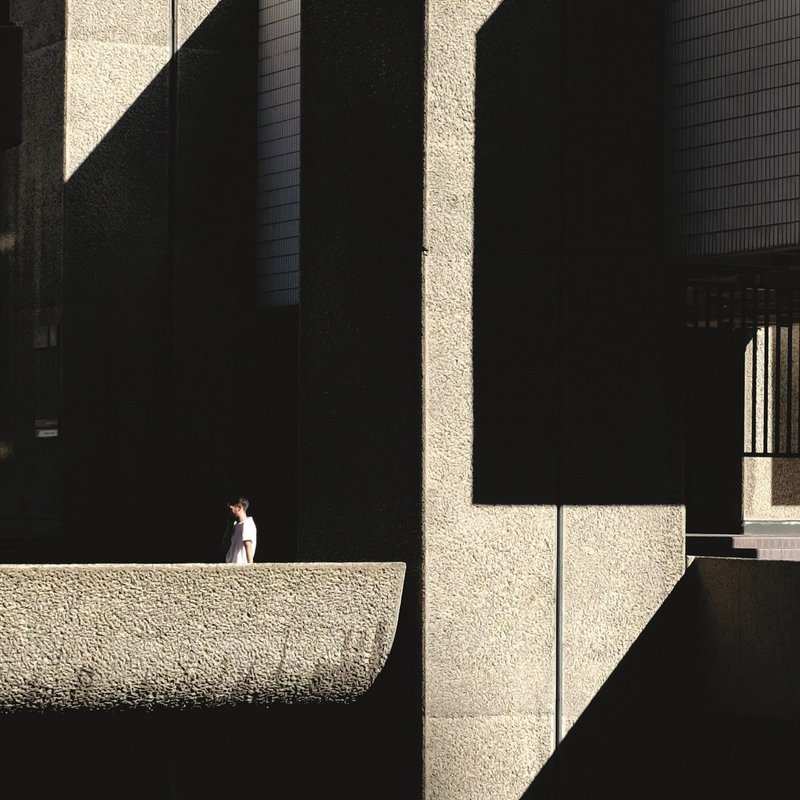 Tactile finishes at the Barbican.
Annelie Kvick Thompson next talked us through some Grimshaw projects that embrace texture. The undulating roofs of Southern Cross Station, Australia, and the geometric ceilings of Pulkovo Airport, St Petersburg, for example, exploit the performative aspect of texture at both the building scale and in fine grain detail, balancing out the massive scale of the structures to create dramatic spaces. Acoustics, lighting and wayfinding were some of the practical outcomes.
The Aspire mixed use tower, Australia, illustrates an unexpected relationship between texture and climatic conditions; its facade treatment is designed to reduce wind speeds. Massing and the articulation of uses within a building are further topics, leading to the point - as at the Eden Project - that texture can be contextual, characterful and fun.
Partner at hospitality architecture specialists Dexter Moren Associates, Herbert Lui, talked about translating texture into form. One fascinating project by the practice is the 'Cornette', Louise House, Westminster.
The context of the residential block is as a former hostel run by the Daughters of Charity. The cornette headpiece worn by the order of nuns consists of starched sheets of material folded to a dramatic sculpted effect; this was used as inspiration for a contemporary mansard roof. This geometric and sculptural roof created texture at high level, which cannot be touched, but nevertheless adds to the urban grain to create character and interest.
'We can create texture in a non-physical way,' argued Lui. Other examples included the Spartak Otkritie Stadium, Moscow, where the gladiatorial namesake led to the chainmail-inspired glass armature on the exterior, and The Guardsman hotel, London, whose filigree metal panels at ground floor create engagement and generate a legible streetscape.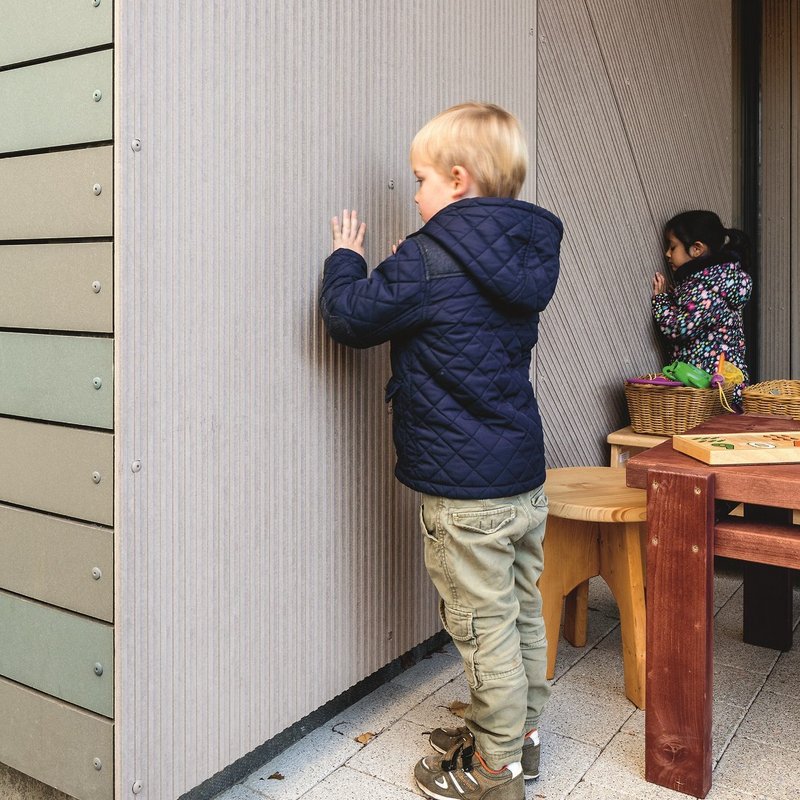 Children feeling textures at their nursery.
'We live in a 3D world'
The second part of the webinar consisted of a panel discussion between the two main participants, with questions from the audience and chair, the first question - a poll to which the audience responded 59 per cent, yes, to 41 per cent, no - being: 'Was texture part of your education?'
For Lui, the answer was not straightforward. No, the topic was not directly addressed as part of his architectural degree, but his interest in the macro scale, of liminal spaces, and of dystopian cities, led to a preoccupation with architectural journeys.
When considering how to get from A to B, he explains, his attentions were then forced to the micro scale, with finer details including texture adding interest to the architectural experience. Work in practice, specifying products, helped both of the architects to develop a more nuanced and practical understanding of textures in materials.
On the topic of particular cities and the textures that characterise them, Young talked about the crystalline structures, solidity and cold textures of granite lending a hard monumentality to places such as Aberdeen.
Lui talked of Cretan stone houses and deriving warmth from the sun-bathed stone. Kvick Thompson contrasted her experience of living in New York, Sweden and London; the former (in the 1990s) was replete with somewhat stark glass buildings, whereas contrastingly, Scandinavian architecture employs extensive natural materials and textures. London's diversity in architectural styles, in contrast to both of these cities, she mused, offers an enormous spectrum of building materials and attendant textures.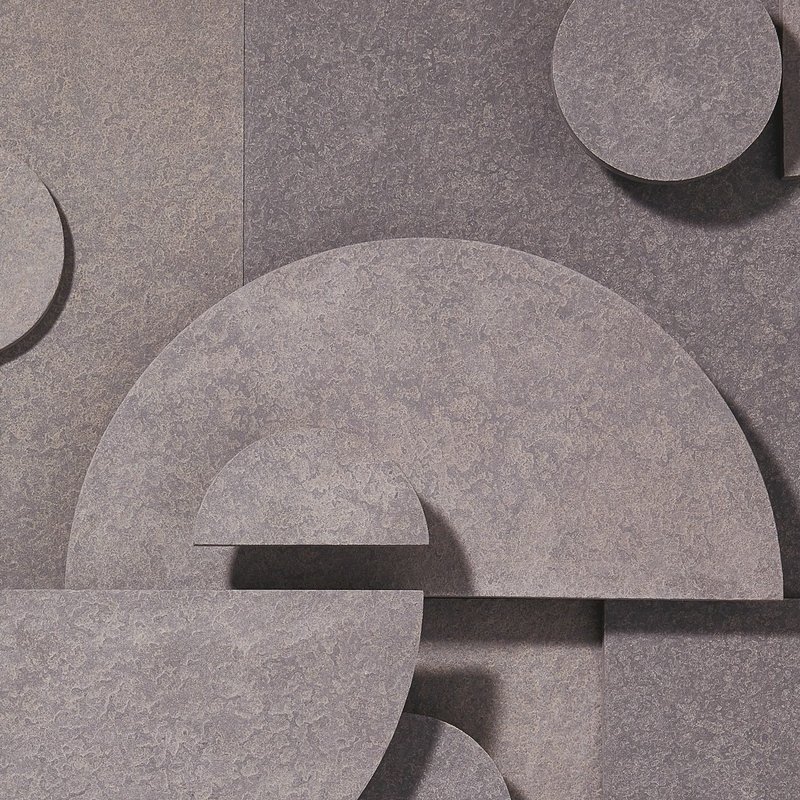 Equitone cladding texture Lunara.
The discussion then moved onto the animation of textures. Lui argued that while shadow-play within a building is a passive means of deriving animation, moving components such as mechanical louvres offer an active means of playing with the non-physical textures occasioned by light.
'We live in a 3D world,' added Kvick Thompson. 'How you as a person move through a building, seeing things at different angles, sometimes subconsciously, moving at speed or meandering along… texture is a big part of that. It brings out the depths of buildings. That is how you get that sense of movement. Bits of buildings that you touch and come into contact with operate differently to those which you see at a distance.'
'Would you encourage people to touch your buildings?' asked the audience. Kvick Thompson answered with a resounding yes: 'We assume people touch them.' Lui discussed the potential of interior architecture to facilitate this tactile experience. 'Surfaces in architecture are quite hard and not nice to handle, they are rough,' he said. 'There is more scope when you take the design inside… in terms of architecture and especially in interior design there is more opportunity to design something that encourages people to interact more intimately with the building.'
But why stop there? The seminar ended with a film by Karolina Grudzien of Belgium-based architects UNA/A, discussing the textural qualities of sponsor Equitone's new Lunara cladding range, inspired by the unpredictable qualities of the moon's surface. Made of water, air, cement and fibres, this contemporary, mineral surface brings unity to a building's appearance, while its irregularity offers a complexity of textures.
This webinar has demonstrated how texture operates at the human scale, the building scale and the city scale; why not the interplanetary scale?
This event was chaired by RIBAJ editor Eleanor Young and featured speakers:
Herbert Lui, partner, Dexter Moren
Annelie Kvick Thompson, partner, Grimshaw
Also appearing:
Lionheart, poet and RIBA Fellow
Karolina Grudzien, architect, UNA/A
To see the whole webinar, catch up with the on-demand video below
This webinar was produced in association with Equitone
---