As the drive towards a carbon-free future gathers pace, the construction industry could be missing a trick when it comes to exploiting wood – in all its uses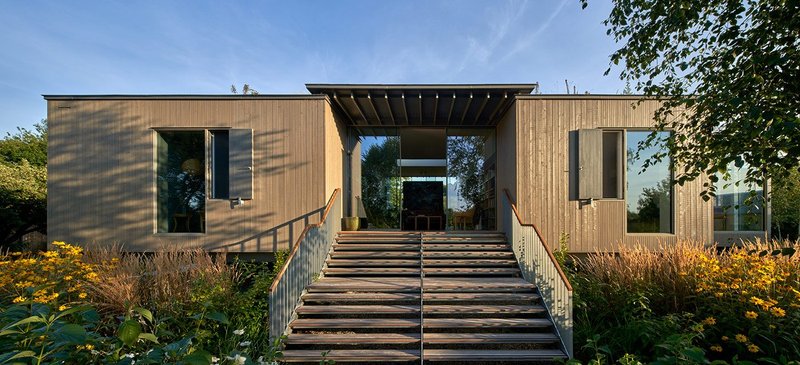 Knox Bhavan's riverside March House in Berkshire.

Credit: Edmund Sumner
In the absence of sustainable specification guidance from the government, it feels sometimes like it's industry driving sustainable practice in construction, leaving policy-makers trailing behind. But given the current energy crisis, putting pressure not just on the cost of heating and cooling homes but on the fabrication costs of industry supply chains, policy-makers should be pushing the idea that architects need to be doing more with less, and further embedding energy efficiency in designs. Surprisingly, even clients seem to be jumping aboard; look at The Office Group's commission to Waugh Thistleton for the UK's first mass timber workspace. Such inspired client-side forward-thinking is a balm to architects convinced that their sustainability arguments are not being heard.
As was highlighted in RIBAJ PiP's special report, even local authorities are looking at building energy-efficient homes, motivated by the Department for Energy Security & Net Zero's 'Building for 2050' report and the likes of the Better Social Housing Review panel.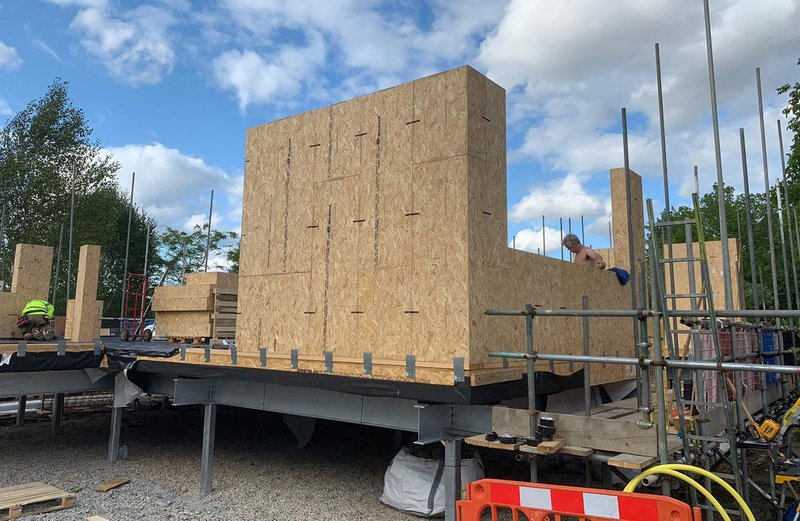 The SIPS panels saved programme time and dealt well with challenging site logistics.

Credit: Knox Bhavan Architects
Pollard Thomas Edwards' partner of sustainability and innovation Tom Dollard now is working with Cambridge Investment Partnership – an alliance of the City Council and Hill Investment Partnerships – to develop Passivhaus-equivalent schemes of 6-70 units for social rent and market sale. Dollard describes Passivhaus as 'the optimum fabric-first solution' designed around low-cost, low-energy principles that are easy to embed if designs are considered from the outset. The use of structural timber in housing can be key to ensuring that designs are low in embodied energy as well as low energy in use. With structural timber banned in buildings above six storeys, perhaps we will see more of this when Approved Document B, over time, better grasps the nettle of mass timber's fire physics to treat it more as a norm than a perceived 'risky' material.
And where might timber work in retrofit? The UK Green Building Council states that, despite having one of the oldest and leakiest housing stocks in western Europe – two thirds of homes are EPC rated 'D' or below – 80% of the homes we live in today will still be inhabited in 2050. To meet zero carbon targets, 29 million homes will need retrofitting by then, but with demands to make home more airtight, architects should keep in mind the mantra 'no insulation without ventilation.'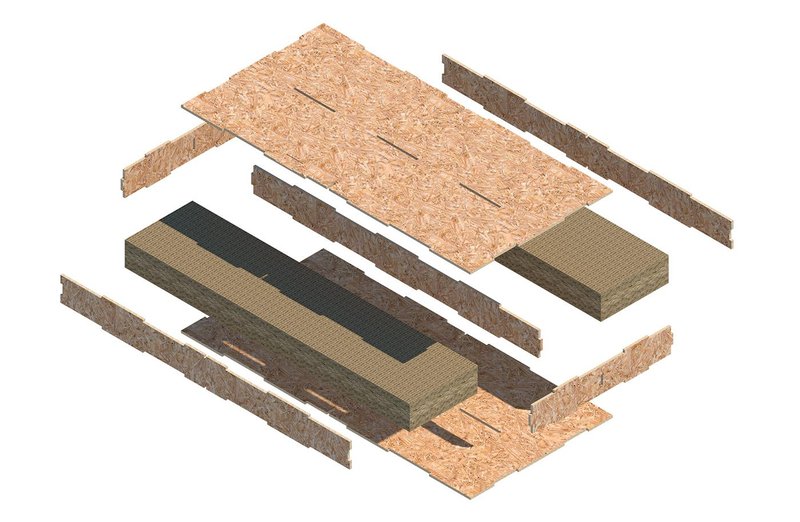 The simple insulated timber panel construction methodology.

Credit: Knox Bhavan Architects
Letting walls breathe using lime mortars, plasters and notably timber batt insulation systems means good insulation values need not result in troublesome and harmful moisture build-up in homes.
But architecture has an aesthetic component, and integrating this with building performance, reaches the 'sweet spot' of design; take structural insulated panels, which embody the best of both. London practice Knox Bhavan's bespoke SterlingOSB Zero panel system was developed with specialist digital fabricator BlokBuild, for its RIBA Regional Award-winning March House. Saving time and money on programme and logistics for a bespoke home in Berkshire has married high performance with stunning aesthetics to realise truly aspirational architecture. It proves that sustainably sourced timber, well-designed and constructed, can help us all in the drive to a zero carbon future, and that wood will always have the power to wow.