Last chance to nominate your favourite biophilic spot in London for the chance to win an Apple Sport Watch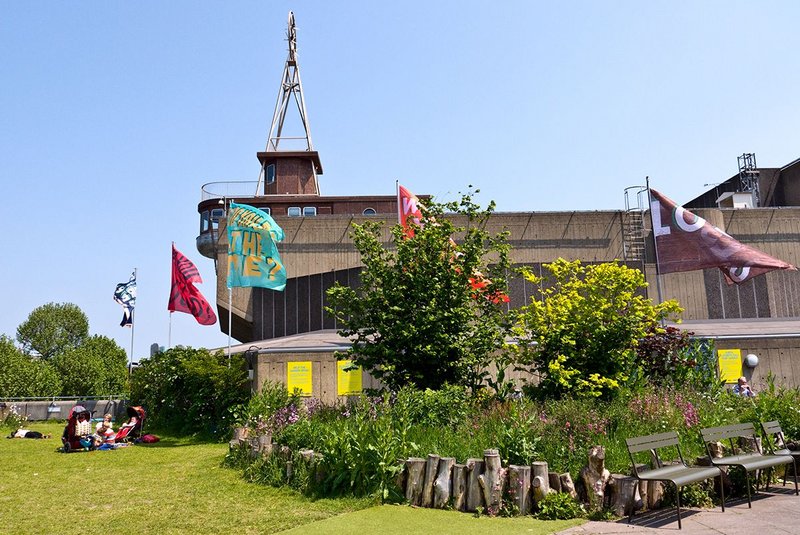 Launched last month, Interface's search for London's most outstanding nature-inspired spaces is heating up. From football stadiums to office blocks, rooftop gardens to tourist attractions, there's been a wonderfully diverse array of biophilic spaces nominated so far – and there's still time to nominate your favourite to be in with a chance of winning an Apple Watch Sport.
Biophilia describes our innate attraction to nature and the many benefits that stem from this connection. As the stresses of urban living continue to grow in our modern society, buildings that are inspired by and create a strong connection to nature are becoming increasingly vital to provide much needed relief and a sense of calm.
Indeed, a growing body of research has demonstrated how biophilic design, or access to natural elements, can improve our health and well-being. The Human Spaces Report: The Global Impact of Biophilic Design in the Workplace, for example, shines a light on the positive impact natural elements can have on productivity and creativity in a workplace. And the benefits of biophilic design are not just limited to workplaces, it has been proven to have a positive impact in other environments, such as hospitals and schools.
So, to celebrate biophilic design and encourage everyone to find their own sense of nature in London, Interface launched the search for nature-inspired spaces as part of its mission.
Working with architectural, interior and biophilic design expert Oliver Heath and director of Open City Rory Olcayto, Interface is planning to showcase some of these nature-inspired spaces in London in a unique guide to the city.
Although there are many types of nature-inspired spaces in London, there are a number key principles that form the foundation of biophilic design, including:
Spaces that provide direct contact with nature
On a basic level, this means incorporating plants and trees. However, it can also include non-visual stimuli that engage the senses, including sounds such as bird song, or smells such as those from a herb garden. A great example of this is the Sealife London Aquarium. Located on the South bank of the river Thames, the aquarium allows visitors to experience the water and animals using a series of glass walkways and windows.
Spaces with enhanced natural light
Natural light in particular has been shown to have a significant positive effect on the well-being of building users. Designed by Foster + Partners, the British Museum's inner courtyard is the largest covered public square in Europe. The two-acre space is enclosed by a spectacular glass roof which maximises natural light, while creating a calm, inspiring space.
Spaces with a sense of materiality that connects with nature
This principle is about architecture and design that uses biomimetic forms and natural materials, such as timber and stone, to create visually stimulating and rich environments. Cathedrals, with their soaring arches, repeated patterns and natural stone are a wonderful example of design that mimics nature. The positive effects are accentuated when considering the sense of calm and peace that being inside the building can engender. One of the most fundamental aspects of a building is the flooring. This can be one of the most simplistic foundations for incorporating biophilia. Interface's Human Nature modular flooring collection, for example, is inspired by the most elemental landscapes – pebbled paths, rocky mountain faces and grassy fields. These provide designers with the creative freedom to mimic natural landscapes and patterns.
Spaces that evoke a psychological human response
When we look at spaces inspired by nature there is a wide spectrum of psychological responses that they can elicit which may be beneficial to our well-being. There are spaces, such as parks, that create a sense of calm or refuge from the urban sprawl. Alternatively, there are spaces that elevate our sense of excitement. For example, at Tower Bridge there is a glass walkway situated 42 metres above the Thames. The glass floor allows visitors to look down on the water, buses and boats crossing beneath, which is exciting, terrifying and intriguing all at once. The unifying thread between all nature-inspired spaces is that they are mentally stimulating and will in some way heighten our senses, offering the potential to improve productivity, creativity and ultimately general well-being.
The deadline to nominate your favourite nature-inspired space in London is 31 March 2016. Nominated spaces can be indoors or outdoors, public or private, a small corner or a whole building, anywhere that can help people restore, recuperate or energise.
One lucky nominator will also win an Apple Watch Sport, while 10 runners up will receive a limited edition Interface laptop bag, made from beautiful carpet material.
Nominate your favourite nature-inspired space here.
For more information about Interface visit: www.interface.com
---