A surge in relocations to the regions is seeing a dynamic office sector reinvigorate some of our major cities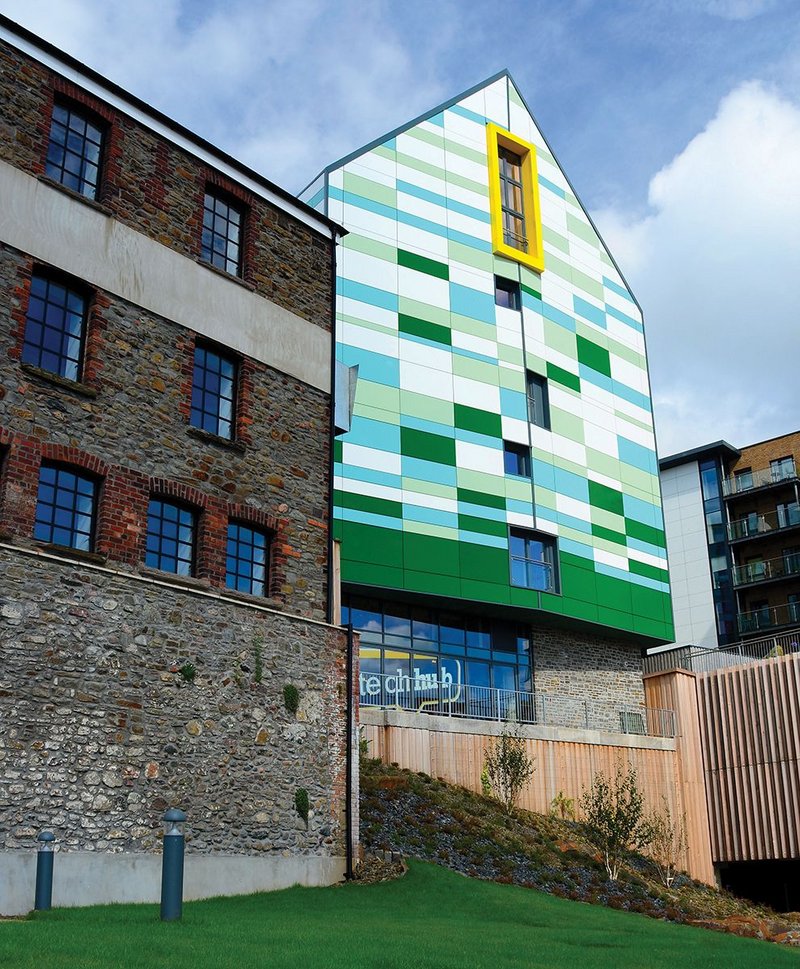 Holder Mathias' £25 million Swansea Creative Cluster for client Coastal Housing Group, forming an 'urban village' in the town centre.
When Charles Dickens wrote his famous opening lines to A Tale of Two Cities, 'It was the best of times; it was the worst of times', he was describing the very different situations in London and revolutionary Paris. Today city fathers around the UK may be wondering which of those extremes could apply to their own domain. The opportunities presented by devolution and metro mayors, and the government's industrial strategy green paper, must be balanced against continuing public sector funding pressures and the political and economic uncertainty of Brexit.
The city centre office sector has long been an indicator of city prosperity: in this climate attracting property investors, developers and businesses has become more important than ever before. Global competition to win investment is fierce; Birmingham City Council, buoyed by the planned HS2 rail link to the capital, travelled to Qatar earlier this year to woo investors. Much could be riding on the supply and quality of space now being brought through the pipeline: it has the potential not only to bring prosperity to the city, but also to influence UK working practices and productivity, and regenerate and shape the cityscape for the future.
'Regional office markets have all been going through quite a strong period,' says Jon Gardiner, head of national office agency at property consultant Savills. 'Most have been massively undersupplied. One driver in that has been a feeling of decentralisation away from London.' Even tech companies are now looking far beyond Old Street to Glasgow, Manchester or Bristol, adds Steven Lang, Savills' director of commercial sector research. They're being lured away from the capital by value for money and other attractions, he points out. 'The appeal of a city like Bristol is the quality of life, as well as its compactness.'
If present trends continue, cities could be under pressure, Gardiner believes. 'The question is where will the supply come from in 2018, 2019 and 2020? Many cities are light on grade A development, so the issue is financing when the appetite's there. Most occupiers are averse to pre-letting, but the office market is pretty robust.'
Glenn Howells Architects' One St Peter's Square development in Manchester.

Credit: Edmund Sumner
Supply lines
In some cities a shortage of grade A space has ­already prompted pre-lets. This three-tier classification for office accommodation judges space according to amenity, aesthetics, age and infrastructure. Cardiff has seen major deals for Public Health Wales at 2 Capital Quarter and BBC Cymru Wales at the flagship mixed use Central Square scheme, which is being developed by Rightacres Property. 'That's boosting regeneration opportunities,' says Rhydian Morris, director of office agency in Cardiff for property consultant JLL. Poor quality buildings close to the city's station are ripe for re­development, he explains. 'That was the missing bit of the puzzle, but corporate occupier interest in being close to the station is presenting the opportunity to regenerate.'
Like many cities, Cardiff has seen other uses taking office space out of the market. 'This has squeezed out some tertiary refurbishments – often of 1960s-1980s space – and is now creating opportunities for good quality refurbs,' Morris says. Poor quality space in Manchester has been converted to uses from housing to hotels. 'The grade C market is shrinking. We've seen a cross-section of stock taken out,' reports Rupert Barron, partner at WHR Property Consultants.
Manchester has its own changes on the horizon with devolution, a spatial framework in the making and Joanne Roney stepping into Howard Bernstein's shoes as council CEO. Barron is, however, bullish about the city's prospects. 'Manchester's leaders have always got on with it and delivered results,' he says. 'We've clearly got to watch the economy, but there is a potential space shortage, because the uncertainty immediately after the EU referendum slowed development starts. We're now looking at refurbishments coming through'.
A lack of new development is also driving refurbishment activity in Glasgow, with schemes like 100 Queen Street, where Comprehensive Design Architects is carrying out a phased makeover for developer Esson Properties. Ewan Cameron, partner in agency and development for property consultant Ryden, explains: 'We're looking for the next wave of new build activity, but Brexit and the possibility of a second independence referendum have created uncertainty. We need to be building large floorplate grade A schemes to compete with other cities.'
But some cities are getting a significant and timely boost from the relocation of government departments and agencies. The Government Property Unit is rationalising its estate, releasing surplus land and buildings and centralising operations. Under the strategy, 137 local HMRC offices are being replaced with 13 regional hubs in UK cities from Glasgow to Bristol, and the search is on for their locations. 'HMRC will be very good news for Glasgow,' says Cameron. 'It will be a pre-let and very large scale for the city, so it will hopefully trigger more activity.'
Quality in identity
The government's property plans are prompting interest for other reasons, says Bill Page, chairman of the British Council for Offices (BCO) research committee, and research manager, business space, at Legal & General Investment Management Real Assets. 'The government is investing in the right internal spaces. It can't compete on salary with the private sector, so its using real estate to help attract and retain talent.'
The 'race for talent' has become a mantra in corporates' human resources departments. The BCO's What Workers Want survey of 2016, co-authored by Stephen Lang, found those wants included working in a city or town centre location, with public transport and amenities nearby. Developers are responding to such aspirations, says Glenn Howells director Dav Bansal. 'Proximity to transport is key, and as regional cities are spending on infrastructure that is helping to generate opportunities for development'.
The significant change that commercial development brings to the cityscape, however, often leads to questions about local identity. Bansal also sees renewed interest in placemaking in commercial development, with clients wanting to fit into the city rather than stand out. 'Commercial developments are becoming part of the fabric of the city, reinvigorating the civic heart with workplace. Occupiers like the idea of being part of the civic scene, and it helps attract good staff,' he explains. The practice's Paradise masterplan in Birmingham completes Joseph Chamberlain's concept for Chamberlain Square, weaving in the business presence, while its One St Peter's Square scheme in Manchester is part of a family of civic buildings.
Like cities, office developments are themselves becoming more mixed and dynamic. Bansal recalls working in Birmingham's Custard Factory when his working week would end with the sounds of a band warming up downstairs. 'Boundaries are blurring. It's not about the old business district, the sterile public realm and the receptionist sitting in isolation,' he says. 'Now developers are spending a lot more time getting the ground floor to work well, because that in turn creates the place.'
This dynamism can increase the power to regenerate places. On the fringe of Swansea's city centre a mixed use scheme, led by Coastal Housing Group, has brought flexible workspace for creative and start ups as part of a community that includes housing. The brightly coloured Creative Cluster at Swansea Urban Village is part of a scheme dedicated to regenerating a run-down area. 'Before we started this, there was not much office demand in the city – there was old space in the city centre or space out in business parks. The scheme has created a market,' says Terry Morley, partner at Holder Mathias Architects, the scheme's designer. The architect is now looking at a follow-on scheme nearby.
Local identity can also be expressed on the inside of buildings, through interior placemaking, says Linzi Cassels, design director at Perkins + Will. Cassels talks of engaging staff in competitions to design meeting rooms, to bring out the factors that matter to them, such as the history of the business. 'Often office projects are trying to change culture in a business and involve change management. Part of that is about bringing in local nuances,' she says. 'When I'm working on a project in a city, I don't want the clichés of that place, so if you can talk to people about what makes their city important, it makes for a more authentic interior.'
But whatever the space, location and budget, one word that seems to recur in cities across the UK is flexibility. 'We're already blurring the boundaries between education and workplaces. There's a nervousness about the future direction of the workplace – technology is developing so rapidly,' says Cassels. City councils, investors and developers may have to look forward with an open mind. As Bansal says, 'Large flexible floorplates are in demand now, but in 20 years' time things could be very different.'
---
Occupier mash-up
Across the UK, the occupier market has become polarised: on one side are the corporates with their efficient, sleek interiors, and on the other, techies and creatives in industrial 'defurbs'. 'The key to reconciling them is to remain authentic to the traditional working practices of the corporate sector, while providing an environment that offers a sensory experience and encourages inspiration, collaboration and engagement,' says Mark Davies, principal director at tp bennett. 'That means making working areas to meet different working styles and tasks. The corporate industries are aware that if they want to compete for today's talent, they need to offer spaces with aesthetic impact'. At the same time, the tech sector is coming of age. 'The gimmicks are going,' says Savills' Steven Lang. 'People have seen through slides, treehouses and table football. They want good space.' Across the market, there's a growing demand for simplicity, says Savills' Gardiner: 'We are seeing an appetite for bare surfaces, light and volume – more of a blank canvas.'