Ideas of collaboration and productivity, flexible working and innovative technologies will transform our workplaces
Hit TV comedy The Office hilariously exposed the shortcomings of the modern day workplace, where browbeaten employees struggle to find motivation from a psychobabble boss in a bland environment of beige carpets, rows of cluttered desks and stark fluorescent lighting.
Almost 15 years on, the way people work has radically changed, but the design and layout of most office buildings has not. Despite the widespread use of mobile technology, staff preference for remote working and the proven benefits of social spaces and natural environments, most offices are still organised around the same rigid principle of a permanent desk, or cubicle, with a hard wired desktop PC, and different departments performing different functions but set out in similar ways.
The result is chronic under-utilisation of office space. Global observational studies have shown that on average, workspaces of all kinds are only occupied 42 per cent of the typical day.
In the future, creating dynamic and comfortable workplaces will be vital as companies try to attract and retain skilled employees in the face of a global talent shortage, forecast in Europe, the US, China and Japan (a result of aging populations and declining growth rates).
Intelligent offices
Meanwhile, the ongoing march of technology will impose new space and infrastructure requirements, enabling offices to function more intelligently, monitoring and controlling functions such as ambient temperature, security systems, lighting, fire and life safety systems intuitively in real time.
Architects will have to adapt to meet the challenges of this brave new world, says Greg Lindsay, a workplace design expert and author: 'I find it fascinating that there is a litany of business literature about the importance of disruption to working patterns to improve creativity and productivity, by changing teams, altering their food and environment etc, yet we still work in offices that are designed once and typically last 10 years or more without a refresh.'
He adds: 'Workplace design today reflects the formal hierarchies of how work is supposedly done, yet we know from studies that work actually gets done in an informal, less structured way. The question for architects designing the offices of the future is: how do you do a better job of reflecting that, rather than struggling against it by producing the same pointless buildings over and over again?'
Some projects already attempt to break with traditional hierarchies and create workplaces that inspire employees to greater creativity and productivity. One theory, that personal interactions correlate directly with performance and innovation, is central to architect NBBJ's design for Google's new US headquarters in Mountain View, California, which is set out specifically to maximise casual employee conversations. Every worker inside the 1.1 million ft2, multi level complex is expected to be within a 2½ minute walk of each other, connected via an 'infinity-loop'-shaped pathway that slopes through the building.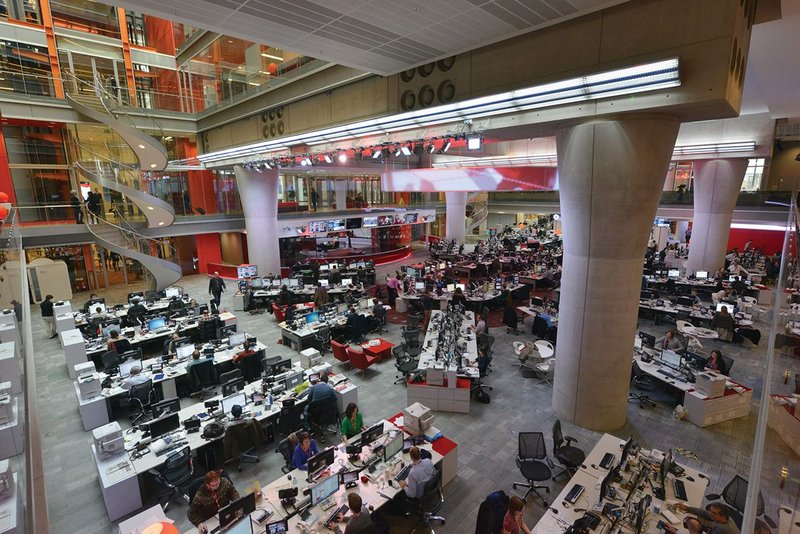 MJP's original open plan design for the news room at the BBC's new Broadcasting House – supposedly negotiating the new world of work

Credit: BBC Images / Jeff Overs
Chance meetings
A similar, but more modest, technique is employed at the BBC's new Broadcasting House headquarters in central London, where staff can have chance meetings in large units akin to American diner booths in common areas. And Samsung's plans for its new US headquarters will include vast outdoor areas sandwiched between floors where it is hoped engineers and salespeople will mingle and exchange ideas.
This trend is supported by new data, gathered using network analytics and from sociometric badges that capture workers' interaction, communication, and location information. A study published in Harvard Business Review last year, co-written by Greg Lindsay, found that face-to-face interactions are by far the most important activity in an office, and that chance encounters and unplanned interactions between workers can improve performance.
Biophilia is the latest buzzword in workplace discussions, focused on the idea that some exposure to natural elements – such as views of the outside, natural light, plants, natural sounds like bird calls or water – contributes to improved mental and physical health.
The concept underpins the design of the Second Home office in Shoreditch (RIBAJ February 2015), where workers sit among 1,000 hydroponic plants, cared for by two gardeners and with a plant hospital in a courtyard.
The two storey refurbishment, by Spanish practice SelgasCano (the brains behind this year's Serpentine Pavilion), was also informed by insights from evolutionary psychology, says client Rohan Silva: 'Humans evolved over thousands of years in environments full of fractals and curves, complexity and seasonality, so there is not a straight line in the design. And reflecting the variety in nature, no two chairs are the same; we have 600 different mid-century Bauhaus originals.'
Second Home functions more like a café than an office, and similar to the campuses of US tech giants Apple and Google, it is engineered to bring people together to share knowledge and networks, most obviously in a ground floor restaurant and a central hot desk 'roaming' area, which becomes an events space at night.
We will have to think differently about what the purpose of the office is, or even if office is the right word for where work will happen in the future
Curated offices
Significantly, it is one of the first 'curated' offices in the UK, where tenants are selected to complement and share information with one another in the hope of driving innovation.
'The innovations cycle is so fast today, that big companies want to be close to early stage innovators, which requires curation to choose carefully how you bring people together,' says Silva, the prime minister's former technology advisor, and who manages the process with fellow entrepreneur Sam Aldenton. 'Our approach is that you can only apply for a studio with us if you are either referred or recommended to us. We have a preference for companies at the interface of different industries, be that tech and financial services, or life sciences and innovation. So far we have turned down around 80 companies that we didn't feel were right.'
This concept of the office 'community manager' is miles apart from the typical use of agents or brokers to fill vacant office space based on cost per square metre. 'The problem with the property industry today is a building gets designed and built, then you more onto your next project, but here we are going to be actively stirring the pot indefinitely, pulling new people together in different arrangements. Spaces need to be designed with that in mind,' he adds.
Increasing flexibility in how and where people work is likely to create an explosion of 'nomadic' workers able to work almost any­where at any time. Running parallel to this, increasing reliance on mobile devices and virtual online networks will alter the notion of peoples' actual physical connection to a work space.
All this will throw into question the very idea of the office and its function, with work extending to the outdoors, public spaces and building types not normally associated with jobs.
'We will have to think differently about what the purpose of the office is, or even if office is the right word for where work will happen in the future,' says Andrew Laing, author of 'Work and Workplaces in the Digital City', and global practice lead at Aecom's strategic business unit Strategy Plus. 'Architects need to break away from the typical "functionalist" programming of building types for single use activities. The opportunity in the future is to look at buildings from a multi-use perspective and to recognise that activities can blend together in new ways.'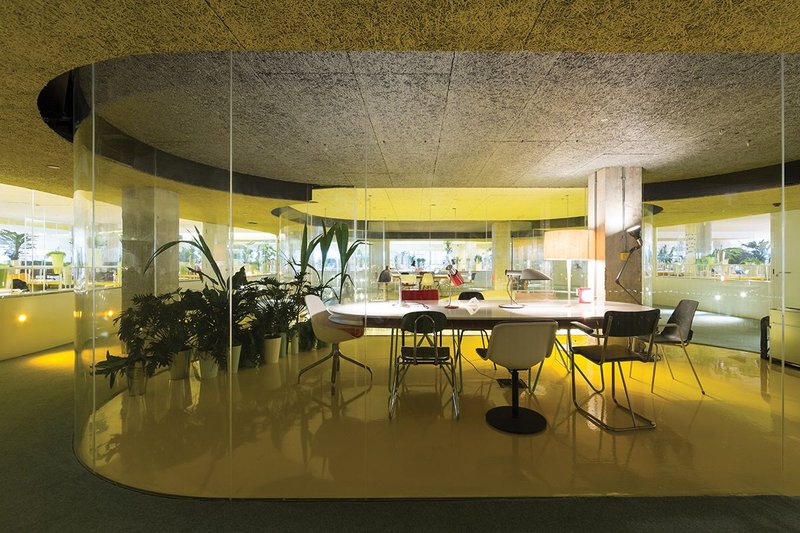 SelgasCano's 'Second Home', a workspace whose design is not the only thing that's curated – the occupants are too.

Credit: Iwan Baan
Engaged with the users
As a result design will need to be a more user-engaged process, as creating a programme for a hybrid, multi-functional environment means understanding the profiles of various users and what activities they perform over 24 hours. He adds: 'It is no longer just about space; it's about technology, patterns of use, new ways of using space and enlarging architects' responsibilities to think about design in a new way.'
The communal workspace in the lobby of the Ace Hotel in New York is an example of the blurring of typologies we might see in future. This large columned space with its long tables of co-workers and comfy sofa 'chill out' areas has recently become a famous gathering place for technology, fashion and media employees who use it to work online and network face-to-face, while being entertained and drinking coffee.
None of this will necessarily mean the death of the conventional office, but it might see its reinvention. In the future there could be a proliferation of small co-working centres able to handle basic office functions, located across suburbs, closer to where people live, which operate in conjunction with main offices where important staff meetings are held.
'The office will still be a place where you have specialised technologies useful for collaboration, or more sophisticated equipment that help us connect virtually in ways not suited to tablets or smartphones, such as telepresence video conferencing,' says Laing. 'Large screens enabling users to manipulate data and imagery are going to become more important, and are more suited to larger permanent office environments.' It's a bold vision of things to come, which might one day make the typical office the subject of admiration, rather than jokes.
---