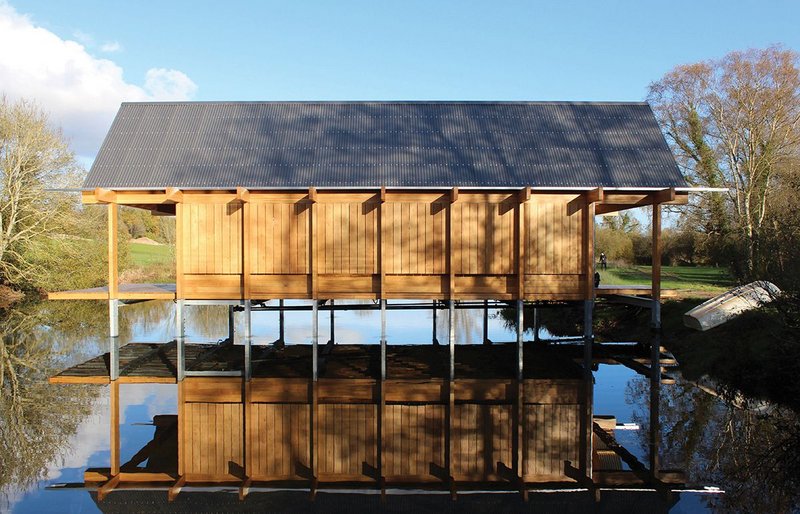 When closed the hut presents satisfying rhythms to the viewer.
Set on a man-made lake that was originally built as a fish farm, fed by a river that defines its southern boundary, the Fishing Hut has been designed for a fishing consortium. It is a place from which to take advantage of the fact that the river provides some of the best fly-fishing in the UK.
The hut provides a secure place to store boats and fishing tackle, and is also a meeting place and shelter for anglers. Boats can be moved in and out of the water under a covered mooring. The structure has been designed to be as open as possible when in use to maximise views of the rural landscape, but can be closed and secured when not in use.
Eighteen pad foundations support nine galvanized steel goalpost frames, and these in turn support the timber floor structure and glulam oak superstructure. The roof consists of softwood rafters, clad internally with oak boards and externally with profiled aluminium sheeting on larch battens. There are 10 bays of 1.8m. A pair of bays at each end form open decks, partly covered by the overhanging pitched roof.
Below the eaves, shutters and cladding of open-jointed timber planks enclose the six central bays. This enclosure comprises a weather-tight internal space of four bays and a semi-enclosed storage area. The first bay of the internal space contains an entrance lobby, WC, kitchenette and dining area. The other three bays form an open-plan space enclosed by sliding glazed screens. The storage area beyond contains a loft for boats, an external shower and a covered mooring with a removable floor and water gate.
This building is classified as agricultural for planning purposes and, when closed, its pitched roof and the handling of the cladding refer directly to the construction of modern agricultural buildings. The untreated exterior timber will weather to match the silver-grey of the roof cladding and steel supports.
Shutters pivot horizontally upward from the eaves, making the enclosure disappear, leaving you on a deck beneath the pitched roof.
In contrast to the exterior, the timber of the enclosed interior will retain in its warm golden tone, revealed and reflected in the water as the peri­meter shutters are opened.
Every detail of this building has been carefully thought out and carried through and the way that it opens up to the surroundings is a delight. As one of the judges said, 'Who wouldn't want one of these?'
Location: Hampshire
Architect: Niall McLaughlin Architects
Structural engineer: Price & Myers
Main contractor/builder: Inwood Developments
Joinery: Inwood Developments
M&E consultant: Max Fordham
Timber consultant: Wood Architecture and Building
Electrical engineer: RS Birch and Partners
Plumbing/heating contractor: Design Heat Winchester
Quantity surveyor: Ridge & Partners
Project manager: Padstone Consulting
Landscape designer: Imagination Design
Wood suppliers: EC Forest Products, East Brothers Timber
Timber: European oak from France, Douglas fir from southern England
---
---