WINNER
The Observatory: The Study and The Workshop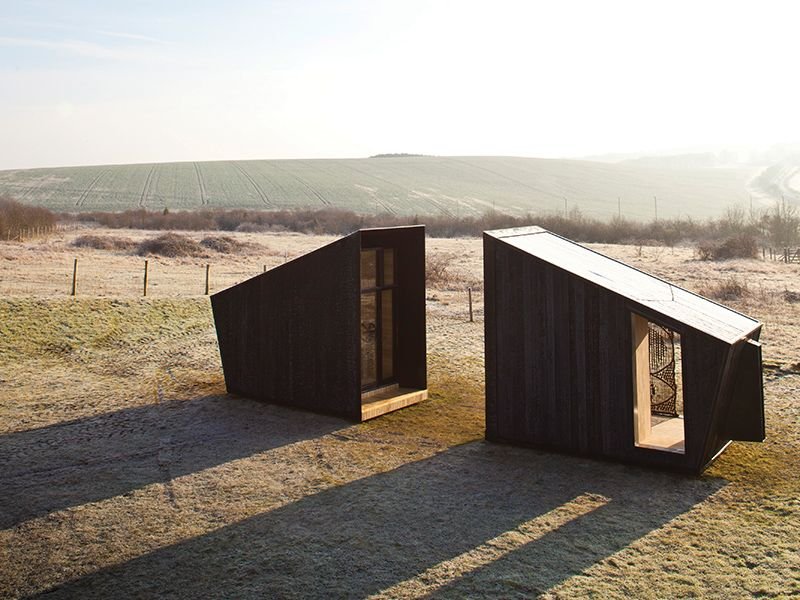 The Observatory in its original location beside Winchester Science Centre.
These two small structures, each of which can be rotated manually, were a response to a competition brief for a mobile and sculptural building to house 12 multi-disciplinary artists over a two-year residency in remote landscapes and coastal locations. The prefabricated cabins, an artist's studio (The Study) and a public shelter (The Workshop), can be transported together on an 8m by 2m truckbed.
Externally, both of The Observatory cabins are in charred homegrown larch and imported Siberian larch with a 'test bed' wall clad in a variety of charred timber including cedar, oak and chestnut. The design team is researching and monitoring the effects of time and weathering on the various species on the test wall and on the imported and home-grown larch, which has had varying treatments.
The timber was burnt using Shou Sugi Ban, a traditional Japanese method of burning and preserving wood economically and sustainably. It involves assembling a chimneystack of several braced timber planks, which burn from the bottom upwards, charring the timber within a few minutes. It is a field that is still largely unexplored in architecture, and the design team will record and monitor how the timber fares.
A durable hand-made screen, created by artist Edward Crumpton from the traditional fisherman's tool of tarred marlin rope, connects The Observatory with its coastal locations and landscapes.
The judges were impressed by the imaginative response to the brief, by the project's interaction with the landscape, and by the provision of much-needed research into the durability of charred timber.
Location: Various (currently Lymington Keyhaven Nature Reserve)
Architect: Feilden Clegg Bradley Studios
Main contractor/builder: S&S Construction
Engineer: Unitspark
Joinery: S&S Construction
Wood supplier: James Latham
Client/owner: SPUD
Timber: Siberian larch, home-grown native larch, Canadian western red cedar, home-grown native chestnut, European oak, Coillte Smartply, structural softwood Tricoya, Accoya
---
HIGHLY COMMENDED
Helix
The Healthcare Innovation Exchange (HELIX) Centre's new design studio sits in the grounds of St Mary's Hospital as a hub to engage frontline NHS staff and patients as design collaborators. The Kerto structure consists of interlocking portal frames that stabilise the building in two directions while achieving the relatively large clear span roof. Inside, the timber frame is incorporated into bookcases and shelving that help to create a dynamic workspace for creative research. The judges admired the thinking that produced this appealing and unusual prefabricated building.
Location: London
Architect: Royal College of Art architecture students
Structural engineer: AKTII
Main contractor/builder: Millimetre
Joinery: Millimetre
Environmental design: Max Fordham
Cost control: Gardiner & Theobald
Wood suppliers: Sydenhams, Lathams
Client/owner: Imperial College
Timber: Kerto-S LVL from Finland, WISA-Spruce and WISA-Birch plywood from Europe, European engineered oak
---
SHORTLISTED
Flower Kiosk
Location: London
Architect: Archio (previously Buchanan Partnership)
Long Sutton Studio
Location: Long Sutton Studio, Hampshire
Architect: Cassion Castle Architects with Tom Lloyd