Waugh Thistleton explains its specification choices for a sustainable office building that put wellbeing and productivity high on the agenda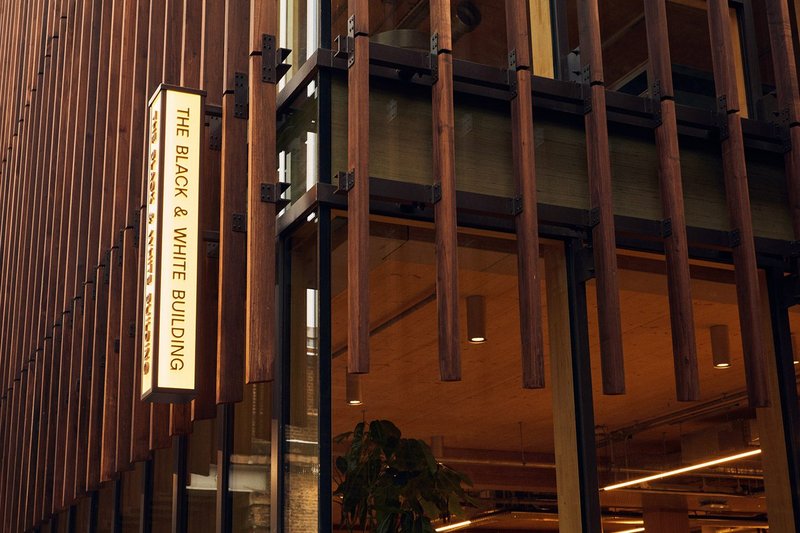 The Black & White Building by Waugh Thistleton Architects.

Credit: Jake Curtis
The Office Group's Black & White Building in Shoreditch marries wellbeing and productivity with environmental and sustainability ambition. This boundary-pushing building has a fully engineered timber structure and sets a benchmark for sustainability.
Material optimisation was key from the outset and the design evolved from the idea of an 'architecture of sufficiency' with each component designed to be as efficient as possible and almost purely functional. A celebration of tectonics, the design is expressed through the constituent parts, avoiding excess or unnecessary flourishes. Its beauty stems from the inherent qualities of each layer and material without decoration.
The simplicity of this fully engineered timber office building belies its ground breaking innovation. The structure has 37% less embodied carbon than its equivalent in concrete and steel. Biogenic, regenerative materials have been prioritised in both construction and fit out, creating a welcoming and calming space that treads lightly on the environment.
It was designed for The Office Group, a provider of design-led workspaces, which operates more than 50 buildings in London, Leeds, Bristol, Berlin, Hamburg and Frankfurt. TOG's portfolio of workspaces serves over 20,000 members, including both individuals using flexible multi-workspace membership and organisations leasing complete offices and buildings.
It was a meeting of minds. TOG wanted a building that made a statement about who they are; a manifestation of the firm's commitment to sustainability. It was keen to avoid building with carbon intensive concrete and steel and approached us to realise this ambition. We ran with this, designing a building which reduces its carbon impact in construction, operation and at end of life: the structural elements have been bolted together to make a fully demountable building that can be reused or recycled.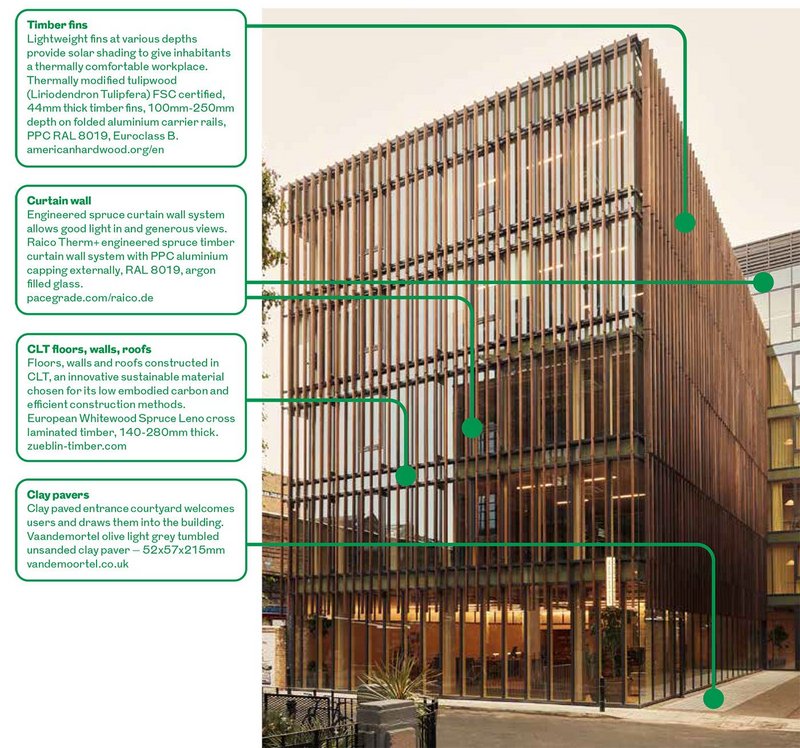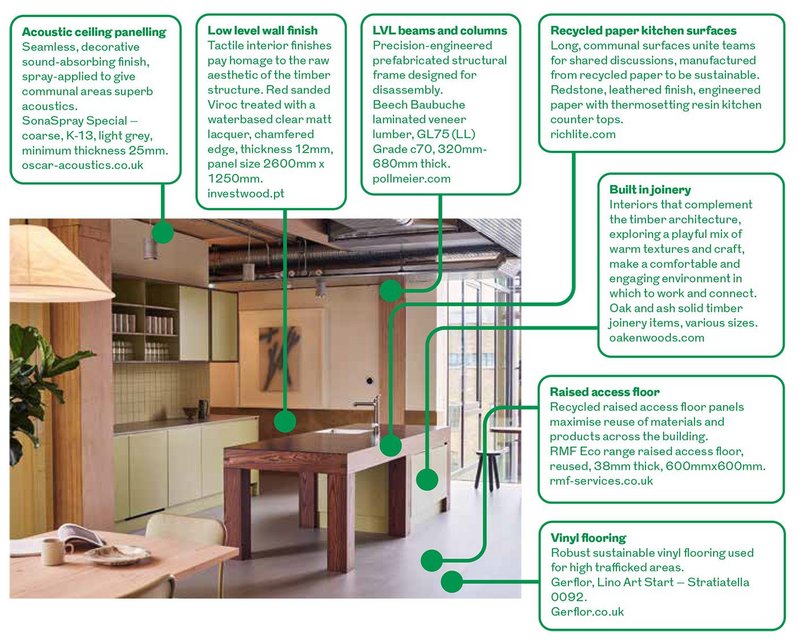 Gross internal floor area 4,480m²
Gross external floor area 4,906m2
Form of contract or procurement route Design & build
Construction cost £17.8m
Net internal floor area (base build) £3628/m2
Credits
Structural engineer Eckersley O'Callaghan
Structural frame specialist Hybrid Structures
Façade engineer Eckersley O'Callaghan
M&E consultant EEP
QS Gardiner & Theobald
Interior designer Daytrip Studio
Planning consultant DP9
Fire engineer Hoare Lea / Sweco
Acoustic consultant Paragon Acoustics / Sweco
Project manager Opera
CDM co-ordinator Sweco
Main contractor MidGroup / Parkeray