Three tile solutions offer specifiers different levels of sound absorption to suit everything from healthcare settings and data centres to libraries and board rooms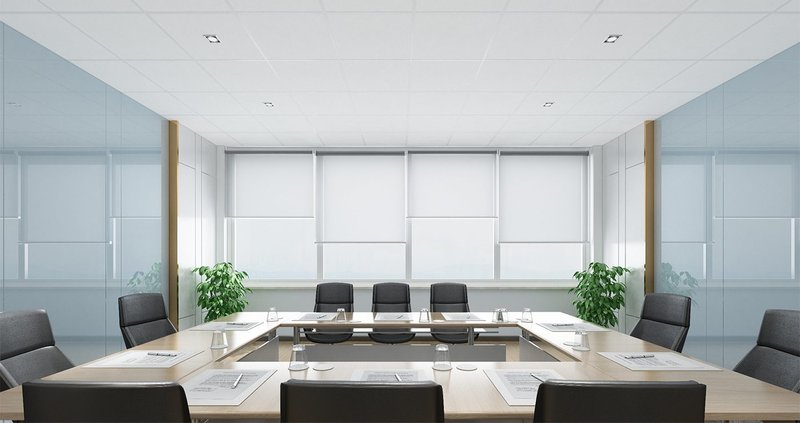 Zentia Ultima+ ceiling solutions are now known as Prestige. Prestige dB is ideal for smaller meeting spaces and board rooms.
Ceiling solutions manufacturer Zentia has renamed Ultima+, its brightest and whitest tile. Now called Prestige and relaunched on 25 October, the expanded range offers specifiers three reliable, bespoke solutions for different client needs.
Solution 1: Prestige
The flagship product, Prestige, is a smooth, finely textured laminated tile that provides good sound absorption and attenuation for perfectly balanced acoustical performance.
Except for the dB range and SL2 Plank options, the tiles are made in the UK. They contain up to 37 per cent recycled content and are available in 35 colours, offering practical and creative solutions for a range of environments, including meeting rooms, waiting areas and data centres.
Solution 2: Prestige hA+
Prestige hA+ has the same sleek, smooth aesthetics, but also forms one of Zentia's most sound-absorbent suspended ceiling tile solutions to date, making it ideal for open-plan areas that require calm and quiet, such as libraries and healthcare settings.
As well as an outstanding acoustic performance, this ceiling system has a reinforced scratch-resistant face and impressive environmental credentials, being 100 per cent recyclable.
Solution 3: Prestige dB
Prestige dB limits noise being transmitted through ceiling voids. It is suitable for areas where privacy is a main concern, such as individual offices and boardrooms.
Prestige dB tiles offer the same aesthetic finish that Zentia has become known for and can be specified, as with the rest of the range, in a range of different shapes and sizes, giving specifiers more creative freedom.
Zentia is committed to reducing the environmental impact of its products and the Prestige family will be the first laminated product to be added to its Pinnacle Partner offcut recycling scheme.
Through this scheme Zentia promises to take back and recycle all offcuts of Prestige tiles from its approved Pinnacle Partners on future projects, reducing the amount of waste going to landfill sites.
Zentia manufacturers UK-made, high quality, cutting-edge ceiling tile solutions that offer the best solutions for their clients.
For more information and technical support, visit zentia.com

Contact:
0800 371 849
marketing@zentia.com
---