Flexible, malleable and durable, zinc can create imaginative forms and textures. In six contemporary projects, six architects work wonders with the material – and it has been in use longer than you might think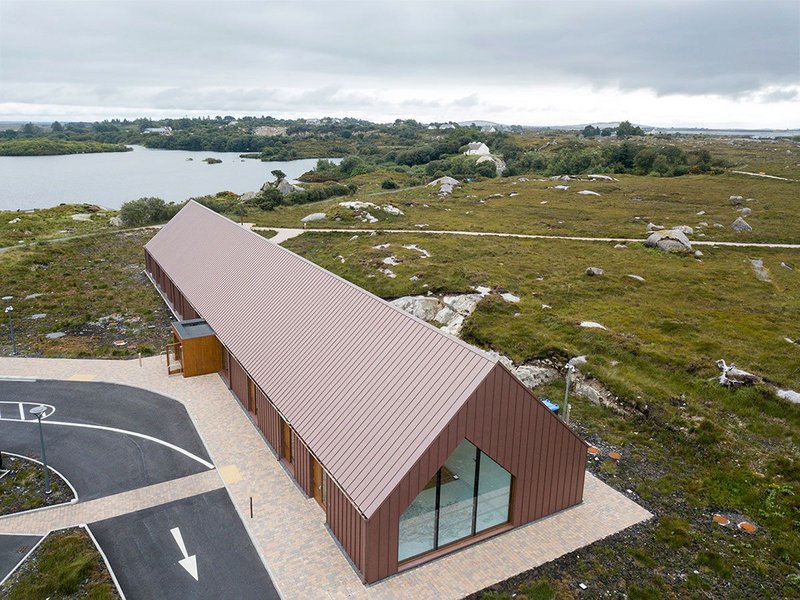 Pigmento Red Plus zinc standing seam roofing and cladding at the Pearse Cottage Visitors Centre, County Galway. Simon J Kelly Architects.
Ever since zinc was first used at the beginning of the 19th century, architects have applied the metal to a wide range of forms, ranging from Haussmannian low-slope mansards to complex domes with intricate ornaments. These applications centre around batten cap roofs and while they are still a feature of architecture, today's designers have a far wider choice of finishes and systems than their 19th-century predecessors.
Zinc is sometimes used as the sole exterior skin of a building to marry with a stunning landscape. An example of this is the Pearse Cottage Visitors Centre (Ionad Culturtha an Phiarsaigh) in County Galway, Ireland, where Simon J Kelly Architects used Pigmento Red Plus standing seam roofing and cladding to wrap the simply shaped building in magnificent countryside.
The Bourne Estate project in London's Clerkenwell is very different indeed. Matthew Lloyd Architects combined various coloured brickwork with Anthra-Zinc Plus shingles in an inner London cityscape where the building's exterior texture is quite pronounced.
Again in an urban setting, KPF architects renovated the Grade II listed Georgian building of the Which? headquarters in Marylebone and added a new conference area by building up from the existing flat roof. The complex geometrical forms of the Anthra-Zinc Plus standing seam roof give the building a spectacular finish.
Crossrail has been in the news recently, but at least the curved forms of Fereday Pollard's Quartz-Zinc Plus standing seam roof at the new Abbey Wood station are complete. The flexibility of zinc lends itself well to the intricate shapes and details found on this complex roof.
Depth of facade is well illustrated at the Vista at Chelsea Bridge residential and retail development in London's Battersea by Scott Brownrigg architects. The project, which is part of the Nine Elms redevelopment, combines a number of facade materials including Pigmento Red rainscreen cassettes.
At 73 Brook street PLP Architecture has designed a commercial building for property developer Clivedale Ventures. It fits beautifully into London's Mayfair Conservation Area, but also combines interesting materials, including a Pigmento Blue Plus shingle roof incorporating elegant dormer windows.
There are many reasons for choosing VMZINC for your roofing and facade projects. VMZINC is a rolled zinc alloyed with copper and titanium, which produces a material with optimum mechanical and physical characteristics for building applications. VMZINC building products are highly flexible, malleable and durable. They are available in a wide variety of zinc colours for innovative architectural visions.
Zinc is naturally resistant to corrosion, durable and does not require costly maintenance. It can be embossed, perforated and incorporate texture, helping to create imaginative designs, from individual homes to commercial developments, public buildings and private projects.
For more information and technical support, visit: vmzinc.co.uk
For samples, please contact:
01992 822288