Our annual Norbord SterlingOSB Zero competition is all about making the most of the urban roof, an exciting space that is often overlooked.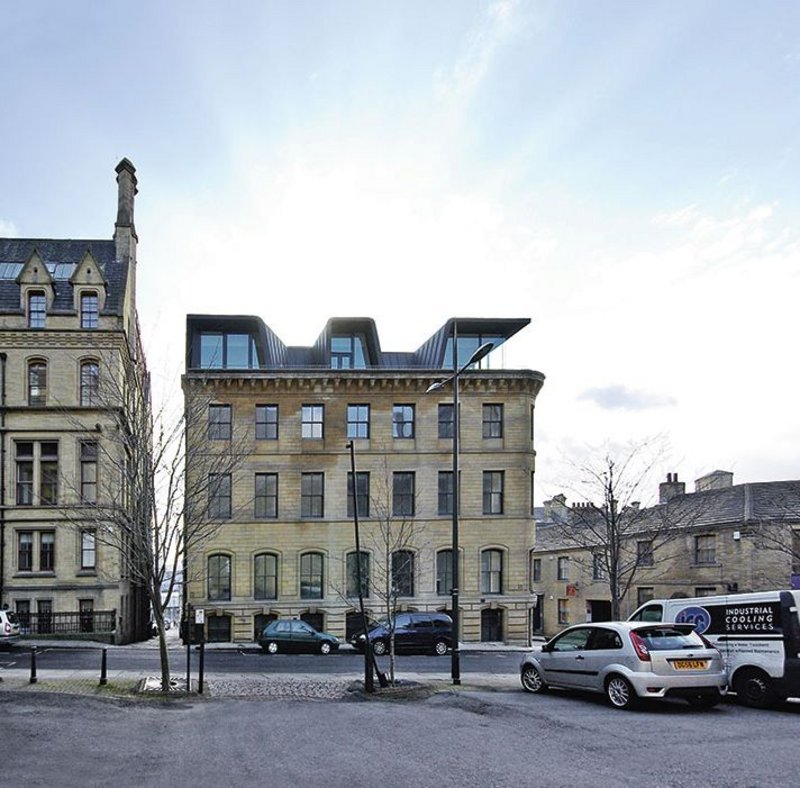 Kraus Schoenberg's Hanover House refurbishment and extension in the Little Germany quarter of Bradford.

Credit: Kraus Schoenberg
In the drive to densify our cities, if you can't build out, you build up. The apotheosis of this is the high-rise but time, sustainability and urban re-purposing considerations have softened the edges of the initial frenzied drive to build high to more thoughtful inner city development.
In SterlingOSB Zero's 2019 competition, we are asking readers to investigate this fuzzy edge and invite propositions for appropriating urban roof areas and positing new uses for these redundant spaces. You may be interested in formalising a drive for how we might tackle the inner-city housing crisis. You may feel that occupants of sui generis live/work spaces might work better with their heads in the clouds. Perhaps you imagine a new leisure and communal proposition could benefit from the light and air that a rooftop site would afford them. A Fun Palace in the sky!
Whatever inspires you, Norbord is offering a top prize of £2,500 for proposals that use SterlingOSB Zero but which allow you to untether your imaginations! As Tennessee Williams wrote: 'Nothing's more determined than a cat on a hot tin roof': so get determined – and get designing!

The Brief
RIBAJ/SterlingOSB Zero's Raise the Roof competition is seeking imaginative proposals for transforming redundant urban roof spaces to new uses, formed predominantly from OSB. This could be residential, mixed-use, commercial, or for communal/leisure purposes. The nature of the programme should be clearly stipulated and will form the basis of consideration of the proposal. The design may or may not feed off the use of the existing building below, but any new rooftop use should consider an independent mode of access to the roof space as part of the design.
While we do not seek to limit the imaginations of entrants, we would ask you to bear in mind the nature of SterlingOSB Zero and to ensure that propositions consider the material's capabilities.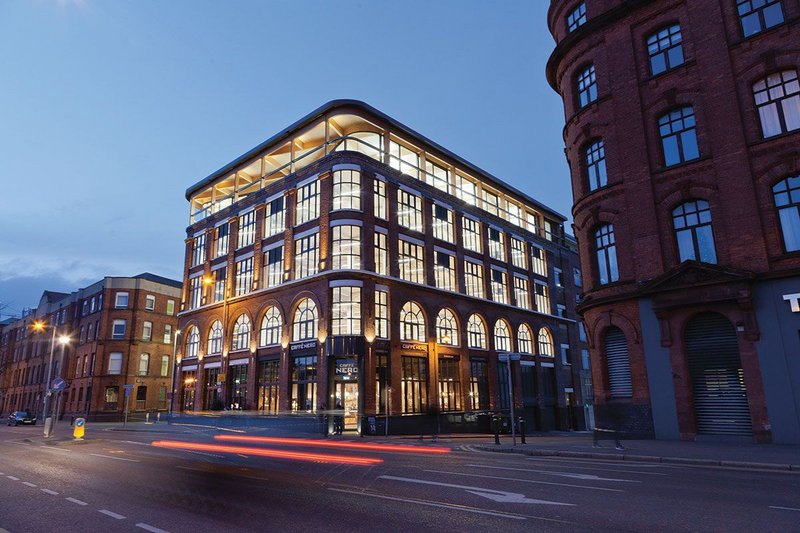 RMI Architects' Weaving Works glulam extension on a Victorian linen warehouse in Belfast.

Credit: Todd Watson
CRITERIA
Design a rooftop space of up to three storeys on an existing building of your choosing, which posits exciting, imaginative new urban uses. There is no limit to the size of the roof you select or to how much of it the intervention fills.
The overall context and the building upon which the proposal sits will be considered as part of the proposition. Entrants should demonstrate how SterlingOSB Zero has been used in the new proposal and how its bespoke and high strength features have made it an integral part of the design.
Being a speculative intervention, we do not expect entrants to adhere to current building guidance. Given the exposed nature of any proposition, entrants will need to employ cladding materials to cover the SterlingOSB Zero. The nature of any internal finishes may also be considered.
Judging
David Connacher, Norbord Europe
Chair Jan-Carlos Kucharek
Tom Gregory (one of last year's winners)
Linda Thiel, partner, White Arkitekter
Alfonso Padro, London principle, HKS Architects (venue hosts)
Chaired by The RIBA Journal, judges will look for imaginative uses of SterlingOSB Zero and innovative spatial proposals. These should consider the structural, acoustic and thermal demands of the design. Pre-fabrication, panels or CNC fabrication may all be considered. Other materials may be used to clad and fit out the proposal but it structural integrity is intended to be predicated on the use of SterlingOSB Zero.
The winning proposal will be the one that, in the minds of the judges, generates a solution that is spatially powerful, visually exciting, reflects the logic of the entrant's programme for the site and existing building and best potentializes the under-used spaces of rooftops, while making good use of SterlingOSB Zero's properties.
SUBMISSIONS
Entries must include the following and be laid out on no more than two A3 sheets, supplied electronically as pdfs:
• Plan and sections explaining function
• Elevations, with existing building, showing the external look of the intervention
• 3D Axonometric
• Any supplementary images you may consider helpful to explain the scheme.
• An explanation of no more than 400 words on a separate sheet describing the nature of the proposal.
NOTES
• The judges' decision is final
• First prize is £2500. Three commended prizes of £250
• No correspondence will be entered into by the organisers or judges regarding entries and final decisions
• Shortlisted entries will be notified in writing
• Shortlisted entries will be invited to the prize giving event on Thursday 26 September 2019
• Please email any questions to ribaj.raisetheroof@riba.org
---
---
Deadline: Entries should be received by 23:59 UK time, Monday 1 July 2019.