Haphazard expansions have been written out to make way for a single building that gives west London's ArtsEd school a coherent narrative
It wasn't hard for photographers Hufton + Crow to find willing volunteers to pose in the new De Matos Ryan-designed dance studios at west London's ArtsEd. 'The students were desperate to be in the photos,' says director José Esteves De Matos. 'If they weren't in shot, they rushed towards the camera.' Perhaps this is a benefit of creating architecture for performers who bring life, energy and activity the moment plaster is dry. But a downside is that the building never sleeps, and construction of a phased project must fit around the academic calendar, community functions and a tightly packed occupation of the site.
Just over a century ago, Grace Cone and Olive Ripman – both dedicated to education integrating specialised arts training – formed the Cone Ripman School. Later renamed ArtsEd, it offers both secondary education and degrees in acting and musical threatre. ArtsEd moved several times before settling into a 1930s former Chiswick Polytechnic building, its home since 1986. It gradually gathered uncomfortable additions, squeezing more and more into existing buildings, becoming cluttered with imperfect learning spaces for day school and higher education students. An inner courtyard was occupied by Portakabins and indoor cupboards appropriated as acoustically atrocious singing studios.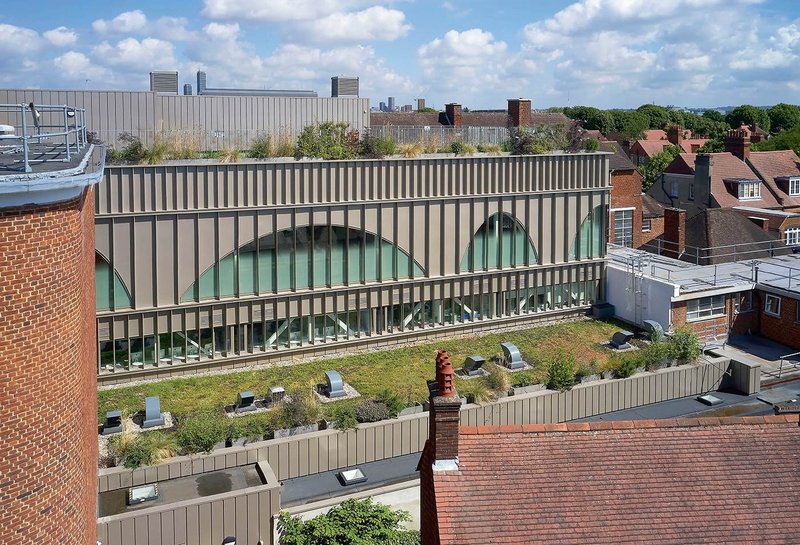 The new block fills a courtyard framed by existing buildings.

Credit: Hufton + Crow
One option was to relocate again, perhaps to a bespoke building funded by income generated through selling its 7,100m² buildings – sure to be of interest to developers of luxury flats overlooking the surrounding Arts & Crafts Bedford Park Conservation Area. In some ways, it would have been the easier thing to do, but the school wanted to remain in the community. The institution is respected by neighbours and used for evening classes and community projects – a reason De Matos believes the planning application received little local opposition. The decision was made to remain, though the architect faced a Rubik's puzzle to reimagine the site's spatial use, and plan architectural solutions which could be enacted without disrupting the teaching programme – all in a tight and landlocked site.
'We started with a space audit into all the rooms, and the school had a scheduled requirement of spaces,' he explains. 'We then rejigged every space to try and group them from a safeguarding point of view so that separation [between day school and higher education students] could be maintained.' It was a process of carefully listening to the clients' needs, then eking centimetres from the building, which had evolved through daily use and immediate needs more than logic or strategic planning. The solution was a three-phased masterplan whereby the completion of phase one would allow an initial rejig of the school's spatial uses, freeing up parts of the building to be demolished or reimagined for phase two, and so on into phase three.
Phase one, now complete, saw the tired Portakabins and a low-level gym removed to make way for a four-storey volume central to the site, and stitched into original buildings. The new block provides a wealth of spaces: two large rehearsal rooms and a dance studio on the ground floor, with a suite of new classrooms above, alongside storage, offices and an internal balcony forging new connections and bringing clarity to what had been a warren of corridors.
On upper floors the practice could stretch and perform some architectural choreography. The three spacious, high-ceilinged dance studios gain a strong personality courtesy of a repeating arc window motif, an architectural rhythm referencing musical notation and choreographed movement. Importantly, it also helps articulate the function of the place to those outside – night-time silhouettes animate the facade while bronze-finished steel cladding and repeating vertical fins imply the energy and drama within.
A shared corridor here leads to another generous balcony social space. These two overlapping balconies offer a visual connection between day school and higher education students while retaining physical separation, allowing for moments of unplanned use by students bursting to sing, dance, and perform. 'It gets quite boisterous,' says architect Pete McMahon. The designers didn't want the place to become sanitised through their tidying up.
The central void is a key moment, connecting not only floors and student cohorts visually and sonically, but also old and new buildings. The balconies overlook what was once the dingy external courtyard, now a full-height indoor space allowing light onto the ground floor communal entrance. Where students had entered the building and immediately split into a nest of narrow corridors, this soaring internal courtyard makes a cohesive heart, with the external facade brought inside – emphasising a story of adaptation and reinterpretation.
The floor above is largely taken over by a rooftop garden offering a moment of escape and views across the railway line and leafy gardens towards the West End where many will go on to perform. According to De Matos, on the roof you can engage with the city skyline and feel part of London within a major institution – which otherwise felt very distant in this residential neighbourhood.
Eventually, phase three will bring a whole suite of rooftop acting and dance studios, repeating the arching window aesthetic, though the timeline is not yet known as the sequential masterplan allows for pauses and tweaks to the scheme. It means the school can observe how incremental changes to the building serve students' needs, and with impacts of Covid, energy prices, Brexit and imminent recession, such a phased programme allows the school to constantly monitor costs and strategy. 'As the school develops, and more funds are generated, we hope we'll get to a point where the roof can have dance studios built on top,' says De Matos.
There are other benefits too. Staff and students live with the evolving scheme, informing changes to subsequent phases. 'These projects take time, and what a group of teachers or students believe they need now might change,' De Matos explains. By way of illustration, he talks of a short-lived request for a full-scale studio theatre with a gallery in the round, and a tension grid for lighting. With the school's vastly improved rehearsal spaces, however, the planned Studio Theatre will be simpler with less technology and rigging, focussing resources on higher quality rehearsal space.
Formed in 1999, De Matos Ryan has several theatres and school projects in its portfolio, with deep understanding of the specifics of front and back of house, employing a varied aesthetic. 'Over the 20 years all our projects have had very different identities to suit the clients. If we engage in consultation, community engagement, co-design, it is a shared process, so we can't say from the start, "This is what it's going to be".'
A collaborative approach has long been espoused by the firm, and explored in other school projects. In the early 2000s it was invited onto the Sorrell Foundation's joinedupdesignforschools project, pairing architects with schools to improve facilities collaboratively with students themselves. 'The criticism of the Building Schools for the Future programme was that students were not part of the process,' says De Matos. 'It was architects and teachers saying "This is what we believe a school should be", and those who were in the school were not party to that conversation.'
De Matos Ryan carried out an ideas consultation with students at Hockerill College, later contracted by the school for a codesign transformation of the refectory into a space for food, socialising, and study. Later, for £20,000 the practice refurbished Charlotte Sharman Primary School's playground with colour, life and pop-up structures.
Such schemes were 'very much part of a conversation about how schools evolve and requirements change,' says De Matos, with the practice often invited to co-design 'mini projects that could be delivered in four or five weeks to re-adjust spaces and add a level of human touch' once a new school was occupied and the space had been experienced.Following completion of phase one at ArtsEd, De Matos Ryan will take this approach with all users – staff and students.
De Matos says the project is, 'in a very sustainable way, about reuse, refurbish, appropriate and repurpose' – visible in the way the older building is physically being built into, making formerly external walls internal, forming the central atrium abutting modern balconies, and enlarging spaces to provide a new understanding of what had always been present but with a new logic and efficiency.
It can also be seen in the holistic durational masterplan, tight enough to cohesively reconsider the site and support the client's future vision, but flexible enough, in both time and space, to adapt to changing needs, shifting budgets, and new learning about the building as it is lived in.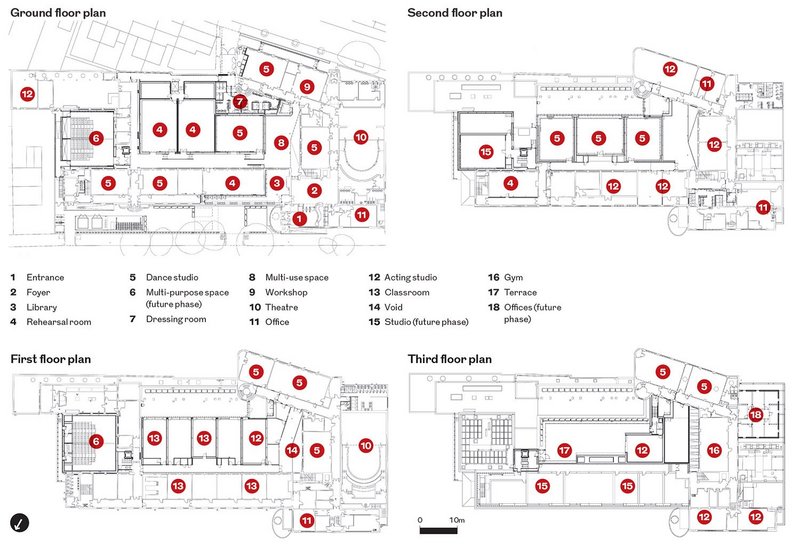 Credits
Client ArtsEd
Architect De Matos Ryan
Project manager Synergy
Quantity surveyor McBains
Structural engineer Price and Myers
MEP engineer P3r Engineers
Acoustics and theatre consultant Charcoal Blue
BREEAM Blew Burton
Principal designer Jackson Coles
Contractor Feltham Construction