If you can't travel to see this exhibition, MOT will come to you, says architect Slava Balbek of his studio's demountable gallery that is touring his war-ravaged country to raise funds for restoring Ukraine's art institutions. Here's how he has done it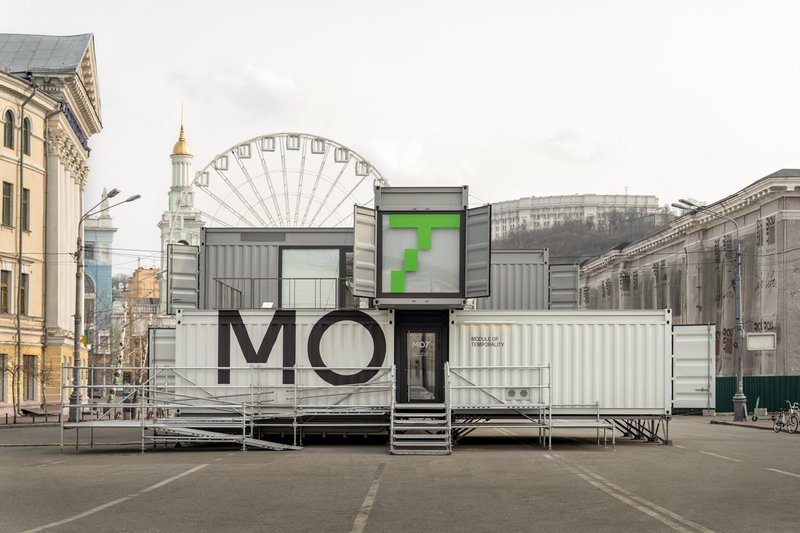 MOT, designed by Balbek Bureau, an art gallery currently touring Ukraine.

Credit: Andriy Bezuglov
Shipping containers are, by nature, itinerant. And Slava Balbek's relationship with these containers travels further than most in both space and time. Notwithstanding his practice Balbek Bureau's recent venture which converted a fuel container into a traditional home outside Ukraine's research base in Antarctica, his ongoing project is MOT (Module of Temporality) – a modular structure touring Ukrainian cities.
MOT began life 11 years ago, when the studio manufactured, at the Ilyichivsk Ship Repair Plant, a series of bespoke structurally reinforced cargo containers for an architectural project. This initial commission fell through, with other suggestions – kindergarten, nightclub, residence – also passing by. The containers themselves, ironically, ended up in storage outside of Kyiv.
It wasn't until last year that Balbek's early project, mothballed for half of his career, found its life's purpose as a relocatable art gallery for the cultural organisation Don't Take Fake, which is mobilising a fundraising campaign for the restitution of Ukraine's artistic scene. MOT, which occupies an area of 417m2, now hosts the work of 28 different artists within its 27 containers and can welcome 100 visitors into its space at any one time.
In the clients' words: 'MOT is an attempt to capture the fluidity of life and time in art', which is why the relocatable, demountable nature of this structure turned out to be a perfect fit. Since February 2023, the structure, designed to be disassembled and reassembled in under 10 days, has temporarily found itself in Kyiv, Dnipro and Lutsk, and is currently in Lviv. In each place, the building finds itself responding differently to new environments, creating new contexts – sometimes surrounded by ancient buildings, other times in a park.
Something about the travelling nature of the shipping container is reflective of the Ukranian condition at present, with huge numbers of displaced people both within and outside the country. 'For sure,' agrees Balbek, 'the waves of immigration at the moment are huge … And if you cannot get to see this exhibition, if, for instance, you are afraid to travel far afield to get there, then this exhibition will come to you. [This usage of the building] is the perfect mesh, the ideal scenario.'
MOT's interior is purposefully neutral, as a setting for artwork. However, the material properties of metal are celebrated, with a feature spiral staircase receiving particular attention, and the fixings and joints that hold the containers together deliberately exposed. Most metal stairs and ramps in the structure are made from construction scaffolding, designed for relocation.
In a symbolic gesture, the architects sourced interior beams, tubes and sheets specifically originating from Ilich Iron and Steel Works and Mariupol Azovtal, which was besieged at the beginning of Russian aggression between February and May 2022. Likewise, gypsum board was sourced from the Bakhmut region (Donetsk Oblast, in eastern Ukraine).
'It was a challenge to search the market for items from these particular regions for the interior works,' Balbek explains, but it became a powerful statement. 'We love to deliver an idea that [these items] still have their energy and it still has their legends. Even if it is just a substructure wall, it still has its energy. If someone is taking a tour of the building, for instance, and is told that this is Azovtal steel, this will generate different emotions. So even if it is hidden, the steel is still a container of symbolic things.'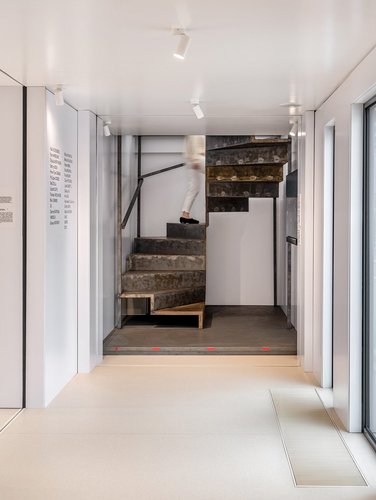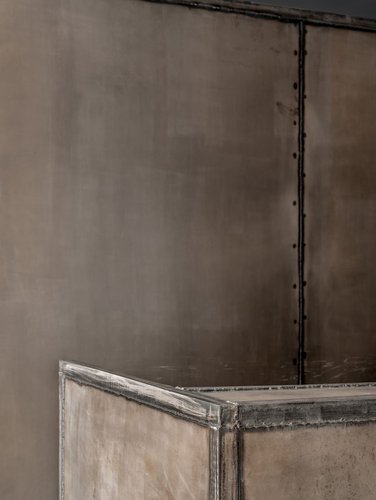 Although it might seem that supply chain issues would present the major challenge, in fact, it was the engineering that took the longest. The height of each module had to be increased, requiring the roofs/lids of some containers to be removed and re-engineered to accommodate autonomous HVAC systems. The structure is deceptively complex, with a cantilevered container requiring reinforcements, and with drainage, water supply and heating necessitating further consideration. Sewage was made autonomous, with reservoirs provided and three of the containers designated as 'wet containers' to be moved wholesale without replumbing or other such complexities.
One of the main functional features is a mobile, modular floor which can expand the exhibition space if needed. And while many temporary structures are intended only for clement weather, MOT must withstand the cold Ukrainian climate. Consequently, it is insulated with polyurethane foam and its top is covered in two layers of rubber-bitumen mastic for waterproofing. Having said that, Balbek notes that it had already withstood the winters, sun and rain for 10 years and was still in 'healthy' shape.
There are moments of surprise too, most notably the entrance sequence, where one initially feels squeezed through a confined entryway with deliberately low ceilings ('you feel the architecture pushing') to be suddenly faced with an unexpectedly expansive, naturally-lit, double-height space around 5m in height.
But nobody is as surprised as Balbek himself. 'I still don't quite believe it,' he says. 'I mean, it's been 10 years – come on! It was frozen for more than half of my professional career and now it's alive.' Still, he couldn't be happier about his project's destined purpose. The finished architecture and the work of 28 different artists, curated by Fabrice Bousteau of Beaux Arts magazine, was deployed in 'only a few months, which is almost impossible to do in the art world, not to mention in a country where a war is going on,' he says. Don't Take Fake's goal for MOT is to demonstrate that significant cultural projects are still possible in Ukraine despite the challenges posed by the war.
'There are so many achievements that the wider team [can be proud of] … I am really happy that this project is happening in Ukraine right now,' said Balbek, 'and I hope that it will go abroad. This full-scale invasion changed us in a lot of ways. I can't speak for other guys, but I think things have changed a lot on a psychological level.
'For me, showing and working for Ukraine, to protect Ukraine, to rebuild Ukraine, to spotlight something like art and culture is really important, so that is why we are doing what we can to uphold Ukrainian institutions for the longer term.'
And there is, in Balbek's own words, a 'dignity' to what this architectural project has eventually been used for.