West Architecture normally works behind the scenes on projects for client Barworks. But this photograph, shot by Ben Blossom, shows a different sort of behind the scenes with both Victorian tiles and the exposed grid of the historic adhesive fixing them preserved equally.
The plasterboard lined box that confronted architect Graham West when he first saw the pub didn't tally with research into its history. He knew that it had once had tiled ­murals by William B Simpson, a company with a long history: its successor company has more ­recently kitted out Zaha Hadid Architects' 2012 Aquatics Centre. Few of the tiles were left but revealing them was quite a thrill.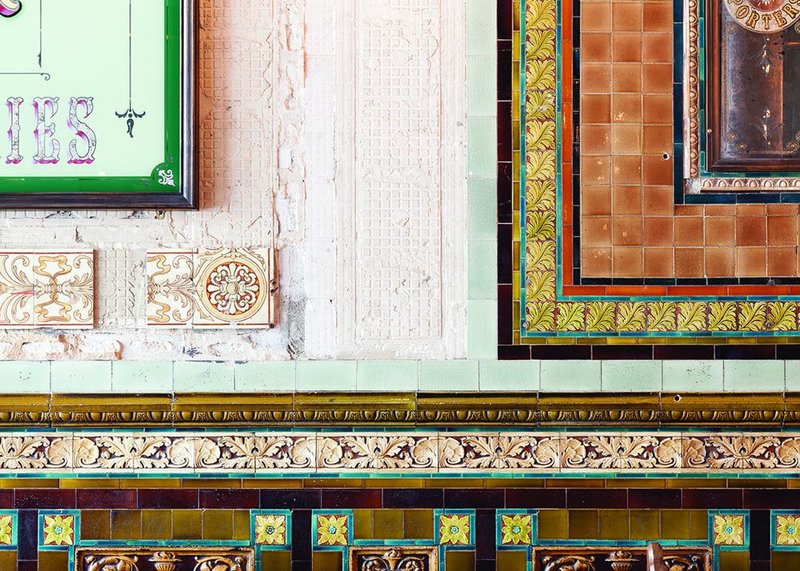 For photographer Blossom this was quite a different sort of assignment. 'Usually when I get assigned photography jobs it's about communicating the additions of built form and structure,' he says. 'This was mainly a story about uncovering and discovery as an architectural solution.' As when photographing the Commonwealth Institute or Neo Bankside, his interest in scale shows as he foregrounds the bare filament bulbs while bringing out the shine of the copper bar and conduits. In this image, he uses light and shadow to subtly pick out the texture of the fixing so that its grid ­echoes the larger squares of the tiles.
This tiny preservation captured here is part of a larger restoration of the Grade II ­listed Bethnal Green Road terrace in London, of which the pub forms the centrepiece, by ­Julian Harrap Architects.