Clad in golden shingles and sparkly bricks in honour of its position on Blackpool's Golden Mile, designed with a tall window to frame the Blackpool Tower itself, this is a squatter rival tower, dubbed the "Tower of Love".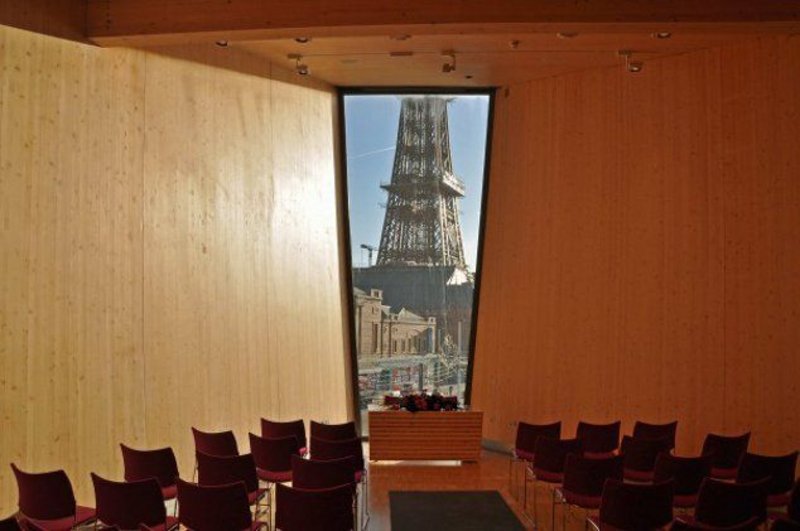 Designed by dRMM architects, it is a combined wedding chapel and registry office, with tourist information office and restaurant (still to be let). The main wedding room is on the top floor, while the registry office itself overlooks the sea.
The building - first to be built on Blackpool's extensively rebuilt and landscaped promenade - is constructed of engineered timber, very thick: it enjoys a BREEAM 'excellent' rating. The wedding room cantilevers out over a roof terrace and the entrance below to provide shelter. There is a fine ceremonial staircase, also in chunky timber.
It's not quite Vegas, though. No quickie marriages here, you have to go through the same procedure as any other registry office in the UK. "Timber is the new concrete" announces Alex de Rijke as we tour the building. With solid cross-laminated walls and beams of sometimes prodigious thickness and depth, you can see what he means: for instance the lift core is in the same material. It's like the old days of precast concrete slab construction, only now it's sustainable and warm - no cold-bridging problems with timber slabs.
The sparkly bricks to the ground level are specified by dRMM and made by Lignacite to contain a high proportion of waste glass. With the main ceremonial room at the top, the building widens somewhat as it rises, resulting in some interestingly outward-leaning walls. Although the site seems big enough for this tactic not to be needed, there were - as with Piers Gough's recent Canada Water library in London - challenging ground conditions which partly helped generate this form.
So yes, it is a shapeist building, but in the context of the Golden Mile, where a series of seafront mini-landmarks is planned and where artist Gordon Young's impressive inlaid 'Comedy Carpet' is close by, this registry office had to have a convivial seaside character. But without being too kiss-me-quick. The attached restaurant has yet to find a tenant but other than that the place is working just fine. As I left, the very first wedding party arrived, along with photographers and TV crews. It provides a real sense of occasion.