A housing scheme in South London by Studio Woodroffe Papa and Poggi Architecture has light, space and privacy in a cliff-like design, and signals a revival in deck access
As anyone familiar with British television will know, deck access housing is a shorthand for urban dystopia, cropping up everywhere from police drama Line of Duty to the Channel 4 ident filmed in a rundown patch of London's Aylesbury Estate. While the tower block is a more obvious lightning conductor for impassioned debate about our housing market and planning framework, government-backed reports in the 1980s cited deck access housing as a root cause of social unrest in Britain's towns and cities, leading to the demolition of thousands of homes built in the previous two decades.
Yet done well, like the new 111-home complex in Bermondsey's Dockley Road designed by Anglo-Dutch Studio Woodroffe Papa and Bordeaux-based Poggi Architecture, deck access housing can provide an inclusive, adaptable and healthy answer to the demand for urban homes. The building wraps around a shared courtyard, overlooked by wide galleries that extend onto planted roof terraces on three levels, breaking up the bulk of its outline.
The project is the latest evidence that despite its reputational baggage, deck access is enjoying a design-focused comeback in London. My new publication, Deck Access Housing Design Guide from Pollard Thomas Edwards, explores why this surprising turnaround has happened. A critical factor was the London Housing Design Guide published in 2010, which stressed a preference for dual aspect homes and cited deck access as a viable means of achieving this.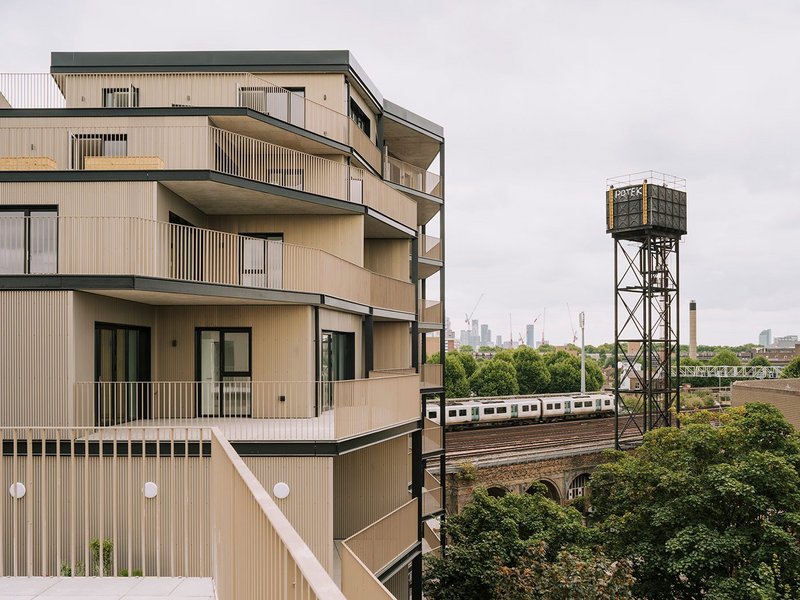 Access galleries overlook a planted roof terrace.

Credit: Tim Crocker
Subsequently, we've seen a number of British practices – many involved in drafting the 2010 guidance – complete schemes that evolve the typology in imaginative ways, from Haworth Tompkins' brick facades for Notting Hill's Silchester Estate that build on the tradition of early philanthropic dwellings, to Henley Halebrown's playful bridges, arches and loggias that define its sculptural newbuild additions to the Frampton Park Estate in Hackney.
The Dockley Road scheme occupies a former industrial estate pressed up against a railway viaduct, itself the site of London's first railway terminus. The new housing is set back from the viaduct, creating a new lane alongside its arches, which are occupied by food producers and wholesalers – part of the London Borough of Southwark's 'Low Line' pedestrian route – and face ground-floor units (including a honey shop) in the development's single-storey brick base.
The approach to the building along Dockley Road, which leads you through an arch in the viaduct, generates a properly satisfying urban encounter. As you emerge from the tunnel, black-painted steel sections appear to hold the angular, cliff-like composition in place, while the skyward thrust of the nine-storey corner on the lane speaks to a striking steam-train water-tower across the road, also held aloft, even higher, by black steel sections. The building's height rises and falls, dropping to four storeys midway along the street, then rising again to six at the far end.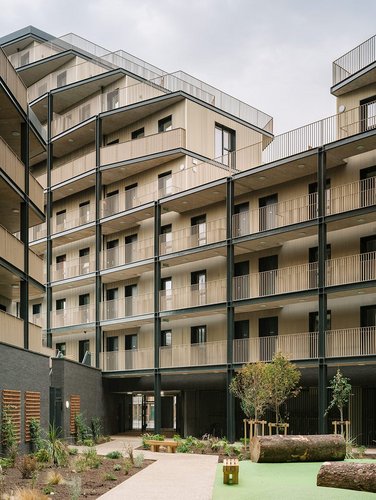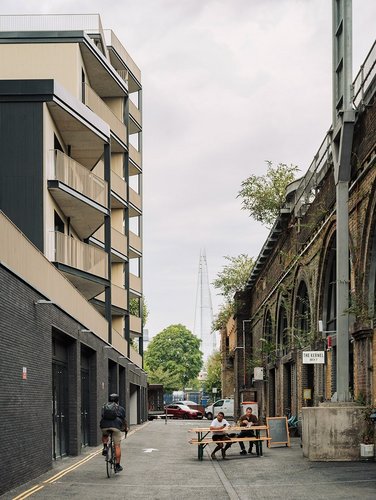 Triangular balconies are stacked one above the other, their soffits left bare to reveal the building's concrete frame from street level. These are shielded by an avenue of mature trees along Dockley Road, providing privacy for residents new and old – such as those living in the 1960s four-storey deck access scheme on the other side of the road.
The facades are lined with fluted industrial steel cladding with an iridescent sheen: they look gold or pink depending on the light, although one elevation, at the nine-storey corner that faces the new lane by the viaduct, is black. The renewed sense of place is strong, as if Dockley Road has found its true shape.
The tenure mix comprises private, shared ownership and affordable home split across four cores. These one-, two- and three-bedroom flats sit around a spacious courtyard providing a decent amount of children's play including a sheltered outdoor room with table tennis and spongy floor that you can imagine appealing to teenage residents.
It's less gloomy than you might imagine too, given the sheer scale of the building. This is partly because the lane-side elevation drops to a single storey, which not only allows daylight deep into the plan, but also creates dynamic views across the railway and city beyond, for residents using the decks. But it's also because of the effect created by those finely-tuned metal panels. The colour, tonal intensity, even the apparent weight, mass of the building, feel lighter than you might expect – especially if it had been rendered in brick.
On the whole, recent British examples of deck access housing are pretty conservative compared with their more dynamic European counterparts. There are good reasons for this, from public disillusion with modern architecture in general to prescriptive planning standards and Building Regulations, which leave little room for innovation. Many European exemplars, especially those featuring extensive use of timber, would not be permitted in the UK. Dockley Road however, like Studio Woodroffe Papa itself, feels like a blended confection, part British, part European.
That's particularly apparent in the generosity of the decks, and the way they are pulled away from facades to create light wells, improving privacy for rooms overlooking the courtyard while reducing overshadowing of windows on levels below. All homes have balconies too. These outside spaces, in other words, feel both social and functional.
Because of the various shared terraces that the plan generates – like the spacious one at the top of steps connecting the courtyard and first floor – and because of the scale of the building, its urban location and its striking steel frame, walking these decks feels like a fresh and vital new way of experiencing this part of London.
Despite the obvious appeal of deck access, both for efficient planning and opportunities to add value, it remains misunderstood in some quarters. Writing in the guide, critic Owen Hatherley notes that in Britain 'insurers and mortgage lenders regard access decks with suspicion; planning guides advise against them; they might be enclosed or removed entirely to deter criminal activity'. It makes you wonder: can projects like Dockley Road – high-density housing equating to 308 dual-aspect dwellings per hectare, with circulation that responds to social and urban considerations – change perceptions for good? With the reputational rollercoaster rising fast, decks might once again become the default for affordable mid-rise housing in London.
Rory Olcayto is a writer and critic at Pollard Thomas Edwards, and co-author with Andrew Beharrell of The Deck Access Housing Design Guide (Routledge)