Using a rich palette of natural materials and warm colours and textures, Aedas creates an intimate scene at London's expanded Tara Theatre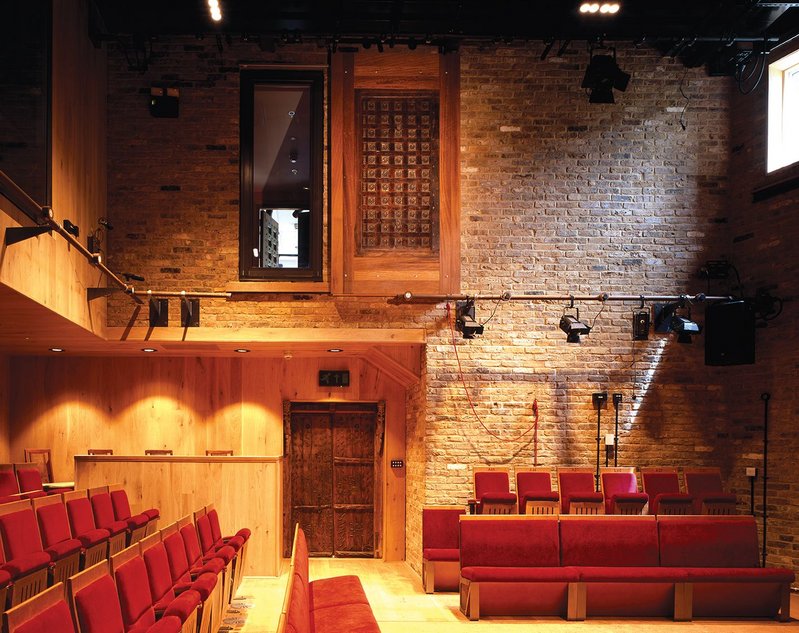 Visitors enter through ornate Indian double doors into an unexpected cosy theatre of exposed brick, oak panelling, red seats, natural light and a rammed earth stage.

Credit: Hélene Binet
Earlsfield in south-west London is undergoing a mini architecture building boom. The Stirling Prize winning Burntwood School by AHMM completed in 2014, Allies and Morrison's new RIBA Award-winning Banham security head office and showroom opened in 2015 beside the river Wandle, and now the redesigned and doubled in size Tara Theatre on Garratt Lane has joined the mix. For a reasonably dense suburban place, there's quite a lot of other building work taking place too: supermarkets, flats, restaurants and bars.
Designed by large architectural firm Aedas – which absorbed theatre specialist RHWL Arts Team in 2015 – Tara Theatre is a small architectural project packed with character. It is the home of Tara Arts, a multicultural theatre company – and the only one of its kind in the UK – founded by Jatinder Verma in response to the racist murder of Gurdip Singh Chaggar, a 17-year old Sikh boy living in Southall, in 1976.
Tara's inaugural production was Sacrifice, an anti-war play written by poet Rabindranath Tagore, and the group has been producing contemporary and reworked plays since 1977 for both its own theatre and touring productions. The theatre moved to its current site, an end of terrace on a Victorian shopping parade by the station and railway siding, in 1983, converting the rear part of a West Indian church and former Mission Hall into a 50-seat studio theatre.
However, by 2010, Tara Theatre was in desperate need of renovation and more space. The directors wanted to enlarge the auditorium to 100 seats, put toilets on each floor, and build separate rehearsal and green rooms, while maintaining the domestic feel and scale. Haworth Tompkins carried out the initial feasibility study in 2011, part of which was to discover opportunities to extend to the north onto derelict land owned by British Rail. The OJEU process competition received an astonishing 257 submissions.
'The building was long overdue,' says Verma. 'In the theatre world, small creates big. This is the only multiculturalism theatre in the UK: it needed to be better enshrined in bricks and mortar.'
The organisation secured 70% funding from the Arts Council's capital programme, the remaining 30% coming from fundraising. The client put together a shortlist and invited the architect to meet at an interview, before asking it to put together a brief.
'Julian Middleton and his team at Aedas were extremely responsive to our ideas,' says Verma. 'They were tremendously silent and reflective. We liked that.'
The resulting building keeps the memory of the original alive by retaining its 1896 brick facades, complete with broken pediment and second floor gabled window. In contrast, a square four-storey rendered tower behind in the centre of the site juxtaposes new and old, and, with its mustard colour 'banyan' tree pargetted facade, brings together east and west.
Inside, this piecing together of old and new, east and west continues. As the feasibility study revealed that British Rail needed access to the land between its line and the building, the theatre had to go upwards – a case helped by a mixed use building on the opposite side of the railway line. The small cellar is excavated into a full basement to include a green room with separate access to the stage and WCs. On the first floor are a large rehearsal room towards the street and a control room with clear lines of sight to the stage. The second floor has been transformed into a charming head office for Tara Arts' permanent staff, while a new storey on the top, reached by a tiny spiral stair in the main office, has been added to accommodate a quiet meeting room with 360-degree views over London and a small outdoor terrace.
The pièce de résistance, though, is of course the theatre itself, which leads off the box office/theatre café at ground level and has been extended upwards and marginally outwards.
'We wanted natural materials, even natural light,' explains Middleton.
The architecture moves away from the concept of a black box theatre, to include both internal and external windows, exposed brick walls (reclaimed from the original building), oak panelling and even the UK's first rammed earth stage, made from red Jurassic Devon soil. The double-height space has room for a two-storey stage; actors swing in from a balcony window on the first floor and the low front row of seating practically becomes part of the stage. The timber and red velvet seats themselves – some narrow, some lounging, some raised – are characterful too, having been rescued from Ian Ritchie Architects' temporary Royal Shakespeare Company theatre in Stratford-upon-Avon.
This space speaks of the rest of the building too where salvaged highly decorative and colourful Indian timber doors have been combined into the architecture, alongside shutters, panels and windows. The artfully distressed sits comfortably next to coloured walls, modern plaster and floors. It's fun and full of idiosyncrasies, and has been improved in terms of building performance too – there are 16 solar panels, sedum roofs and better acoustics, a crucial factor with the railway line next door. The only testing point is how the taller auditorium has reduced access to light for the small row of workers' cottages behind.
Yet the success of the redesign is beyond just attracting large audiences. It's also about extending the theatre's reach in spreading its message in favour of multiculturalism. Early indicators suggest that on average 58% of the audience now comes from outside the local area, up by 13%. The entrance foyer/box office café is open during the day, and the theatre is gaining extra revenue by letting out the rehearsal room to local community groups and businesses. Tara's long-term future has been secured. What's more, people like it, and it has become a destination of interest for local history tours, which it wasn't before.
'It feels like my chest has expanded,' says Verma. 'We had once chance and couldn't get it wrong'.
It seems they haven't.
---
IN NUMBERS
100 seat auditorium
493m² gross internal area
61.9 kg CO2/m² emission rat
Credits
Architect Aedas Arts Team
Client Tara Arts Group
Acoustic engineer Arup