Working listed pier enhanced by visitor facilities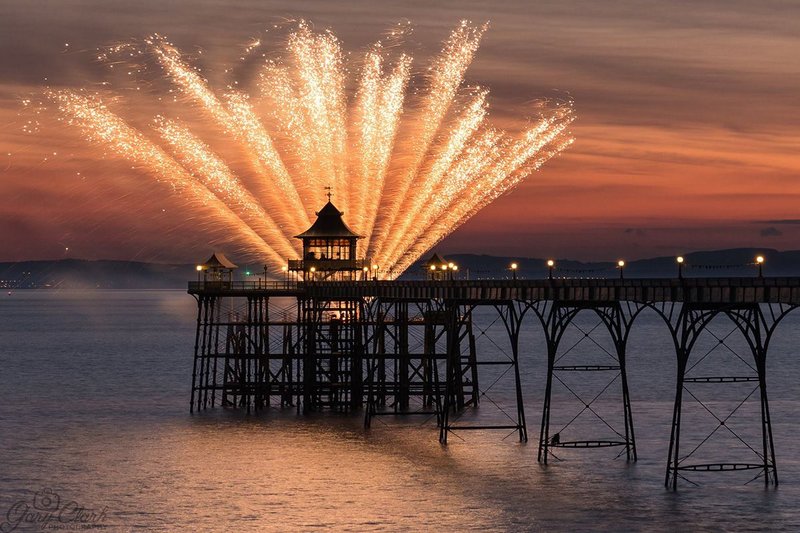 Fireworks celebrate the completion of a long, successful project at Clevedon Pier.
Clevedon Pier Visitor Centre
O'Leary Goss Architects/Architectural Heritage Fund for Clevedon Pier and Heritage Trust
The visitor centre project concludes over 40 years of sustained effort to restore Britain's only working grade I listed pier. Previous phases of work have seen it brought back to life as a fully functioning structure, but it has never had visitor facilities. The new £2.2 million visitor centre addresses all these issues through the creation of a new building, partly buried in the pier approach ramp, with a glazed restaurant/café and kitchen 'above deck'.
At the lower level is a meeting room with a dramatic new view along the pier through a large porthole window, together with toilets and storage areas. A new interpretation centre in the original Toll House completes the project As a whole, the facilities increase the Clevedon Pier and Heritage Trust's ability to generate sufficient revenue to ensure the pier's ongoing planned major maintenance.
The community is able to see its history presented in a lively, accessible format for the first time. The new facilities have greatly enhanced the Clevedon seafront, leading to increased visitor numbers in the town and the associated economic and social benefits.
---