An analysis of the interiors of the Ironmonger Row Baths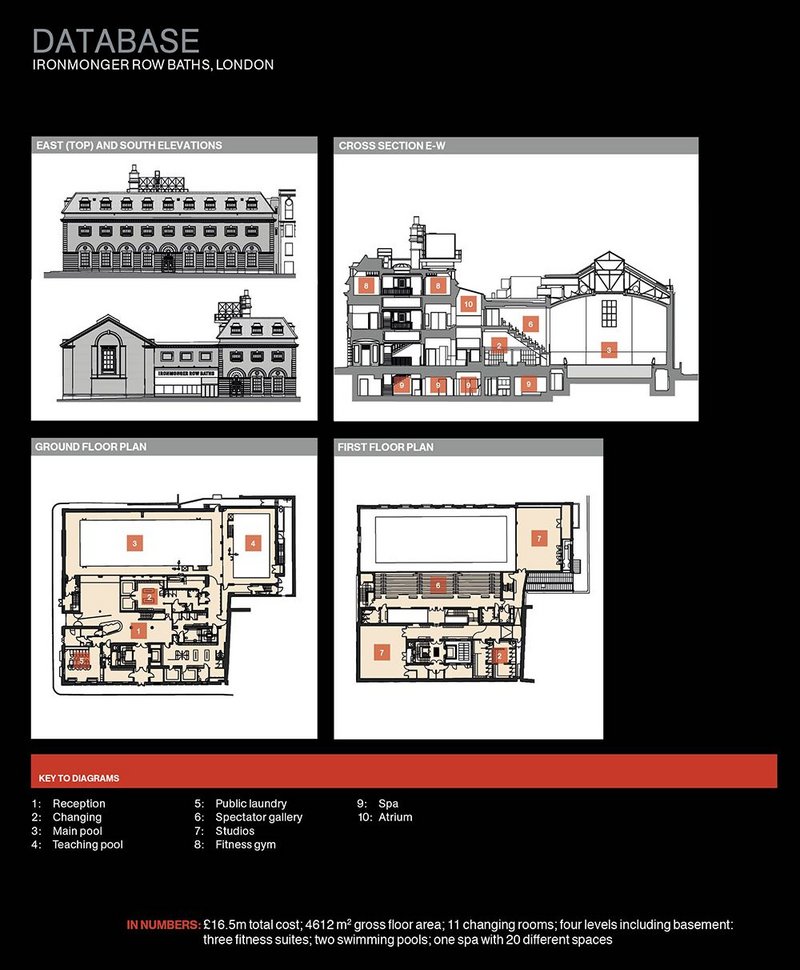 If the Italianate exterior of Ironmonger Row baths is all about brick and stone (and artificial stone) the interior feel is all to do with the durable materials of terrazzo, tile and hardwood. Tim Ronalds Architects has continued and extended this language, especially in the new entrance foyer, slid into the aperture between the original bath-house and the slightly later swimming pool. Just as terrazzo was originally used for both flooring and partitions, so it is deployed both horizontally and vertically, in contrasting light and dark shades, by Ronalds. The material is used for flooring, stairs and balustrades, cladding to heavily-used areas of wall and columns, and for the curving island reception desk with its stack of vertical storage behind – which also acts as a circulation pivot between those coming to the baths/fitness centre/spa and those using the launderette.

Project director Adam Goodfellow says: 'In stark contrast to tradition, most modern terrazzo is pressed in giant blocks in Italy, then sliced and polished in the factory, with fixing the only site operation. The desk was assembled from pieces made in this way. The curved panels were cut from thick blocks by a CNC process. The panels were attached to a steel framework using threaded studs, resin-fixed into the back of the terrazzo on site, which overcame the tolerance problem of the terrazzo coming from one fabricator and the steel frame another. Minor misalignments can be tidied up with a grinder and repolished on site.'

To distinguish the basement spa, tiling is mainly used rather than terrazzo. Meanwhile a further part of the swimming pool interior character was always the teak spectator seating. Ronalds uses a similar but sustainable iroko timber at points in the refurbished and extended building to make satisfying solid polished benches and booths in the spa. New stair handrails are also in slender lengths of hardwood.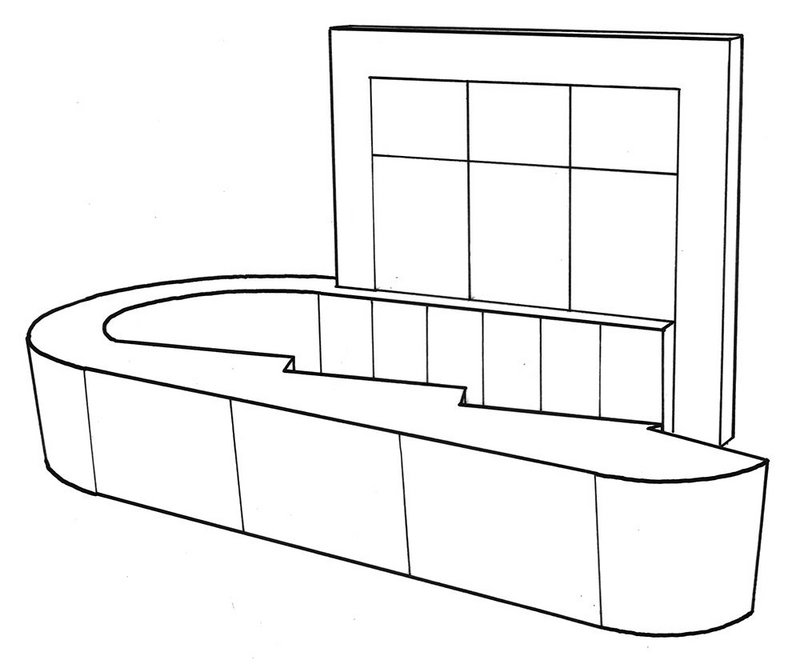 Terrazzo reception desk
Credits
Client: London Borough of Islington
Main contractor: Wates Construction
Structural engineer and conservation consultant: Alan Baxter
Services engineer: Max Fordham
Project manager: Synergy
Quantity surveyor: Northcroft
Planning consultant: DTZ Planning
BREEAM assessor: BDP
CDM co-ordinator: Arcadis (UK)
Access consultant: David Bonnett
Suppliers
Terrazzo: WB Simpson and Sons
Joinery and doors: Atlantic Contracts
Cast stone: Putney and Wood
Dry-lining: Fermacell, Protektor, British Gypsum
Tile suppliers: Spectile, Strata
Tile manufacturers: CeSi, Cinca, Klinkersire, American Olean
Tile adhesives etc: BAL, PCI (BASF)
Lift: Thyssen-Krupp
Acoustic ceilings: Ecophon, Sto
Acoustic panels: Decoustics
Stretch ceilings: Barrisol
Roof coverings: Alumasc
Insulation: Kingspan
Windows and screens: Schueco-Jansen
Rooflights: Vitral
Ironmongery: Saturn Architectural
Sanitaryware: Twyford, Armitage Shanks
Washroom equipment: Lovair
Pool equipment: JP Lennard
Lighting: Pierlite, Sill
Sprung floors: Junckers
Zinc: VM Zinc
Poster-cases: Onthecase
Cubicles and lockers: Prospec