For such a small institution Bournemouth University of the Arts has been a significant and brave patron of architecture, as its new drawing studio bears witness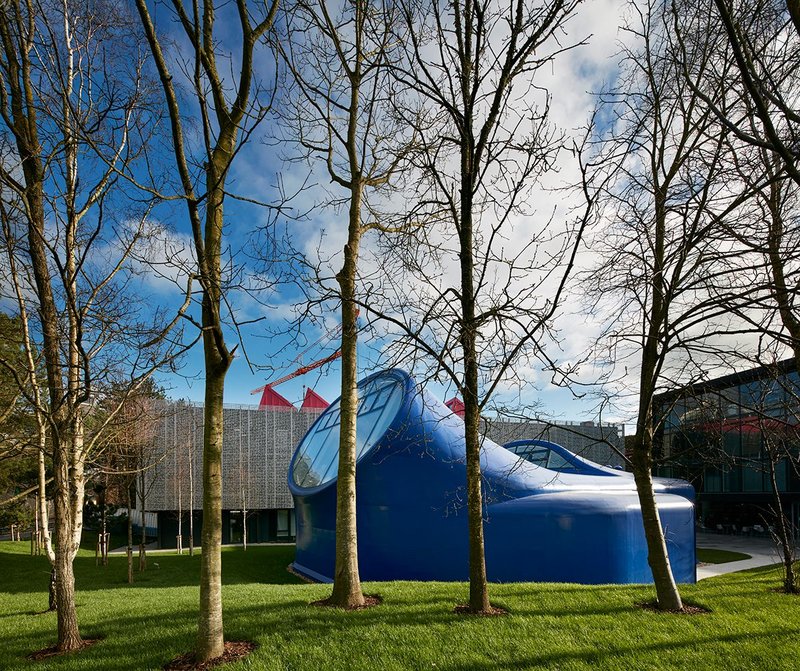 Drawing studio as sculptural object, with character.

Credit: Richard Bryant Arcaid
The drawing studio I'm in is a lofty space, easels arranged formally around a central focus. It is clad in zinc, its huge glulams spaning across to the north light. Bournemouth University of the Arts hasn't survived all those decades since its 1880s foundation and 1980s move to the suburbs of Bournemouth without a space for drawing. The students haven't been holding their breath waiting for Peter Cook's blue blob to land in their laps.
In fact since vice chancellor Stuart Bartholemew arrived in 1997 he has hardly stopped building. This zinc drawing studio was the first, Cook's curving painted steel studio the latest. In between these two there have been top-lit repurposed containers, a library shed, esoteric forays into high tech, plans by Richard Horden and a smoothing and modernising hand from Design Engine. Inherited Tesco style local authority buildings have been stripped back, hidden roof spaces exposed, bricks painted black.
Considering its small size – about 3,000 full-time students – this little arts institution has been a significant consumer/patron of architecture. And there is more to come, with four acres of nearby field currently in for outline planning.
But the new drawing studio was a different ask. Bartholemew wrote to Bournemouth alumnus architect Peter Cook to invite him to design the studio, along with his practice CRAB Studio. Better known for his time in Archigram and his leadership of the Bartlett School of Architecture, he grew up in Bournemouth.
'I was very surprised that Cook had no building in the UK,' says the vice chancellor. 'He is in his 80th year. But there was quite an element of risk.' I take 'risk' to mean cost, and the university knew this would be out of the ordinary along with the building, so an appeal was launched to fund the studio, starting with a target of £1m; in the end the cost was £1.8m for this 170m2 space.
In describing how the project unfolded, Bartholomew gives the example of the colour. The model had looked silvery. At under­coat stage Bartholemew took to the grey and wondered about dazzle markings such as you see on camouflaged ships. When he saw the final blue starting to go on he exclaimed and hid his eyes; it would not have been his choice. But he went with it because it was Cook's. 'Everyone's used to it now,' he says happily.
For me the intense blue, slightly faceted curves and line of dinky exhaust chimneys are redolent of some disciplined piece of industrial kit. The technology came from the same German shipbuilding yards that fabricated the steel cladding for Hadid's Investcorp building at St Anthony's College, Oxford (RIBAJ, July 2015). The premium for smoothing the 17 steel panels was too high in upfront costs and maintenance,so facets are just visible. But the overall shape of curves and windows, protected by a little wooded bank, are what take the eye, the rolling of one curve into another like a crossed thigh but the whole thing a little too alien and cartoony to make sense of – though a reference to Betty Boop might help.
Inside, though, the space clearly demands a spiritual response. It is recognisably sacred. The top-lit spaces, the way attention is undeniably concentrated on a single point of truth, the acoustics. Ah yes, the acoustics. They are very live. This means students hush as they enter the space according to Bartholemew, whose own voice reverberates into a complex set of overlapping sounds. Again, avoiding this would have cost a lot. And the studio is a temple to light, not sound. But it is fascinating to meet a client who has chosen these sometimes difficult compromises, apparently in an informed way.
Zaha Hadid's pencil line on the wall, with which she formally opened the building , and a quote from David Hockney are the only two objects that intrude into the curving forms of the white glass reinforced gypsum. The form subsumes detail, although the strips of lights encircling the two rooflights do have a life of their own and give an extra depth to the light on a dull day without affecting its evenness. The easels gather in obeisance to the lord of light. The physical revelation of drawing as a route to truth, as a thing apart, is a powerful one. Bartholemew himself has drawn in here, but he says his effort was still appalling. It may feel as though divine miracles could take place here but only human skill can ensure they do.
---
IN NUMBERS
170 m2 Internal area
1754 m2 Site area
BREEAM very good
50 students
17 shell sections
JCT contract
---