FaulknerBrowns uses geometry and texture to break up the impact of its sizable new block at Durham University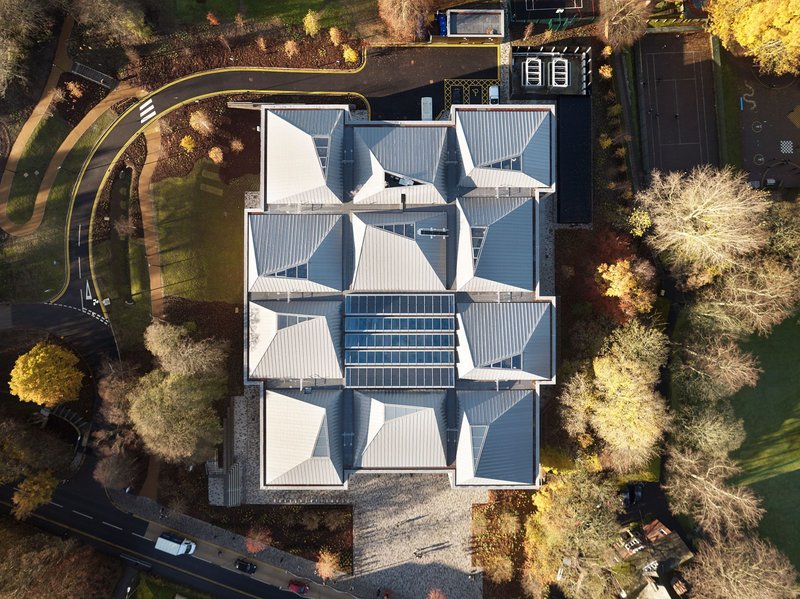 The roofscape is the key to the whole building arrangement, its modules turned this way and that to suit the uses inside.

Credit: Jack Hobhouse
There was just a scattering of students in this building which would normally have been much busier: as a result of the escalating Covid-19 virus pandemic Durham University had that very day, 16 March, suspended classroom teaching well ahead of the Easter break. Students were starting to head for home early. But enough people were using the place to get a feel for it. The lecture theatres and classrooms may have been deserted but the café in the central atrium was still operating, the pre-bookable group working rooms still mostly in use, the top floor touchdown areas for individual working reasonably well populated by individuals wanting lots of space around them. This was the last building site visit we at the RIBAJ were able to complete before our normal activities, along with everyone else's, were necessarily curtailed.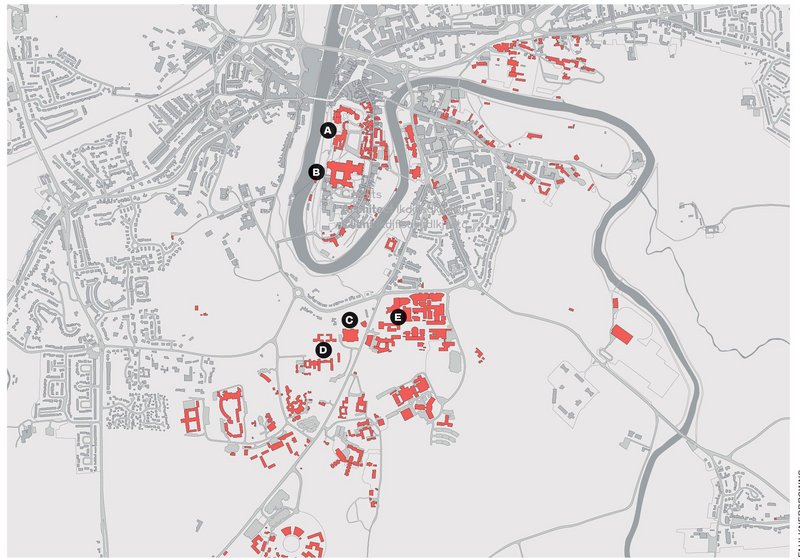 A - castle; B - cathedral; C - new Teaching and Learning Centre; D - St. Marys College E - main Mountjoy campus. All other university buildings in red.
The chewily-named Lower Mountjoy Teaching and Learning Centre is a large new building that tries very hard to disguise its bulk. Architect FaulknerBrowns – responsible for the university's latest 10-year development masterplan begun in 2016 – allocated this prominent site for new all-university facilities, and got to design it. It is built on what was previously a somewhat indeterminate patch of green open space called St Mary's Field – because it is right next to St Mary's College, the first southerly 'hill college' expansion of the university. Designed by E Vincent Harris in neo-Georgian manner in 1935, finally built 1947-52, that college set the tone if not the subsequent very varied style for the colleges-in-a-green-landscape postwar development that characterises southern academic Durham. Now the task is to densify the university for a much larger population, providing new facilities without losing that feel – especially as this site overlooks a conservation area, and is right next to the viewing corridor to the cathedral tower from Harris's portico of St Mary's (inexplicably just fractionally off-axis). Given the hilly topography of Durham and nearby buildings, it has a fairly visible roof.
The LMTLC is close to the much more recent main university library and directly across the road from a no less prominent smaller building: Daniel Libeskind's Ogden Centre for astrophysics, opened three years ago. The new building takes no aesthetic, organisational or material cues from the Libeskind, instead expressing a kind of companionship via a plaza linking by pedestrian crossing to it and the rest of this mostly science-based site.
If the Ogden Centre is ultra-specialised, the LMTLC is quite the opposite: this is a building for any undergraduate student or any staff member from any part of the university for non-specialised teaching (there are no labs here, for instance, but massed ranks of computers and screens). Although it does contain its own specialist department – as well as the variously-sized general purpose spaces from the university's largest (500 seat) lecture theatre, via flexible classrooms and group study rooms down to individual library-like spaces. This is itself devoted to more progressive and effective forms of pedagogy: DCAD, the Durham Centre for Academic Development, occupyies the eastern end of the second floor. The building practises what it preaches.
You have to admire the planning clarity of the steel-framed, brick-clad building. As project architect Hilary I'Anson and partner Andrew Kane explain, it is conceived as an assemblage of 11 'houses' in a grid of 12 – the 12th slot being the full-height atrium. Four 'houses' long, three wide, each is rectangular, setting up a module of 18m by 15m that can be combined (to make the large lecture theatre) or divided up. Each 'house' has an asymmetrical pyramidal roof in standing-seam pre-weathered zinc, the peaks sliced off to make triangular rooflights. The 'houses' are then rotated and handed one way or the other both to suit the internal configuration of spaces – it's an interestingly complex plan – and to articulate the external elevations.
One can go slightly mad staring at the roof plan, it's like an old-fashioned primary school intelligence test, but I think only three roof modules exactly repeat, once in each case. When it comes to the external walls, things are simpler. The longer flanks of each module receive most fenestration with the shorter ends treated as more solid 'gables'. Material variety is introduced in the brickwork: handmade Danish bricks in two colours, buff and brindled grey, the grey being used for the recessed elevations. The bricks are quite irregular in shape so give a randomly textured finish; this is enhanced on the large blank elevations by being organised into slightly projecting panels performing the task of blind windows, being the same proportions as the actual deep-recessed window apertures.
While the vertical external elevations might not have much bearing on the experience inside with the exception of the atrium (which is treated as an external space, so brick-lined) that very varied roofscape certainly does. The top floor is like a reading room, the perforated acoustic finish to the ceilings rising into each truncated pyramid coffer to the rooflight. In a further twist, the geometry of the rooflight is then expressed in that of the built-in furniture beneath which varies from upholstered seating to tables. It's very different from the timber-lined south-east facing rooflight cowls, set on a diagrid, of George Pace's masterly early 1960s university library behind Palace Green, set midway between cathedral and castle. But there is something of the same intention here.
The approach to the building is a bit underwhelming. I found myself wondering: what would Vincent Harris have done here? He'd have unjumbled the roof, evened up the flanks and most likely slapped a pedimented portico on the front, bish bash bosh. (In his acceptance speech for the RIBA Royal Gold Medal in 1951, as he was completing St Mary's College, Harris observed, I think affably: 'Look, a lot of you here tonight don't like what I do and I don't like what a lot of you do.') There is a nagging aesthetic conflict here between the fact that this is a symmetrical entrance facade (recessed entrance bay, flanking wings) on the front of a building, set on a levelled terrace, that is broadly symmetrically planned but which is nonetheless fighting its own symmetry. It's a bit like the insect alien in Men in Black, scarcely able to remain within the forcibly-obtained human skin he has occupied. I think the LMTLC plan really needs either to burst out – were the site less tight one could imagine a different, looser, cluster of those clever 'houses'– or not be jumbled at all, more at ease with its axial nature and rectilinearity. As Pugin famously and morosely remarked of the undeniably spiky Palace of Westminster, a more successful hybrid: 'All Grecian, sir: Tudor details on a classic body.'
You approach across the plaza (which like much of the surrounding landscape, including a resited tennis court, is designed to absorb and manage rainwater). The centre entrance module is flanked by two largely blank brick elevations but for ground-floor windows into non-public spaces. You take a dog-legged path through a large draught lobby to emerge into a broad, relatively low-ceilinged reception area. Of course this is the compression before the release of the atrium beyond but there's something missing, and not just people on the day I visited. There is a large vacant corner module intended for a café or shop, but since there is a large café at the rear of the atrium already, it's not clear who will take this up. Never mind: if need be it will convert easily to other uses.
The atrium is a good one, a clear, simple inhabited court with a shallow sawtooth roof incorporating photovoltaics which also act as shading (the building is BREEAM Excellent). The axial planning is strong with two flanking timber-clad stairs rising ahead of you to the first floor. The two conventional lecture theatres have entry and exit on both ground and first floor to make changeover faster: the other teaching and group study rooms, set up in various configurations, are also on ground and first, with the top-lit top floor configured with various social or solitary study areas, plus the DCAD offices.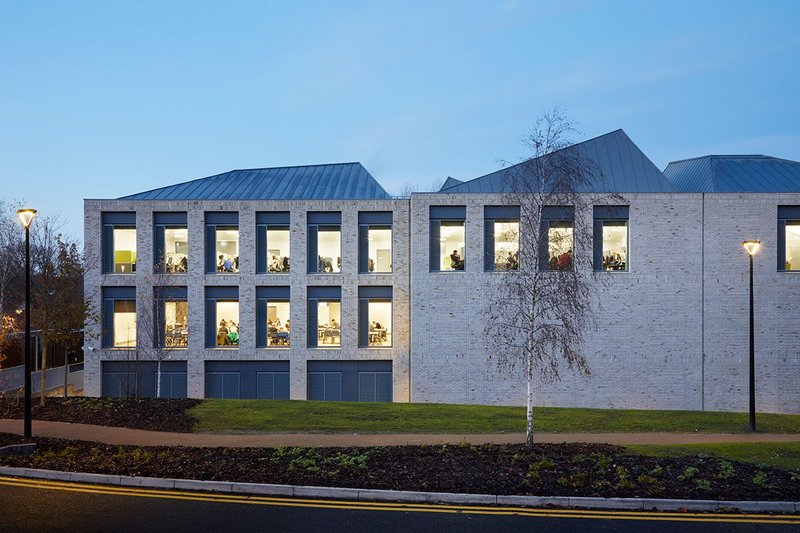 South elevation. Trabeated window openings give way to the textured brick wall of the rear of the large lecture theatre.

Credit: Jack Hobhouse
It feels a good place to be – well daylit, acoustically well damped, this is a high quality new facility for the university. Another like it is planned for the northern (humanities) end of the university, but that's more controversial: it involves the redevelopment of the nondescript 60s and 70s Elvet Riverside humanities faculties but also ACP's wonderful and badly neglected Dunelm House students union, tumbling down the side of the gorge by the eastern end of Sir Ove Arup's lovely Kingsgate footbridge. Dunelm House should be listed, adapted and restored. But that redevelopment plan seems to be on hold for now.
I asked where all the students in the LMTLC came from. Not from the nearby Bill Bryson university library, I was told, that remains crowded. They seem to have come from their student rooms, happy to find a congenial new place to study and hang out. Once our self-isolating times are over, they'll flock back and be well served in a good if slightly strange building.
Credits
Credits
Client Durham University
Design architect and client-side consultant FaulknerBrowns
Delivery architect under design/build contract Space Architects
Structural and services engineer Buro Happold
Main contractor
Galliford Try Construction
Suppliers
Suppliers
Bricks Randers Tegl handmade
Zinc roofing VMZINC
Curtain walling Schuco
Ceilings Armstrong/
Ecophon/British Gypsum
Carpets Interface
Lighting Zumtobel/Thorn
Sanitaryware Ideal