The Ogden Centre for Fundamental Physics, Studio Libeskind's contribution to Durham University's science faculties, is dedicated to increasing our knowledge of the universe. It's not a bad building, either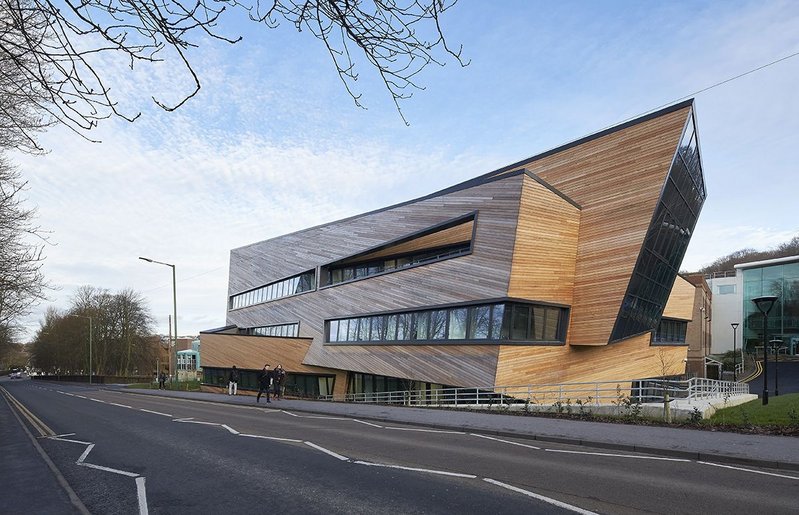 Credit: Hufton+Crow
Saints Cuthbert and Bede, buried one each end of Durham's peerless Norman cathedral, are watching. This place is precious, shining as a beacon of enlightenment since the so-called Dark Ages. Its ancient centre with its pairing of castle and cathedral, perched high on a rocky peninsula round which the River Wear flows in a wooded gorge, is a UNESCO World Heritage Site commanding views from near and far. What the university gets up to here is important – historically, academically and aesthetically. Now Studio Libeskind has contributed a building dedicated to our understanding of the entire universe. Context, then, really IS everything.
It sits in the middle of the newer university area called Lower Mountjoy, established postwar in the lands running south and uphill, away from the centre. Here Durham established new science faculties in the 1950s, several by the young Sir William Whitfield, and beyond them a variety of new colleges set in generous landscaping in various styles by various hands including E Vincent Harris, Sir Basil Spence, Stillman & Eastwick-Field, Sheppard Robson and James Burland, then of Arup Associates. Back in the centre, the best possible pedestrian route was made in the mid 1960s from the old colleges on the peninsula across the Wear gorge to the expanded university: Ove Arup's high-level Kingsgate Bridge, a listed concrete masterpiece that leads straight past another masterpiece that should be listed: Dunelm House, the brutalist students union building by Richard Raine of Architects Co-Partnership.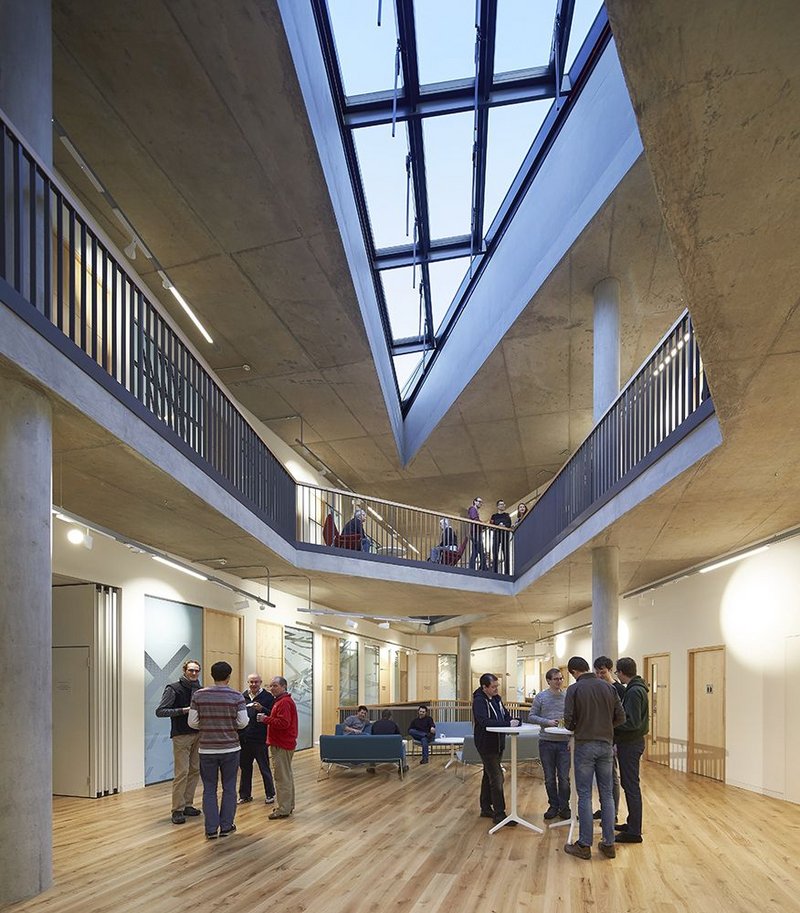 Credit: Hufton+Crow
Tragically – given that it is the best postwar building in the city – it is being considered for demolition by the university because of the cost of the concrete repairs it needs. It is a building that Libeskind himself admires and as a composition it blows his new faculty out of the water, but we are not comparing like with like: Dunelm House has an absolute gift of a sloping central riverside site which it exploits to the full, while the Ogden Centre for Fundamental Physics is on a former surface car park on the road out of town. But a broad pedestrian route, avoiding the road, passes right by it, thronged with students. And it enjoys a view right across to the central tower of the cathedral. From that, Libeskind spun a Fibonacci spiral leading back to his site. The resulting building of characteristically spiralling forms and abruptly sliced outward-leaning ends, clad in timber and set against the wooded background of the hill behind, takes on something of the character of a gatehouse or bastion, mediating between the tight knot of faculty buildings and the sylvan setting of the residential colleges beyond.
You might say that all Libeskind buildings look like this and though this is by no means the case, it's true that his style is very recognisable. But I take the view that with such a form-driven architect – as with the late Zaha Hadid – you really just have to accept that this is what they do, this is their approach, and you have to judge the building within the rest of their oeuvre rather than wish it was something else. After all, the dining hall of Spence's St Aidan's College up the hill is a dead ringer for parts of his contemporaneous Sussex University, so it's not as if modern architects revisiting ideas is a new thing. And – despite the fact that it has been value-engineered, with some good features removed such as a proposed rooftop observation deck to make the most of the view – this is a good Libeskind building. Outside, what at first seems random shapeism gradually resolves itself as you walk around it, view it from all angles and distances, see how it responds to its immediate neighbours, the busy road and the lie of the land. Inside it is a sophisticated stacked sequence of three differently shaped floorplans with staggered vertical visual connections – no banal atrium here. Where the horizontal planes overlap, the opportunity is taken to make outside terraces. There is a nice sheltered outdoor courtyard dug into the hillside at the south end.
The Ogden Centre is headed by the very engaging Professor Carlos Frenk, astrophysicist and computational cosmologist. Frenk has masterminded the establishment and now expansion of the Ogden Centre (named after its principal donor Sir Peter Ogden, a Durham physics graduate whose great wealth derives from merchant banking and computer services). Frenk is the very model of the engaged client: the way the building has emerged is as much his doing as Libeskind's. Such are his communication skills that – at a symposium on the day I visited – he managed to explain mankind's entire knowledge of the universe so far in just half an hour, with total clarity, considerable wit and vital honesty. He knows what he – we – do NOT yet know, but nonetheless can theorise, give names to and test. In his department, they have mighty computers in which they cook up alternative universes. He showed a timelapse of one of these developing. 'We open the computer and galaxies come out – don't try this at home,' he advises, and I'm still not absolutely sure he was joking. How rough is this magic?
Such wonders appeal greatly to Daniel Libeskind, of course, whose architecture always reaches beyond the merely functional, aspiring to the symbolic and the universal. And also to the cosmologically inclined critic, patron and landscape artist Charles Jencks whom I find in the building taking copious notes and talking to Frenk. Then the Libeskind entourage arrives – Daniel, wife Nina and son Noam. Noam turns out to be an astrophysicist himself who did his PhD under Frenk in this very department. Things start to come into focus. The Libeskinds know this city, its buildings, its topography. Noam persuaded his dad to enter the competition. It was independently judged but really – given all this, how could he NOT win?
There's context and context. There are one or two modern timber-clad buildings in Durham but it's hardly a regional speciality. The neighbouring buildings mostly feature brick, copper, glass and stone. Ask Libeskind why he chose timber (in this case a Scottish larch rainscreen) and he simply replies that he loves it, referring to his first completed building, the Felix Nussbaum museum, and the recent MICX congress centre in Mons, Belgium (RIBAJ March 2016). But where at Mons one sensed a certain vacuity to the swirling spiral, a touch of designing by numbers, here it is obvious what the focus is: there is the cathedral tower, the building is angled to face it, Frenk's office is up there in the prow. He only sees it when the leaves are off the trees, but it's there. In the other direction it faces south up the hill.
The programme of the £11.5m building is straightforward enough. Inside it's a simple arrangement of perimeter offices (scientists need privacy) and meeting rooms opening onto central, well daylit, communal spaces. There are three departments, one per floor. On the ground floor is a rather good 100-seat small lecture theatre, the ends of which are formed of glass cases displaying the maquettes of sculptor John Robinson, cosmological in feel, whose work Frenk collects.
Why did Frenk want such a building? As always, he makes it seem very simple. 'I wanted people to come in here and feel that what they are doing is important,' he says. 'An exciting, bold building that encourages them to find areas for interaction.' For Libeskind, with his invisible Golden Section diagram laid across the city, 'the building is like a cosmic moment'. Jencks is talking of 'cosmic collisions' and the constructivism of El Lissitsky. And Cuthbert and Bede? I went to see them and they were giving nothing away. But then Cuthbert's shrine was built there because the saint's relics, accompanied by monks, magically chose of their own accord to follow a brown cow to the place. Choose your own personal science or magic.
IN NUMBERS
Construction cost £11.5 million
GIFA 2,350 m2
Departments 3
Offices 68
Roof terraces 4
Floors 3
Meeting rooms 2
Credits
Client Durham University
Architect Studio Libeskind (New York)
Architect of record Garbers & James (London)
Structural, acoustic, and services engineer Arup
Landscape architect Jane Findley, Fira Landscape
General contractor Interserve