To keep the work and finished job sustainable, as little as possible was changed in the upgrade of MJP's 2002 building on Paternoster Square, London – but with big results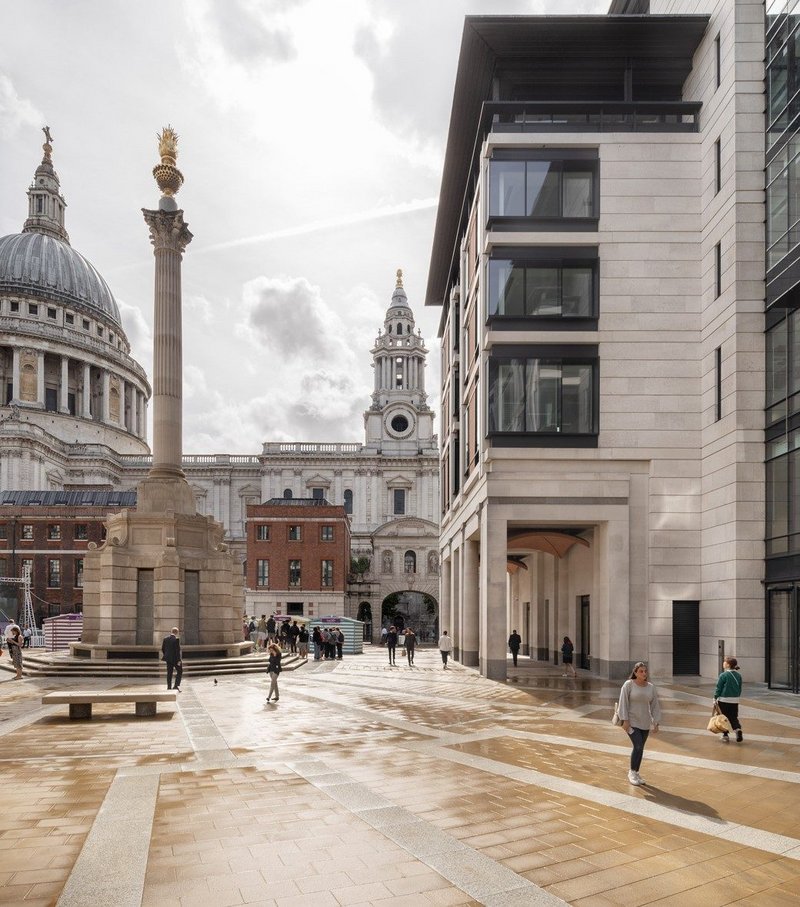 Credit: Stale Eriksen.
'Very quickly,' says Ed Williams, partner at Fletcher Priest Architects, 'we thought the best thing to do with this building was very little.'
We are standing outside MacCormac Jamieson Prichard's Warwick Court office building on Paternoster Square, London. The building was only completed in 2002, but in 2019 the original tenant Goldman Sachs moved out and the building's owner Mitsubishi Estate London decided it was time to upgrade. Four practices were invited to make proposals. Fletcher Priest could have razed it, although the risk and cost of doing that would have been huge.
'It was Mitsubishi's first building in London 20 years ago, part of the Paternoster masterplan,' explains Williams. 'It's postmodern but polite, built using good quality materials, details and standards. We won the bid on the basis of retaining and recrafting as much as possible.'
Williams admits the carbon question wasn't as strong four years ago. However, today that's the story. 2002 doesn't sound long ago, but the services were shot and tenants won't sign a lease unless they have certainty that the building is going to operate without glitches for the 15-20 year term. Looking at contemporary photographs, the interiors had an outdated 1970s feel. The reception was a vertical gloomy corridor-like space. With Mitsubishi wanting to move from single occupier model to a multi-tenant provision, the floorplates can now be let separately and be split in two.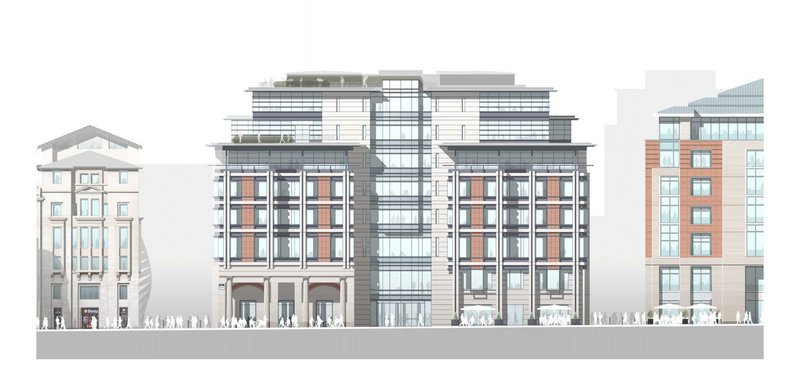 East Elevation.

Credit: Fletcher Priest Architects.
Much of what has been done isn't necessarily visible. Located right next to St Paul's, viewing corridors prevented expansion of the building footprint and height. Fletcher Priest developed a strategy based on circular economy principles and introducing natural, low-carbon materials alongside extensive re-use of the existing structure and finishes. This saved over 20,000 tonnes of CO2 equivalent compared with building new. The project's embodied carbon is under LETI's 2030 350kgCO2e/m² targets.
Outwardly, little of MJP's original design has changed. The building is substantially solid, clad in Portland stone. There was an audit of window frames and double glazing, which can start to fog up after 20-25 years, to prioritise extending their life by another 10-15 years, rather than replacing. This can be a risk from a lettings perspective but it saved huge amounts of embodied carbon. A handful of units were replaced, and the rest resprayed internally to freshen them up. Otherwise, the glazed entrance doorway has been replaced to make it taller and more open.
Inside, the biggest visual transformation is the entrance hall. Entry points have been consolidated to the Paternoster Square side, closing off the one on the opposite side of the building. To the left of the doorway part of a former retail unit has been reclaimed as a reception and seating area in a single height area that makes it more comfortable as a meeting space. The atrium has also been partially closed off as it wasn't providing much daylight.
However, the most radical change has been to the atmosphere. Even though the interior has the feel of a new office, with a minimalist David Chipperfield look, many of the finishes are the originals. In the reception at ground level, the Portland stone wall finishes are retained. Above this datum, the stone has been replaced with polished plaster to colour-match the stone, releasing the existing stone to complete the expansion into the seating area. The dark granite floor, which had become worn and cracked, has been replaced with a terrazzo that uses recycled aggregate and stone, and the under-used steel stair removed. The practice did investigate the potential to recycle the existing floor but found that the journey time and energy would have been more carbon intensive, although it has been sent to similar plants to be recycled/reused, along with existing raised floor tiles, carpet tiles and doors.
How did the practice decide what to keep and what to replace?
'It does get subjective,' says Williams. 'Clearly, light stone is easier to retain than the dark flooring. The material palette was chosen to go with that. Removing the steel stair and balustrades was about creating more solidity.'
Elsewhere, updating the mechanical electrical plant with more efficient and sustainable equipment enabled suspended ceiling voids to be compressed by around 25cm. Office floors are now between 2.8m and 3.35m tall . There are new raised floors, and the previously gas-powered building is now fully electric. It has an 'A' EPC rating and is aiming for an 'Excellent' BREEAM rating that it didn't have before.
'The biggest issue with buildings of this vintage is fire protection,' says Williams. 'We're doing a lot of refurbs of buildings of this scale and it's always the fire protection that's not properly put together, mostly in terms of compartmentation. It's about making sure all the junctions are up to code; re-detailed and recast. With a refurb, you're never sure what you're going to find.'
The building was stripped back to structure, except around the cores and finishes that the practice wanted to keep. Lift carriages were retained, with just the cables replaced and the finishes sprayed a new colour. One drawback of retaining the existing glazing, however, is that the building is still mechanically vented – a trade-off which the practice felt was necessary to avoid replacing the glazed units with opening windows. The WCs are new, upgraded, now unisex and more plentiful to meet today's regulations. The basement car parking, except for one accessible car space, has been transformed into 280 bike parking bays, and there are new changing and drying rooms. Basement finishes are left as robust blockwork to avoid adding embodied carbon with further aesthetic finishes. However, to Fletcher Priest's frustration all the building's doors had to be replaced, as Williams explains: 'One of the issues with retaining things is you can't always get the right accreditation, even if they appear sufficient. Sometimes you have to change things you don't want to for that reason.'
One of the most spectacular changes to the building is a pair of new roof terraces. To convince the client to adopt them the architect showed it its Brunel Building in Paddington. The principle terrace is 200m² on the main roof at the eighth floor. Some plant was moved to the basement to create it and the practice inserted a new platform lift in a glazed box from the seventh floor, because the existing lifts couldn't be extended. The result, however, is worthwhile, creating an outdoor space for occupants and social events with unmatched views over the dome of St Paul's. It feels so close you could touch it. A second, south-facing terrace on level six was reclaimed from a cleaning-cradle storage area.
The project demonstrates the appetite for reuse. Doing it differently would have been reprehensible from a sustainability perspective, although Fletcher Priest has taken the sustainability agenda that bit further. Sixty tonnes of waste wood were diverted from the waste and re-used through Community Wood Recycling, a social enterprise that collects wood waste. This, and sorting waste on site, enabled the project to bring waste generation down to 1.84 tonnes/100m². Aiming for BREEAM Excellent, the building uses intelligent LED lighting and air source heat pump technology to cut the operational carbon footprint of the building by up to 45%.
'Clients are genuinely interested in carbon now because they have to be,' explains Fletcher Priest architectural technologist Prakash Varsani. 'It's a big part of lettings. Clients don't want to move into buildings without strong sustainability credentials because these are long leases; they fit them out themselves and have their own narrative and 2030 goals.'
The fact that global investment management firm T Rowe Price pre-let 143,000ft² of the 200,000ft² office space in 2021 before completion, with commodities trader Mitsui Bussan taking 25,300ft² in September 2022, provides the proof.
Architect Fletcher Priest
Principal contractor Mace
Structural and building services engineer Waterman
Cost consultant Alinea