Revived pier aims for sociability over commerciality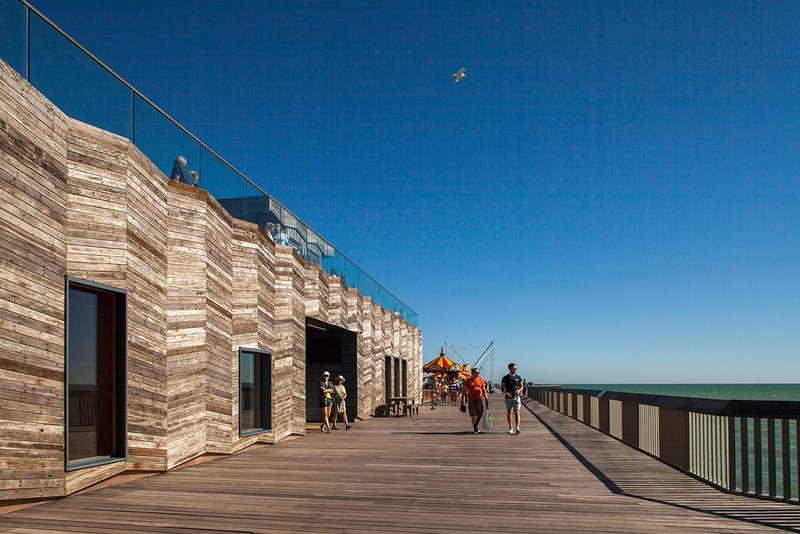 Hastings Pier
dRMM for Hastings Pier Charity, East Sussex
The 2010 damage to the 19th century Hastings Pier by fire after neglect was an opportunity to redefine what a 21st century pier might be; a critique of the 20th century shanty town of commerciality it had become. A Heritage Lottery Fund grant enabled repairs to the damage below deck. A new visitor centre offers a community space, educational centre and rooftop viewing terrace with steps doubling as seating for outdoor events. A small portion of the grant was used to convert the single remaining derelict Victorian pavilion on the pier into an open plan, fully glazed and extended version of the past.
HPWR Trust (later charity) secured ownership of the pier through a compulsory purchase order to bring it into community hands. Flexibility, seasonality, and social enterprise grounded in local requirements underpin the proposals, informed by extensive public and professional consultation.
dRMM's conceptual approach was not to create the predictable hero building at the end of the pier, but instead provide open space to allow universal access. The focus was on creating a well-serviced, strong platform that could support a variety of events. From circus to music to markets... Different users bring their own architecture to plug in.
It offers flexibility of use and revenue models, long term material and functional sustainability, while the uninterrupted panoramic vista encourages footfall.