The new school in Somers Town, a deprived part of London, has brought security, confidence and excitement to pupils
A visit to Edith Neville Primary School in London's Somers Town offers a flashback to happier times in educational design. It's the sort of ambitious, generous and situation-specific building that routinely filled architecture magazines and awards lists for a few years in the late 2000s, until the government had an abrupt change of heart and insisted instead on standardisation and Gradgrindian efficiency.
Inside, Hayhurst & Co's intricate, light-filled building is bursting with architectural ideas and extraordinary spatial events, but none is simply indulgent: every move is rooted in a coherent educational ethos – and evident empathy with young children.
Outside, above a plinth of textured concrete blocks, the two-storey white-rendered structure is wrapped in a perforate veil of white steelwork and pleated metal that gives it an animated, enigmatic character – more so than comes across in photographs. The same palette of materials is adapted to form a deep, layered screen wrapping the whole school campus. It's both a distinctive emblem and an ingenious response to the particular challenges of site and brief.
Despite its central location, sandwiched between Euston and St Pancras stations, Somers Town is one of the city's most disadvantaged districts. Much of the neighbourhood comprises exemplary social housing laid out on a loose grid, built in various styles over the last century, but more than half of its children still live in poverty. Until now, those attending Edith Neville also had to contend with a cramped, dingy 1970s building that was condemned even before it opened. Hayhurst & Co's replacement, on the same site, is the lynchpin of a neighbourhood renewal programme initiated by Camden Council in 2014.
To its credit, the local authority took a bold approach, selecting five small and medium-sized practices to handle the various pieces. Hayhurst & Co was appointed on the strength of two impressive primary schools in Croydon. Adam Khan Architects has designed a castle-like children's play centre and social housing, opposite the school. Nearby, a 25-storey tower of private-sale flats by dRMM is approaching completion. Mixed-tenure housing and a community hall by Duggan Morris will be realised by successor firm Morris & Co. For all this, DHDSA acted as masterplanner, involving all the architects in a collaborative process to ensure no net loss of green space; public realm between the buildings has been recast as a linear landscaped park snaking through the estate.
Getting the whole scheme to work involved giving up a little of the school's site to the park, but Hayhurst & Co was itself required to ensure no reduction of external play space, plus an increase in accommodation. Moreover, the existing building had to remain in use until the new one was complete. The firm's answer was to put a two-storey structure on the eastern edge of the square site, aligning Purchese Street. The park runs around the south and west sides, while the school site abuts the backs of terraced houses to the north. Upward extension to three storeys is anticipated should Edith Neville want to expand from its current 1-to-2 form entry. Roof terraces make up for lost playground space.
Stacking accommodation is a compromise of a kind, says Nick Hayhurst – 'any educationalist will say they want a pancake school, with kids close to the ground' – ut one creating opportunities that have been fully exploited as the sheltered terraces effectively extend all classrooms. Climbing plants are beginning to make their way up tension cables stretched across openings in the filigree facade, softening these outdoor rooms.
For passers-by, the site perimeter should soon resemble a vertical extension of the park – a central aim in the design, says Hayhurst. Other more important factors emerged during early consultation with pupils. 'People can be cynical about those exercises', says Hayhurst, 'but sometimes they produce nuggets that stick with you'. One of those was a curious recurrence of penitentiary-type lookout towers in children's drawings of their ideal school. 'The headteacher explained that they just didn't feel safe in the old school, where strangers could approach the playground fence'.
If engendering a sense of security became a high priority – one of the project's eight 'manifesto' principles ­– so too did conveying an impression of openness. The school regards itself as a piece of community infrastructure, where socially isolated parents might meet one another, and the client was determined that no-one should be deterred from entering. 'The relationship between the boundary and public space was the biggest design challenge', says Hayhurst. The collaged walls resolve this seeming contradiction very effectively through subtle cues. Planted beds form a kind of moat inside and out, and much of the sense of enclosure is merely implied by an open framework of posts and beams that rises to meet the building's roofline.
On the western edge, a rugged steel and concrete gatehouse marks the point of entry for all parents, who gather in the colourful, verdant playground – conceptually an 'oasis' in the heart of the school and the estate. Though relatively small, every inch is well used. There's enough empty space to let off steam – few pupils have outside space at home – but strategically placed trees and freestanding fences define 'slow' zones on the perimeter for quieter play.
Its effect has been profound: some parents cried when we first showed them around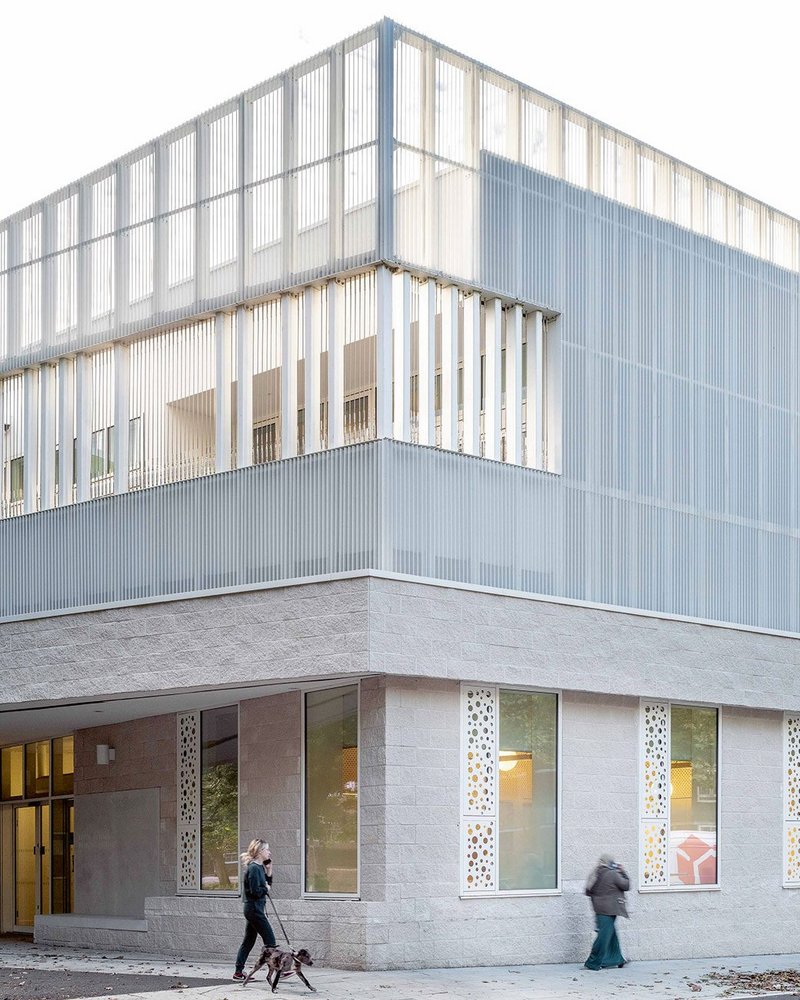 Above the street entrance lightweight metalwork screens learning terraces and makes a trellis for climbing plants.

Credit: Kilian O'Sullivan
From there the youngest children make their way to ground-floor reception classes via a separate courtyard, while their older siblings climb outdoor stairs to the first floor. A separate street entrance on the south-east corner also serves a family drop-in centre. Wherever you enter, first impressions are much the same: it's bright, open – with views out in every direction – and remarkably serene.
'The client wanted a "grown-up" building', says Hayhurst, 'not a patronising multi-coloured nursery'. At the insistence of the then-headteacher, all interiors are white – the better to show off pupils' creations in orderly displays. It's much friendlier in the flesh than that sounds, and if the ascetic decor does impose a certain discipline that's welcome, says current head Ruby Nasser. 'We feel a responsibility not to ruin such a beautiful building, but none of us wants to go back to the clutter of the old school'.
The centrepiece is a capacious room at the heart of the school ­– a circulation route doubling as a gallery – whose floor slopes gently down towards the assembly hall at the far end, set almost 1m below ground to allow a continuous first-floor level above. Full-height windows are inset so that the upper floor shelters an outdoor play space, from which chunky concrete steps rise to the playground. 'It's the prospect-refuge theory', says Hayhurst. 'You have big views out, but there's no vulnerability as you are hunkered down in the landscape'.
Although the building's principal structure is CLT (entirely hidden from view), a few steel columns are dotted about the gallery. It might have been possible to do without them, but the architect enjoyed the way they echo the trees beyond the glass. Another resonance with the view only becomes apparent at child-height, when the London roofs of a nearby Georgian terrace chime with the folded planes of a slatted timber ceiling. Both illustrate a deliberate effort to represent the city within the building at a relatable size.
Scale is a pervasive preoccupation, particularly apparent in the provision of cosy nooks to which children can retreat – a quality the architect Herman Hertzberger has called 'cupboardness'. He gave as an example a 'little library' tucked beneath stairs. Exactly that is found at Edith Neville, where children can perch with a book on a raised platform under the main flight. Similar spaces abound, from a skeletal playground 'potting shed' that doubles as a Wendy house to a room-within-a-room in the nursery. On my visit there were blankets and cushions – evidence of nesting – in deep niches within built-in storage in classrooms.
Above, every classroom has a big 'shopfront window' looking onto the central circulation area – another pragmatic device with playful or poetic effect. Staff can keep an eye on goings-on within, while children's displays brighten the common areas. Thoughtful and beautifully executed, they typify the care and intelligence found throughout. Its effect has been profound, says Ruby Nasser. 'Some parents cried when we first showed them around'. The children are noticeably calmer, she notes, and have greater self-esteem – not least because their school is a match for flashy buildings springing up on every side of Somers Town. Too few new school heads could say the same, but it's what every child deserves.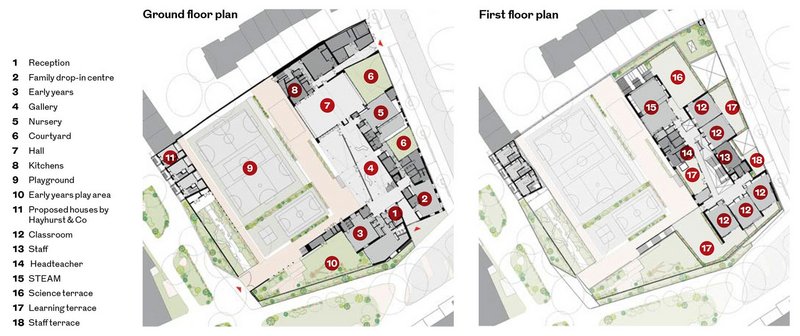 Credits
Client London Borough of Camden
Architect Hayhurst & Co.
Landscape Howard Miller Design
Structural and civil engineer Price & Myers
MEP and environmental engineer Max Fordham
Acoustics Max Fordham
Fire Warrington Fire Exova
Cost consultant, BREEAM Currie & Brown
Project manager Urban Logik
Employer's agent Capital PPC
Main contractor Neilcott Construction