When the list of horrors got too long, Robin Phillips of Conibere Phillips Architects decided the benefits of starting from scratch outweighed the extra cost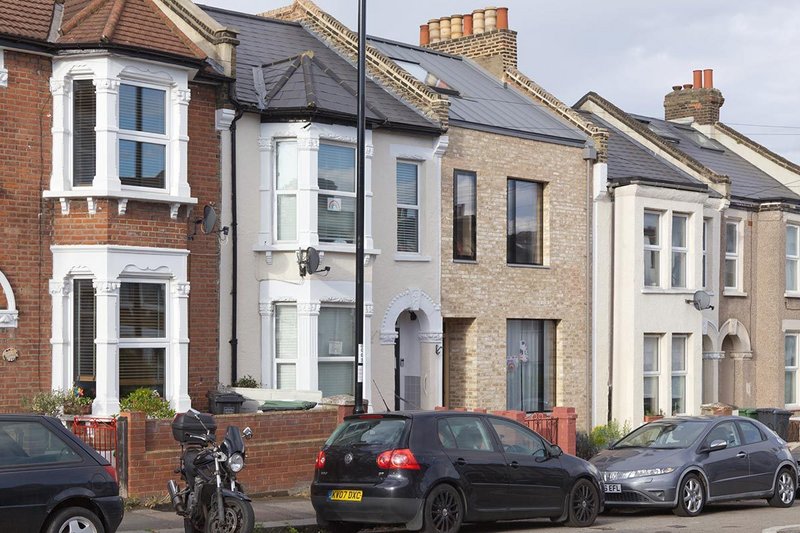 The new-build works with the language of the street and does not exceed the original envelope.

Credit: Conibere Phillips
When architect Robin Phillips and his wife bought a mid-terrace Victorian house in Brockley, south London, little did they envisage demolishing it shortly thereafter. But that is what Phillips (one half of partnership Conibere Phillips Architects) found himself resorting to when he realised that his 'fixer-upper' home was actually a house of horrors. Beyond two building-regs-uncompliant extensions, which he already knew about, there were rotten timber joists, a bay window needing underpinning, further stresses on the roof structure caused by inappropriate use of concrete tiling above, an illegal and leaking gas supply and a rat infestation. With a baby daughter, and not wanting to spend money on a broken structure, the pair took the brave ('foolhardy', Phillips jokingly corrects me) step to start again from scratch.
He decided the benefits outweighed the extra cost and the zero rate of VAT on new homes made the proposition affordable. Although there is the environmental question of embodied carbon and demolition, the new building has greatly improved thermal efficiency afforded by cavity wall insulation, triple-glazed windows, underfloor heating, cork flooring and better airtightness.
'We looked like a missing tooth along the street during the construction works,' Phillips admits, 'and we wouldn't have gone for this option had the terrace been more uniform.' But the row of Victorian buildings had been interrupted by a Second World War bomb, with two differing sets of homes filling the gap. The immediate neighbours have mismatching facades too; his own now media­tes discreetly between the two, with inset concealed-frame windows, a standing seam roof and a neatly recessed entrance. The brick materiality is in keeping with the 20th century homes further along the road.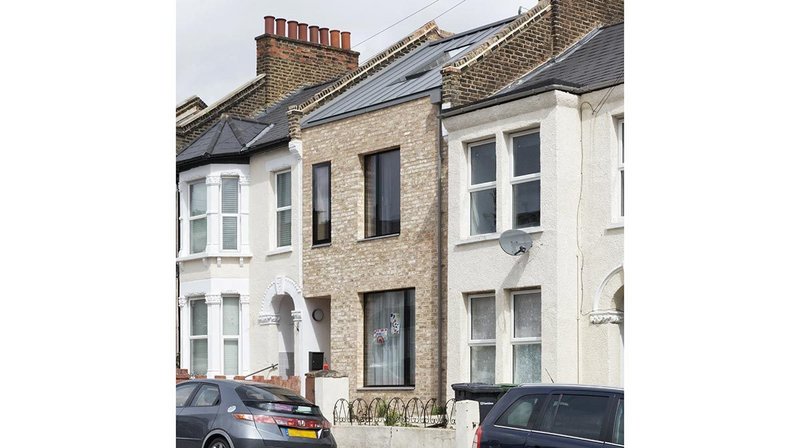 The front elevation mediates between its neighbours as well as picking up the brick along the street.

Credit: Conibere Phillips
The new-build works with the language of the street and does not exceed the original envelope (plus an earlier planning permission for extending), with a 150m2 floor plan that mirrors the Victorian layout. Phillips investigated more radical changes, but found the alternatives did not work nearly as well. The structural system is similar to the spine wall of the Victorian construction, whereby a middle run of four vertically aligned steel beams are placed party-wall to party-wall, and structural timber joists span outwards from this central point.
Stairs and corridors are kept narrow, maximising space in the adjacent rooms, yet the entire interior is light and airy thanks to consistent use of pale beech ply, large windows, strategically positioned skylights and a direct line of sight between the front and back of the house. On the first floor this is achieved by an open-riser staircase that allows light to percolate from front (south facing) to back, while the horizontal interruptions of the treads give a degree of privacy. The second floor is a generous master bedroom.
Subtle adjustment to floor levels allows a considerably higher ceiling in this roof-space, as well as in the downstairs front room and open-plan kitchen area, without adversely affecting the middle floor which contains three bedrooms, study and bathroom. The stepping of floor levels resulted in windows being slightly offset from those of neighbours, preventing overlooking. The back of the house has a ziggurat configuration, more elegant in terms of massing than the ubiquitous suburban dormer extensions.
The downstairs is particularly successful as a family living area. The kitchen is in three parts – a peninsula with a ceramic countertop and metallic copper sheeting on the sides; a white Corian worktop and sink, consistent with the colour choices throughout the house (white fixtures and fittings, exposed grey blockwork); and a larder-unit/food preparation area which can disappear behind concealed pocket doors.
The mix of textures in the kitchen juxtaposes nicely with the pared back dining area. This north-facing room is surprisingly light, thanks to an enormous glass sliding door and skylights which contain recessed lighting. Further tracked lighting can be directed according to need; the entire space is flexible to accommodate different family activities and varying numbers of guests.
Rather than a dining table, Philips has used modular IKEA tables to maximise this flexibility. While no 30-something homeowner can escape owning at least one item from here, this is also a throwback to his days at Wilkinson Eyre on the design team for the IKEA Museum at Älmhult, Sweden. Something of the firm's philosophy has rubbed off on Phillips – 'I hate wasted space' – so another major benefit of rebuilding was to dispense with the eccentric nooks and crannies so often encountered in old properties. Instead we find integrated storage spaces, recessed blinds and curtain tracks, and minimal fuss.
Conibere and Phillips formed their practice in 2015, having both worked on large corporate projects at Wilkinson Eyre. But this is the first time Phillips has been both architect and client – 'a steep learning curve'. Procurement, relationships with contractors and time-frames all turned hairy at times, and Phillips' desire to prioritise his paying clients affected the schedule for his own home. He is also forever noticing minor flaws in the details – the perfectionist's curse.
Conibere Phillips has considerable experience helping clients obtain planning applications for redevelopment, yet this was another area in which Phillips found his own understanding increasing through trial, error and experimentation. Whether due to his professional negotiating skills (or because they believed the next-door house couldn't get any worse), both neighbours were by and large accommodating with party wall agreements. Phillips' lengthy toing and froing with planning applications on the other hand (six months for an extension, six months of soul-searching and a further nine relating to the rebuild), exposes fundamental absurdities within the system despite working in his favour.
Because the original intention had not been to rebuild, Phillips first gained planning permission for a roof and back extension. As it became clearer that more substantial renovation was needed, he applied for a lawful development certificate to replace the principal elevation, aware that he was pushing it to its limit (the case officer apparently laughed on receipt of the application, acknowledging the ludicrous position).
Phillips then submitted a planning application for a full rebuild, which went to committee with recommendation for approval, knowing that even if rejected by the committee his permissions would likely permit him to carry out the works regardless. It was granted, enabling Phillips to execute his plans and benefit from the favourable VAT position. Quite why a naysaying local planning group – who could have presented at the hearing but didn't – decided to wait until the next day to send a slew of rude messages remains a mystery. Too late: by that stage permissions were cleared twice over.
All other responses since then have been positive, and Phillips feels he has contributed to the neighbourhood by demonstrating what can be achieved with good design.
'I want to practise what I preach as an architect,' he explains. 'It would be dishonest of me to live in a pristinely restored Victorian home while encouraging my clients to embrace something radically modern.'
His labour of love has resulted in an elegant, contextual and enviable family home. As for the experience, he says: 'I actually found the process really fun now that I'm past the pain!'
---
IN NUMBERS
£400,000
total contract cost
£2,500m2
GIFA
13.73 (DER)
kgCO2/m3
Credits
Architect Conibere Phillips Architects
Structural engineer SD Structures
General builders Create Bespoke (partial completion only)
Suppliers
Glazing Josko and ES Finestra by SNT Europe Ltd (formerly Zipco)
Beech ply Winwood Products
Structural beech BauBuche by Pollmeier
Fairfaced block Forticrete
Bricks Wienerberger UK
Zinc VMZinc
Underfloor heating OMNIE
Ironmongery d line by Eisenware
Work surfaces Corian Solid Surfaces and Dekton by Consentino Porcelain
Cork flooring Siesta Cork hard wax
Copper sheet Metal Sheets Ltd
Laminate Fenix