Kéré Architecture's ICT training centre and co-working space in the Turkana desert rises from the earth as naturally as a termite mound and aims to transform employment opportunities too
In the arid region of Turkana in north-western Kenya, termite mounds are scattered over the sparsely populated landscape. Some are bulbous, some are tall and thin. They blend in with the rocky terrain, wind-swept trees and tinder-dry bushes, built by colonies of insects from the soil.
The Startup Lions Campus has a synergy with these termite hills, taking inspiration from them both in architectural form and methods. It is a new information and communications technology campus settled on the banks of the world's largest permanent desert lake, Lake Turkana, from which the region gets its name. A learning and working place, it was the initiative of the German NGO Startup Lions, which was founded in 2015 to further job training and expand employment opportunities.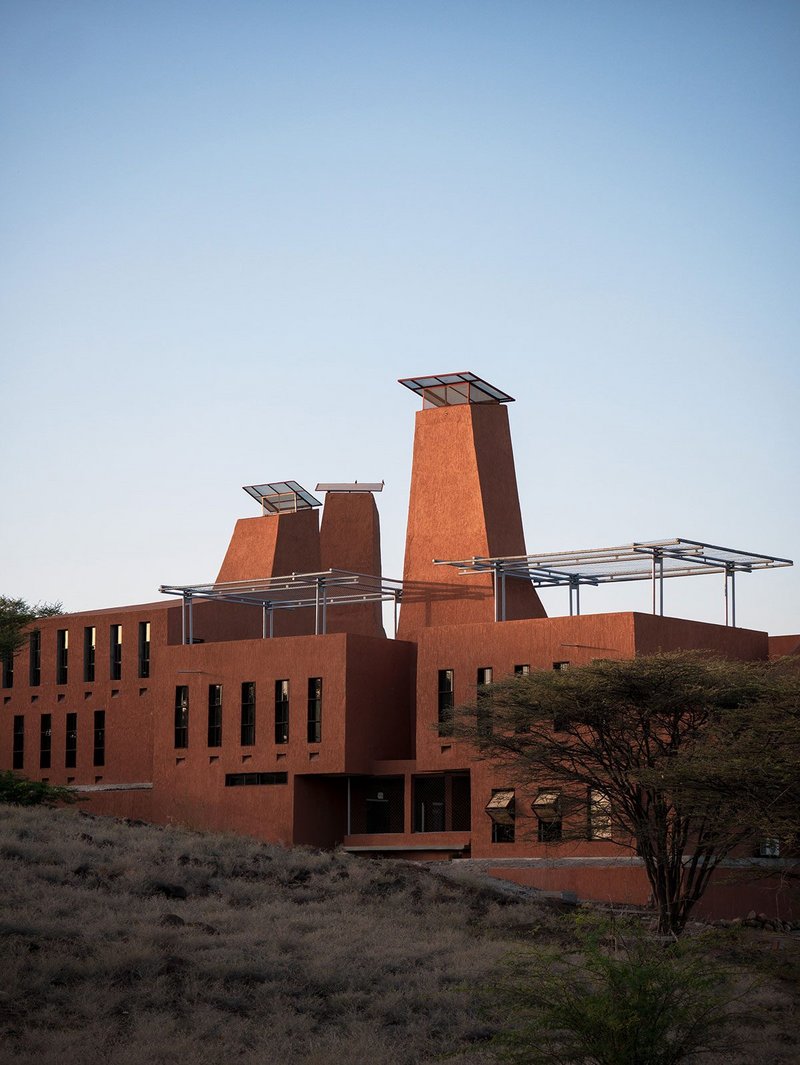 Startup Lions Campus is made of rock from the site it is built on. Creeping vegetation is intended to grow over light steel frames on the roofs.

Credit: Kinan Deeb for Kéré Architecture
Turkana is Kenya's poorest region, far from more economically active urban areas. The brief for the campus was to provide 100 new computer workstations in classrooms and co-working spaces to provide education across various IT professions, and to give people access to the tools needed to work remotely on the international job market. The organisation had already built simple shelters for workshops and a roofed area under which to conduct classes, but this is the first big step towards an ambitious rollout of similar ICT facilities in remote areas. It responds to the pressing challenge of youth unemployment and flight from rural areas. Diébédo Francis Kéré of Kéré Architecture was brought onto the project after meeting Startup Lions founder Ludwig von Bayern during a conference in 2019, before his Pritzker win in 2022.
'The design is inspired by some of the best architects around,' Kéré explains. 'Termites. We wanted to build something that mirrored their incredible structures. This is how the wind towers came about. On a functional level we wanted to provide an open, interactive learning environment and to give students as much space as possible to move, meet and be comfortable.'
Compositionally, the layout is designed to create a small oasis in the middle of the harsh Turkana desert climate. Campus units are placed around a courtyard-like space that doubles as a climatically protected area and a gathering space, where ideas can be exchanged or small study sessions held. For now, there are two classrooms, three co-working spaces, administrative offices, two meeting rooms and amenities including a kiosk, restrooms and storage space, but the arrangement of the plan is formulated to allow the campus to grow naturally, adding the buildings it needs along the way while still providing easy flow of movement – dormitories perhaps, a restaurant, or teacher accommodation.
Like the termite mounds, the building is made from local material, rock directly from the site. Kéré always uses as much as possible anything that is available and abundant locally to make the project of the place, and also ensure it is easier to build and repair, and is more sustainable through reduced transportation. The rock is rendered with a cement and sand plaster mix that picks up the colour of the surrounding earth too, part of the building's celebration of the unusual morphology and natural beauty of its site. It is built over two levels that cling to the natural slope, mixing inside and out through a series of external staircases, walkways and terraces that envelope the structure so that occupiers can almost crawl all over it, as if it were another part of the natural landscape. But the project doesn't just connect you to the earth and soil; the roof terraces offer sweeping views over Lake Turkana too. These terraces are shaded by creeping vegetation across light steel structures so provide cooling and pleasant outdoor spaces for meeting and the informal exchange of ideas.
The three geometrical towers that emerge from the building's mounds are both aesthetic and purposeful, part of the passive ventilation system that avoids air conditioning in a building full of electrical equipment. For it to work air needs to circulate. At the lower level, the windows are small and set at an angle, almost like in a fort, and are covered only by mosquito nets to stop insects from entering but allow air to come in. Fresh air that enters the room then pushes hot air out of the ventilation towers. This means glazed windows higher up do not have to be opened, limiting the amount of dust coming in, which is in important to protect the equipment. These have external louvres made from mats that are used as walls in vernacular architecture protect the glass like brise soleil.
'In a project like this,' explains Kéré, 'finding solutions of this kind is imperative both for the sustainability effort, but also to keep costs manageable and maintenance possible… The power needed, for example, is provided by solar energy.'
The sustainability extends socio-economically too. 'The Nairobi based construction company Build X had the brief to hire locals that were trained in construction,' adds Kéré. 'Where possible we used local materials and applied traditional crafts, mentioned earlier, but also all the carpentry including window frames and doors.'
With the main Kéré Architecture office in Berlin, and the building going on site only in March 2020, coronavirus was of course the biggest challenge for the project. Travel restrictions were being put in place just building began, which limited the team's ability to go on site and meant personnel changes locally as many people's situations altered. 'We are used to supervise buildings from afar, but this really pushed us to up our exchanges, and adapt our methodology and use of available communication tools. We worked with drone imagery and lots and lots of communication and detailed reporting.'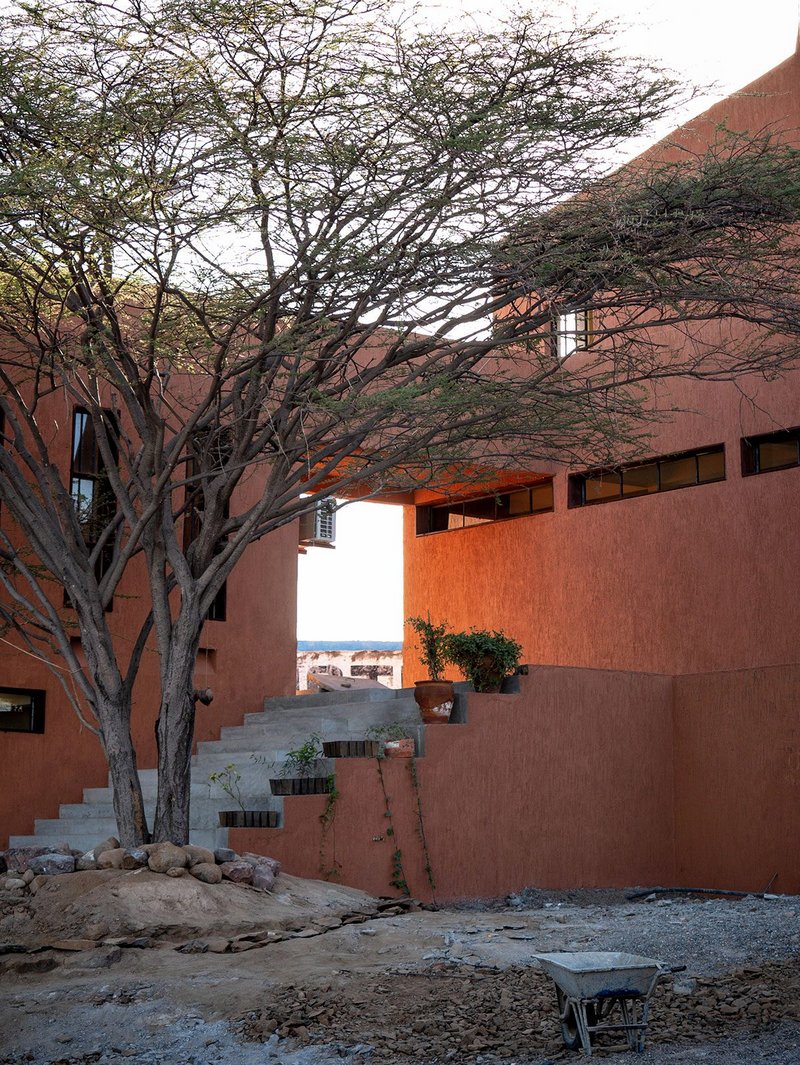 Walkways, stairs and terraces connect the buildings.

Credit: Kinan Deeb for Kéré Architecture
The final project, nevertheless, is satisfying reports Kéré: 'To succeed in doing a building that adapts itself within a landscape as gorgeous as this one, without taking away from it, is great. And the classrooms are designed in a way that encourages dialogue, which is always something I cherish. It has been humbling to learn that an impressive number of students are eager to attend classes at the campus. Recently I met one of the young Turkana graduates during a fundraising event in Germany, and he reiterated that the structure gives identity for the programming that has been implemented before. The building is becoming a site that people travel to visit, and in this way is becoming an integral part of Turkana'. Of the place, land and people, as intended.
See RIBA Journal's profile on Francis Kéré