Conrad Koslowsky Architects makes a house a home for children cared for by the Lighthouse Pedagogical Trust – solid, cosy, safe and enduring
It was the warmth and thoughtfulness that struck me when I first saw Conrad Koslowsky's briefing diagram for the Lighthouse Pedagogy Trust's first children's home, in Sutton. He had submitted it as part of his RIBAJ Rising Stars entry; there were niches, gentle soundscapes and deep thresholds for privacy. To some extent it seemed like wishful thinking, rather like the kids' TV programme The Story of Tracy Beaker where a chaotic bunch of children fall in and out of friendship through a serious of small and ultimately life affirming adventures in a scruffy children's home. But, with this home's founder and Lighthouse Pedagogy Trust director Emmanuel Akpan-Inwang, much of what Koslowsky suggested has clearly been carried through into a spacious yet cosy conversion of an arts and crafts house.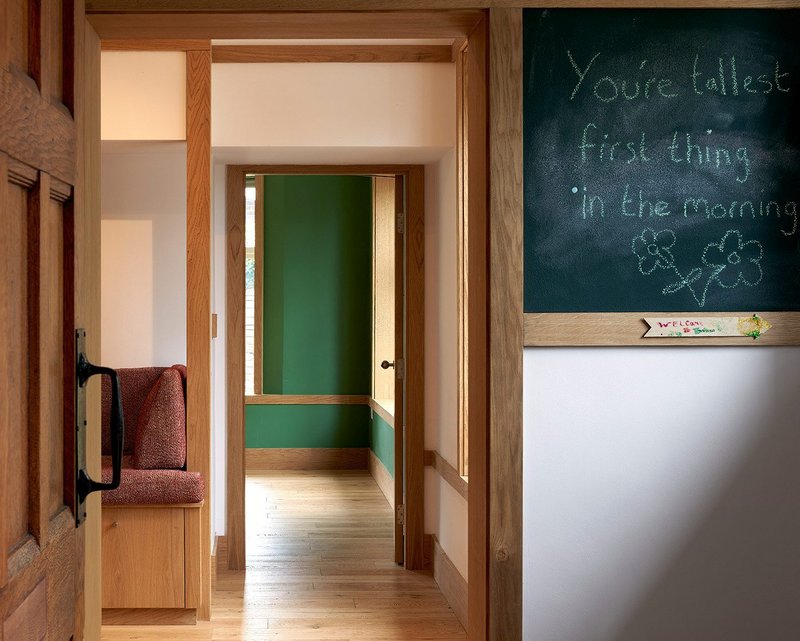 From the entrance to the home the calm green of the study is visible behind the oak doors and frames.

Credit: Edmund Sumner
It can now give a home to up to six children from 12-17 years old, including two care leavers of 16+ in more independent flats on the second floor. It opened in February 2022 and currently four children live there, three from nearby local authorities. In London, the lack of children's homes can mean that children are moved sometimes as far away as Wales. The trust is trying to help change this; in not only creating more spaces in London but also aiming for a different model of homes where children and staff feel more valued with shared rituals and rooms that children can make their own. It has come at a critical juncture as the profits and problems of private companies which run 80% of children's homes are scrutinised and an independent commission has called for the end to profit-making in this sector. The Lighthouse Pedagogy Trust operates under the umbrella of national charity Catch22; starting small, it aims to make a big impact with more homes planned.
The building that the trust acquired was a derelict old people's home which had been chopped up into mean bedroom spaces with mould and rot making their presence strongly felt. Akpan-Inwang and Koslowsky thought they could make it work without knocking it down and starting again, unlike other bidders for the plot. The models show how partitions were removed but also, importantly, how rooms were given a new, nurturing character. Thresholds became part of an almost therapeutic design. Each shared living space has two routes out, so children don't feel trapped in them. And the need for defensible space is served with deep thresholds (acoustic treatment giving extra privacy). This creates opportunities for other uses – such as shelves or cupboards, and next to the living room a habitable cubby hole or nook. Here, on a raised platform, a child can be part of things but separate, in a suspended tent and with the panels behind them open or closed. The confined, defensible threshold device also gives hotel-style bedroom layouts with en suite bathrooms.
Walking into the building the quality of the materials and space really impress. There are no plastic mats or cheap door handles. The doors and their frames are solid oak. When Koslowsky visited other children's homes for research, he found cheap materials ready to be replaced rather than repaired, making their mark on the spaces. The strategy of solid materials was to give sturdy, as well as beautiful, finishes that could take some knocks that a ply flush door could not. This approach might also see a reduction in repair bills, hopes Koslowsky. The daybed at the entrance to the house might seem like just a waiting place but it also gives a natural invitation to sit in collaboration rather than stand in confrontation – important outside the office, which is often a place of tension.
The kitchen and dining area is an essential heart to this home. There are two cooking stations for when things get busy. But the evening meal is eaten together, with even those who don't want to eat come down to join in. The oak table, designed by Koslowsky, allows children and staff to cluster together at the kitchen end or to spread out and have space. The home is particularly proud of the limestone kitchen worktops, with visible fossils, all planned as part of the pedagogy and engagement with the children. This and quarry tiles give a very different sound landscape to the softer living room and study. And with its yellow steel frame it is an engaging room to gather, snack and chat as well as share more formal meals.
Thresholds became part of an almost therapeutic design
One of the stark pictures that Koslowsky took from his visits to other children's homes was of a visitor's chair plonked in the corridor for staff to sit out an overnight watch on (if there is a child who needs extra support). At this home, a landing niche with a circular cushion makes a natural and comfortable space to be and has also proved to be a good place for children to hang out, sometimes with members of staff.
As forward thinking as the pedagogy, is the way the house has been thermally upgraded, with primarily plant-based materials and without the help of gas. Smooth lime plaster sits over wood fibre insulation in the relined envelope. An air source heat pump and an exhaust air heat pump fed by the naturally warm kitchen, bathrooms, laundry and plant rooms do much of the heating, while invisible infrared panels operated by the building management system provide warmth quickly when needed, plus lighting and CO2 sensors. When the roof was repaired (along with the front of the house), 20 photovoltaic panels were also installed.
The quality of the project, compared to the terrible original state of repair, and on a modest budget of just over £2000/m², is a testament to good design, and to the clear thinking and persuasive powers of both architect – Koslowsky also project managed the early stages – and the trust. And hopefully it will give a good number of children a safe, warm and cosy home for a more confident and happy childhood.
IN NUMBERS
Total contract cost (2022) £1m
GIFA cost per m² £2158
Area in m² 466
Form of contract JCT ICD 2016
Credits
Architect Conrad Koslowsky Architects
Client Lighthouse Pedagogy Trust
Contractor Romark Project Management
Investor Treebeard Trust
Structural engineer PHI Design
Cost consultant Stockdale UK
Services engineer Atamate