In an unlikely pairing of library and launderette, Lee Ivett and Ekaterina Stefanescu supply much needed practical and social facilities in Blackpool, on a shoestring budget
To some families in Blackpool, making your way past the seafront of expensive attractions to get to the pleasure beach can feel like running the gauntlet. For many residents of Mereside, on the town's eastern fringe, the infamous shenanigans to the west can feel a world away from lived experience on an estate hiding the deprivation typical of northern towns – albeit behind the dignified brick architraves of its 1950s council houses.
But according to Laura Jamieson, creative producer of socially-engaged arts practice LeftCoast, stories come out in the wash. The firm was taken on in 2018 by early years provider Blackpool BetterStart to consult with residents on how to make the most of the estate's Langdale open space for communal use, and very different conversations arose out of LeftCoast's involvement. 'What we kept hearing was that families needed somewhere to wash their clothes – ironic considering that Mereside originally had wash houses to carry out that chore communally,' says Jamieson. But there was more to it than that. The estate's library, in a small flat facing the green, was, back then, fragile and underused, leaving them considering how it might come into better use. But when Covid hit, and even that closed, LeftCoast continued conversations with residents and kept on building partnerships with Blackpool Local Libraries and Blackpool Coastal Housing. 'The pandemic worked to our advantage in that it gave us time to find funding from organisations like HA Great Places which, in the new reality, was more willing to take risks or try new things,' Jamieson explains. The result was Wash Your Words.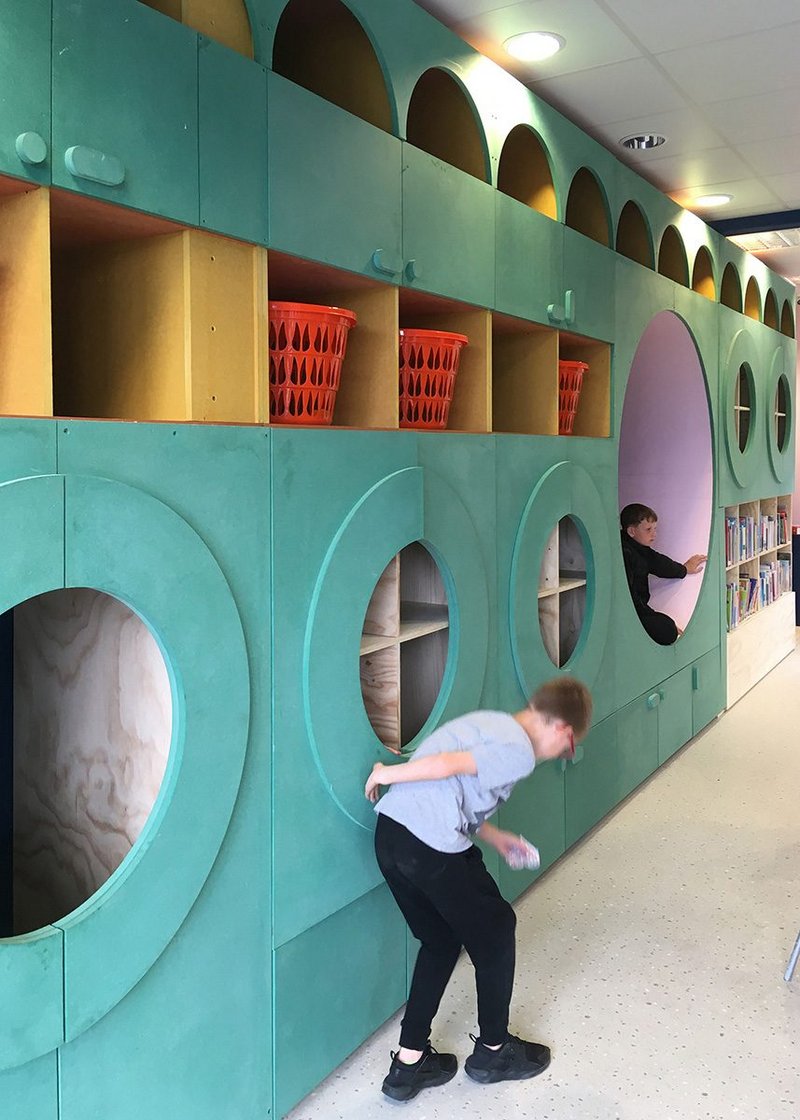 The Valchromat storage wall, using launderette language, allows for storage of prams and dirty/clean washing.

Credit: Lee Ivett
Standing next to the local chippie on the parade in front of the green, Langdale Road's new library has, on entering, the surprising but pleasant fragrance of fabric conditioner wafting in its warm air – that'll be the launderette. It's the week before Christmas and it's quietly buzzing in the main library space and at the table in front, mums and kids are sitting making decorations while their washing is on a cycle in one of the machines at the rear of what was formerly the empty office of Great Places housing association. Not that you'd recognise its previous warren of stale spaces now that architect Lee Ivett and fellow UCLan colleague Ecaterina Stefanescu have worked their magic on it. LeftCoast, having worked with both before, brought them in to help realise this programmatic mash-up – which is all the more thrilling for feeling utterly obvious and suited to its context in spite of how odd an idea it might have initially seemed.
With Ivett and Stefanescu both committed to socially engaged practice, the community consultation was nothing less than hands-on. 'It was all done in the space towards the end of 2021 while there was no power or heating in here,' recalls Ivett. 'We'd go round with pens and draw openings in the existing walls and Ecaterina had this card model that we'd constantly take to bits and reconfigure. It brought the voices of all the parties into the discussion, and done "live", even the engagement felt performative.' But there were real limitations. Budgets were so low that walls with services on them like radiators had to stay, and the same was true of the suspended ceiling. It led to an approach of 'removal', cutting out curved forms and openings in the walls that had to stay, generating a form of open plan arrangement; one that lets you look through spaces into others, creating visually satisfying tromp l'oeil effects from almost nothing.
And as Ivett explains, 'The money got spent on what you can see and touch.' When it came to making their designs for Valchromat bookshelves, charming kid's reading nook and marvellous dryer-shaped language of the built-in furniture, Ivett used the resources of UCLan's Architecture & Engineering faculty not only to train students in specialist cutting technologies but to bring them to the awareness of residents. 'We felt the people of Mereside should have the right not only to aspirational design – however cheap,' says Ivett 'but also to the technologies and ways of making that they are detached from.' There was certainly no detachment regarding how it all came together, however. LeftCoast director Tina Redford says that local volunteers were paid a nominal fee ('their value to the project was as much as anyone else's') to come in and do the demolition, plumbing and painting works. The painting palette stemmed from a 'Blackpool' colour range developed by LeftCoast, and had to pair with the electric blue of the existing metal glazing sections.
The fundamental sense of recycle/ reuse and local sourcing evident in the architectural design runs through the project like writing through rock, born of a resistance to need being the driver. Granted, Wash Your Words addresses a lot of pressing concerns – fuel poverty, condensation and mould in flats, even childcare issues – but it was always about the bigger picture. 'Positive reinforcement and what people deserve rather than need,' explains Jamieson, 'making people aware that it's not only more sustainable to share washing facilities but that using them, creates a support network for residents.' Machines are free to use as long as you sign up to the 'club' so users are trained in basic maintenance. Likewise, the two pairs of reconditioned washers and dryers were provided by local charity Furniture Matters, which will come round if they break down and replace and then fix them again. It's all part of virtuous circle of economy and responsibility.
The people of Mereside have a right to aspirational design and the technologies and ways of making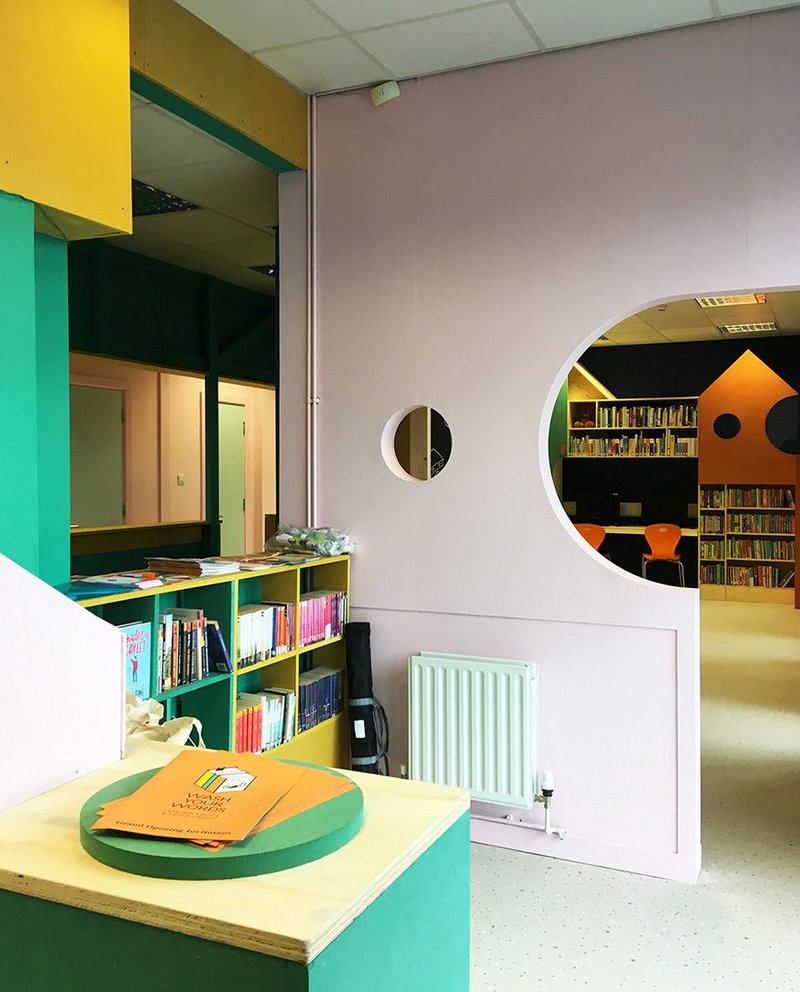 Keeping costs down mean that walls were less 'removed' than cut into, with services like radiators left 'as is'.

Credit: Lee Ivett
Creating a network is also the self-sustaining idea at the core of Wash Your Words. For now, the statutory requirement to keep the library open only runs to half the week, but engaging residents, the HA, education and jobseeker groups to make them custodians of the space with keys to open and close it, means that opening hours are extending. It is hoped that, with evening events, it will embed itself in the life of the estate. And the signs are that meaningful encounters are already occurring. 'One guy came in last week just to keep warm and he told us about his dad's accommodation issues but while here he joined a clothes-screen-printing workshop,' Jamieson relates. 'Then he signed up for the laundry and took out a book to read about his insomnia.' All from a foot crossing a welcome threshold. The following week they'll be running a 'soup-making disco' – 'the place looks great lit up at night!' she adds with a cheeky grin. Sounds risky to me – but if it gets messy, at least they won't have far to go to get cleaned up.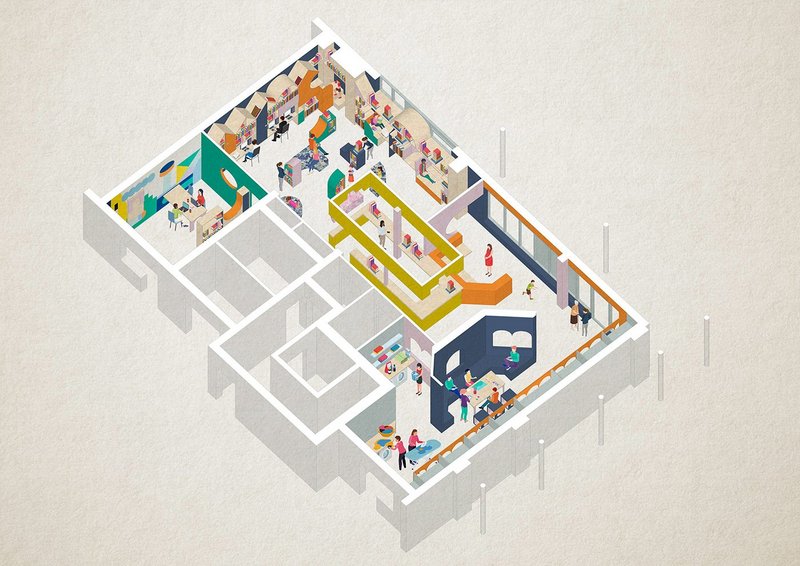 In numbers
Total budget £30,000
Internal floor area 130m²
Cost per m² £231
Credits
Client LeftCoast
Architect Lee Ivett and Ecaterina Stefanescu Grenfell-Baines Institute of Architecture, UCLan
Partners Blackpool Council Libraries, Blackpool Coastal Housing
Graphic designer Dan Astbury