High quality, picturesque holiday homes that are truly accessible to disabled guests are extremely rare, but Clementine Blakemore Architects' Wraxall Yard breaks the mould
Look through the listings of any holiday lettings agency and it's shocking how little there is for disabled people, their families and carers. Charming old cottages are off limits, or poorly adapted in ways that make hard work of a holiday. Purpose-built accommodation might have better facilities but they're often grim, institutional environments in third-rate locations.
Wraxall Yard offers something very different. The collection of five cottages within a restored dairy sits in a picture-book hamlet in west Dorset. Run as a not-for-profit, it promises equal access for all in a serene, restorative setting, and has been crafted with a level of care that touched and impressed the MacEwen Award judges.
'Collectively we don't go out of our way to support this marginalised community,' said juror Anthony Staples. 'But here is something exceptionally beautiful, of the highest quality, where accessibility is not a compromise. This is quite special.'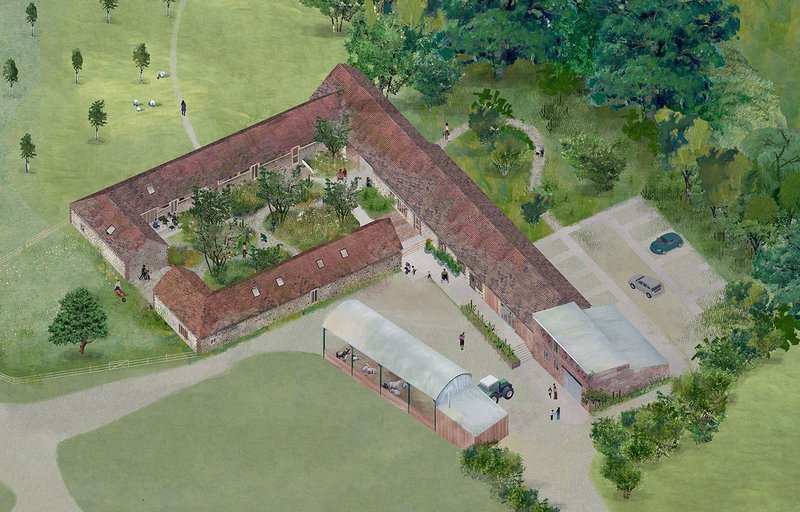 The whole complex is accessible without special routes, ramps or handrails for wheelchair users.
It's the creation of entrepreneur turned organic farmer Nick Read, working with Clementine Blakemore Architects. Read acquired the surrounding land as an extension to his farm, and the barns almost as an afterthought. In a state of near-collapse, they were useless for agriculture and he sought a socially beneficial use for the site. 'I've been very lucky, and didn't need an income from it', he says. 'The motivation to do a big project had to be different'.
Having seen the dearth of holiday accommodation available to his mother, a wheelchair user, he knew of the desperate need for it. Looking at 'horrible' places in the vicinity strengthened his conviction. 'The belief that it could be better became a sort of mission'.
Referrals led him to Blakemore, who hadn't completed a project of equivalent size but inspired immediate confidence. Together they spent months on research, getting detailed advice from the Centre for Accessible Environments. Consultation with wheelchair users yielded practical tips and underscored the importance of design for all. 'It's about dignity,' says Blakemore. 'No-one wants to feel different: "This entrance is for you, that way for everyone else." We aimed to eliminate all those distinctions.'
That principle governs the arrangement of the whole site, which comprises 19th century stone barns around a rectangular courtyard, with later buildings to the south framing a more open farmyard. To keep cars out of sight, a relocated driveway brings you into the yard and swings round to a gravelled car park behind the buildings. Broad concrete walkways lead to a sheltered breezeway cut through the eastern range, and into the courtyard. Curving paths snake through a densely planted garden to patios at each cottage door, rising and falling gently over the sloping ground.
All courtyard elevations were beyond repair and have been completely reconstructed. New timber framing faced in recycled stone preserves their essential character – important because a neighbouring 12th century church imposes heritage constraints, but no less because it's precisely this sort of old, quirky building that guests rarely get to enjoy. Galvanised guttering, precast lintels and a variety of wood and metal windows add to the artfully rustic effect.
'Repairs are visible and pragmatic', says Blakemore. 'We tried to approach the structure as a farmer might.' There's more skill involved than that suggests: you'd never guess at the headaches caused by collapsing masonry or the insertion of wood-fibre insulation below clay tile roofs, disguised by nifty eaves details.
The blend of rough and smooth continues within, where gnarled timber roof trusses and brick cross-walls are counterpointed by refined fixtures and finishes. The agricultural character of the barns was helpful. Stainless steel rise-and-fall kitchen worktops fit right in, as do perfectly level concrete floors. Greenish-grey wainscotting protects plaster walls from knocks by wheelchairs, and echoes the vertical rhythm of the Yorkshire-boarded breezeway and mullioned windows.
With generous height, lots of light, tasteful tones and glamorous touches, the cottages look like any other high-end holiday home, but accommodations for disability are invisibly present throughout. Tables from Another Country were adjusted to increase clearance. Kitchen carcasses were sourced from one of the few suppliers who incorporate pull-out shelves below ovens, and finished with plywood fronts.
Specialist equipment is neatly integrated, with some ingenuity: the track for a hoist travelling between one bedroom and its bathroom is recessed into a roof truss. Even the trickiest obstacles have been overcome. 'My fear was that bedrooms would be wrecked by electric profiling beds', says Read. 'They usually look awful'. Instead, Blakemore asked a manufacturer to supply the mechanism and had frames made in Douglas fir to match other joinery.
Bathrooms are a highlight for guests. Their globe lights, rippling tiles and wooden shutters are quietly luxurious. You have to look twice to notice hand-holds set into elegant basins. Brushed stainless steel grabrails and emergency alarms blend nicely with metal taps and towel rails. It's a far cry from the careless installation of clunky fittings supplied in job-lot 'Part M packs'.
'Anyone coming here thinks "Wow",' says Read, 'but for disabled people, used to being fobbed off, the reaction is much more emotional.' To ensure that the experience isn't only available to those who can pay, he has partnered with a charity to offer subsidised stays.
Read and his co-director, daughter Katie, believe that everyone has a right to enjoy the countryside, and enabling that is one of the project's central aims. From the protective courtyard there are views out in four directions, to woodland and pasture. One new opening leads to a timber boardwalk that winds across a field among oaks, flag irises and meadowsweet, down to a meandering chalk stream. 'Imagine a teenager wanting to escape their family for a bit', says Blakemore. 'It's fantastic to find some space and seclusion'.
Here is something exceptionally beautiful, of the highest quality, where accessibility is not a compromise
There's more life around the picturesque farmyard. A scrappy shed has been converted into a handsome workshop and staff office, with galvanised doors and decorative brickwork. A steel Dutch barn opposite contains the scheme's biomass boiler, hay bales and the occasional sheep stationed there to meet guests.
The final component of the ensemble is a voluminous community space, used for communal meals when there are group bookings, and also offered free-of-charge for activities such as school visits. It's robust but cosy, with exposed brick and stone warmed by rough-sawn timber panelling. An adjacent bathroom has been made large enough to house a changing bench and hoist if required; it could then be listed with Changing Places, a scheme that allows more than 250,000 people to get out and about.
This anticipatory move illustrates the ethos that underpins the project – the 'social model' of disability which contends that poor design and ignorant assumptions are more restrictive than a person's difference. The onus is on society to remove barriers, and not on individuals to overcome them. Read believes that Wraxall Yard can accommodate almost anyone able to travel, but if unmet needs emerge the place must adapt. My hunch is that there won't be much to do. The care that has gone into this project is remarkable, and the result truly exemplary.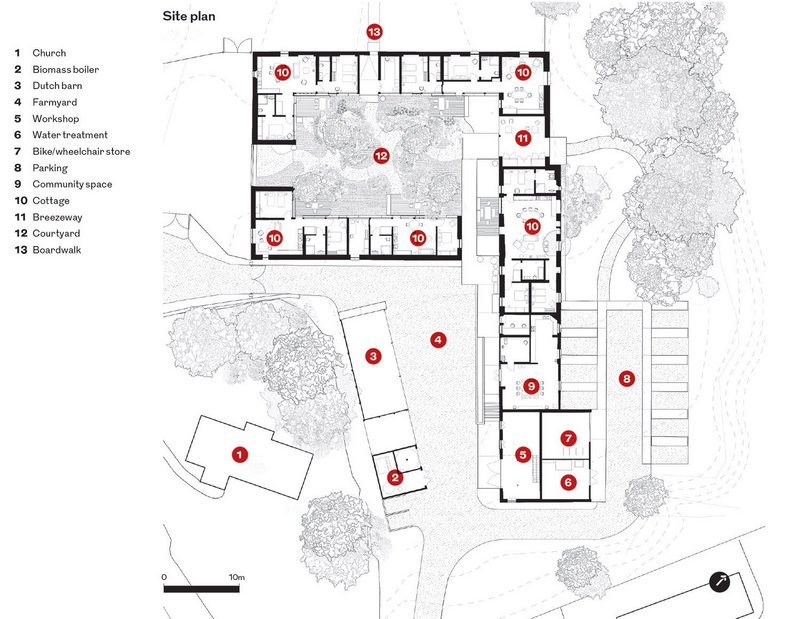 In numbers
Site area 4600m²
GIA 800m²
KgCO2eq/m²/year Annual CO2 emissions (estimated) 20.59
Credits
Client Wraxall Yard CIC
Architect Clementine Blakemore Architects
Structural engineer Structure Workshop
Services engineer Ritchie+Daffin
Landscape designer Hortus Collective
Quantity surveyor Align Property Consultants
Accessibility consultant Centre for Accessible Environments
Identity and wayfinding Smiths Studio
Main contractor Stonewood Builders