Glancy Nicholls' regenerated Thornton's factory draws together care home, library and community amenities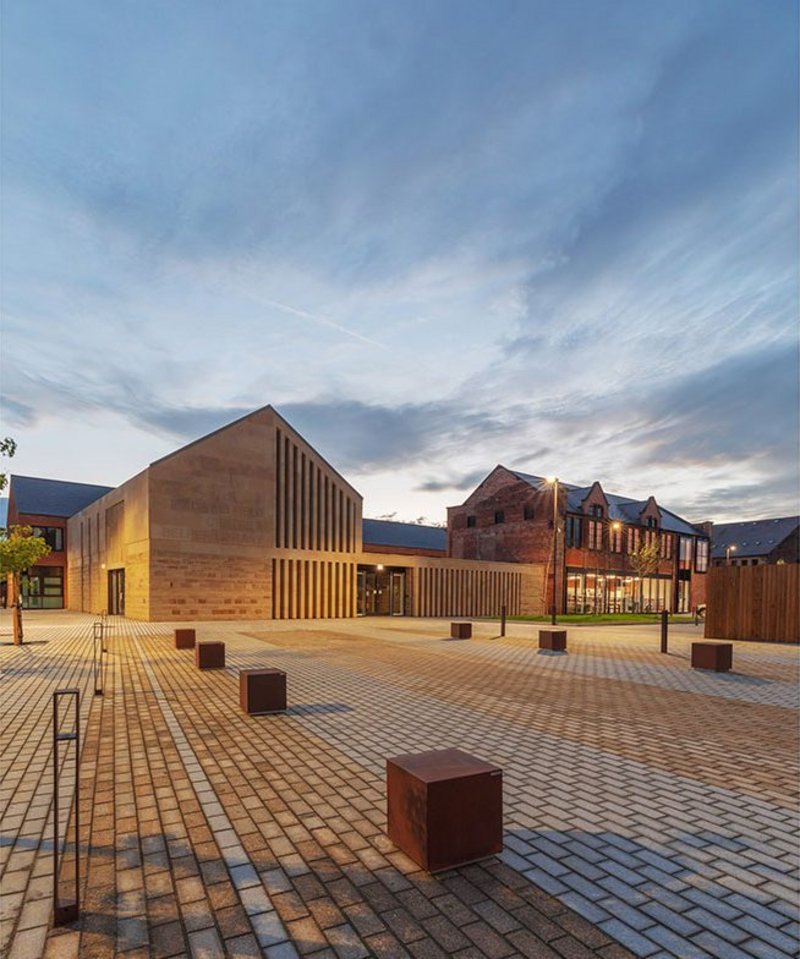 A library, a care home and a new public space. A veritable confection of uses on the old Thornton's factory site. Opposite The library will prove to be a valuable community asset post-pandemic.

Credit: Glancy Nicholls Architects
'Sunday was always treacle toffee day'. 'One day of the week it smelled of sherbet'. They have fond memories of the Thornton's confectionery factory in Derwent Street, Belper. From 1947 to 2004 the delightful scents could spread intoxicatingly right across this Derbyshire milltown. Before that the complex had been a blouse and hosiery factory which at one point absorbed a neighbouring former music hall/cinema, the Empire, dating from 1911. Now it has changed use again to be a new public library: part of a part-new-build, part-refurbished little complex also including a dementia care home. This is the start of the revival of what had become a badly run-down bit of town. It's in the Derwent Valley Mills Unesco World Heritage Site: great care was needed with what was built here.
The MacEwen judges kept coming back to this project in the discussion and understandably: it is a rare piece of public ­patronage, of good quality, alert to its context, on a long-derelict brownfield site. It is designed as a piece of townscape as much as a building, adding a small civic square, a place of refuge from the busy A6 road which runs north-south through the town close by. And it is designed to be seen from a distance and from above. Viewed from up on the valley sides of the Derwent it sits well with the grain and colours of the town. Unesco need not worry. Nor did judge Kathy MacEwen, who declared 'A library with a care home is a fantastic idea- both unusual and stimulating.'
This is a novel combination of uses to find. You enter the main entrance foyer, where the Derbyshire sandstone of the exterior continues through to the interior, and you can go one of three ways: straight ahead for the care home (off-limits to non-family visitors at present for obvious reasons), left to a public café on the square (ditto), right to the library, also now in lockdown. The 40-bed two-storey care home, then, for all its necessarily secure nature and enclosed courtyard design, is itself treated as being of civic importance. There is a feeling of respect here. Before its residents moved in, it functioned for a few months as an official small Nightingale Hospital, treating Covid-19 patients.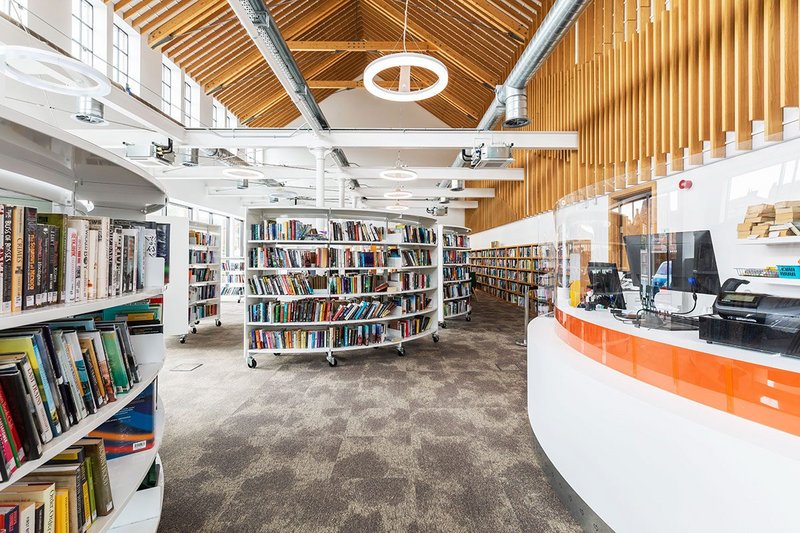 The library will prove to be a valuable community asset post-pandemic.

Credit: Glancy Nicholls Architects
The abandoned factory – and Derwent Street generally – had deteriorated over recent years. A serious fire in 2013 put paid to a large section of the factory. Various plans were hatched for the area – on the western edge of the town where it gives way to the flood meadows of the River Derwent. Schemes for a superstore, for housing, came and went. Finally the public sector intervened, in the form of Derbyshire County Council. Architect Lathams drew up an indicative plan for a complex which would bring together three functions; the care home and library, plus a new NHS adult health centre. All these functions pre-existed in the town but were in old, increasingly unfit for purpose buildings: for instance the library was on several levels in a one-time doctor's house while the previous Ada Belfield dementia care home (named after a prominent post-war local politician and philanthropist) was in a time-expired 1960s building that would have cost many millions to upgrade to modern standards. There followed a design competition, won by Glancy Nicholls with a more compact scheme
If the name sounds familiar in this context, that's because Birmingham-based Glancy Nicholls won the MacEwen Award in 2018 with another care home for DCC up the valley beyond Matlock. Practice co-founder Patrick Nicholls says it all comes down to the dedication of his original client, Bill Robertson, who while at Birmingham instigated a drive to radically improve the quality of dementia care facilities – and then moved to Derbyshire where after retirement his work was continued by Liz Ewbank. Hence the quality of this project.
The stone public frontages to the library and southern flank of the care home give way to red brick, textured to the wings of the care home behind. The pattern of perforated bronze elements is taken from original local weaving loom punch-cards. The masonry picks up on the retained redbrick-with-stone-dressings facade of the old factory running down Derwent Street as well as the old Empire block adjoining. These decent workaday buildings have an important value as part of the industrial and social history of the town.
Now the complex is re-oriented eastwards towards the town centre, this long retained north-facing facade has a problem: it still looks like frontage but has become a flank. Nothing much happens there, behind the facade it's just secondary spaces. So the old street is not fully re-activated, something that could continue to be a problem until a presently empty site opposite is redeveloped.
In fact the new building has empty sites all round it, and only some fringe small industrial buildings behind. The originally planned new health facility did not happen: Nicholls is pondering if houses might replace it, so providing an edge to the new square. But what is already built should unlock what has long been a problematic part of town.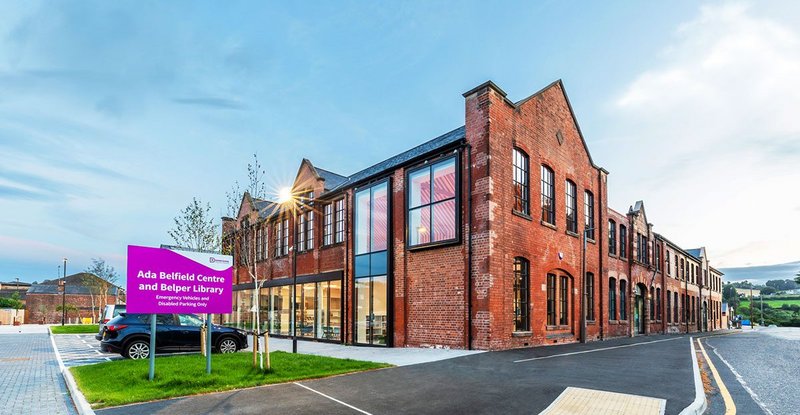 With the care home and library, it's not just about re-use but regeneration of the locality.

Credit: Glancy Nicholls Architects
The library itself is a good place to be: fully visible from the square outside and vice-versa via shop-window scale glazing at ground level, breaching the old Empire walls. A line of salvaged cast-iron columns from a foundry in nearby Milford marches down the centre of the main room. Although it is all laid out on ground level, it is a very lofty space rising right up to the underside of the pitched roof. A good public library always lifts the spirits, and for a relatively small town this is certainly a good one, and with its bookable rooms is a real community asset. It is also closer to the centre and much more inviting than the old one.
So there are multiple reasons this project scores highly in this year's MacEwen Award. An enlightened, committed public client with an established relationship with its architect: a decent budget for a building of quality, designed to last using local stone, responding to context and re-using existing building fabric: enshrining the notion that care for the elderly is not something to be shunted away out of sight; the community asset of a good library much improved; new small-scale civic space; a good use of brownfield land. There's one more thing they could have done though: re-instate the toffee and sherbet smells.
---
IN NUMBERS
£11.2m construction cost
3,216m2 GIA care home
317m2 GIA library
396m2 GIA community facilities
£2,850 per m² overall cost
40 care home bedrooms
Credits
Client Derbyshire County Council
Architect, hard landscape and principal designer Glancy Nicholls Architects
Civil and structural engineer White Young Green
Services engineering and soft landscape Derbyshire County Council
Principal contractor Robertson Construction