Local determination has paid back in spades with Assemble's transformation of derelict houses in Toxteth into a thriving community winter garden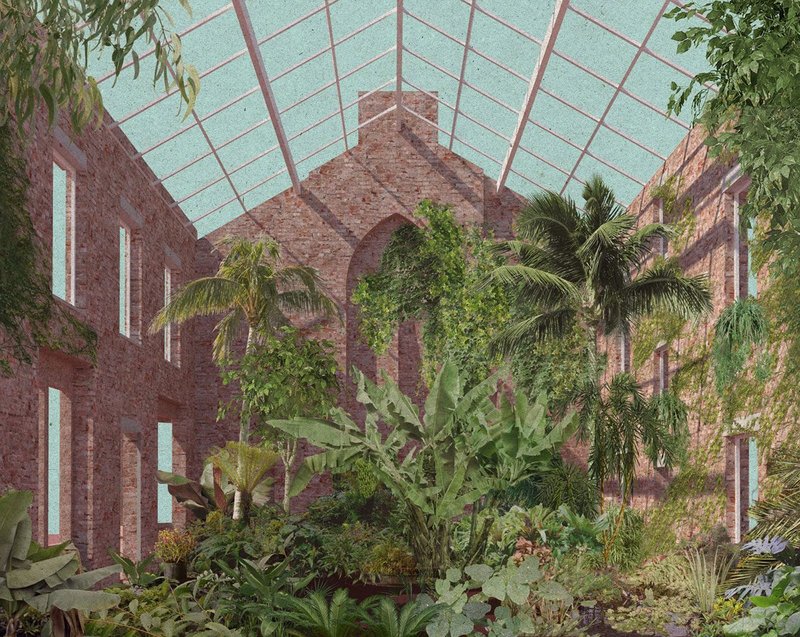 Assemble's original visualisation of the project.

Credit: Assemble
Spending two hours in the company of Hazel Tilley of the Granby4Streets CLT, you feel you wouldn't want to be picking a fight with her. One of the founders of the Granby Residents' Association that two decades later would formalise itself as a Community Land Trust, Tilley's sharp-tongued, straight-talking, earnest and charismatic manner makes her a force of nature. 'I'm a typical Liverpool matriarch, me: I tell you what you want to do and you fuckin' do it,' she says bluntly, pressing a mince pie on a Granby Workshop plate on me. 'But this place taught me not to do that,' she adds, her tone changing. 'I learned this is everybody's place, everyone's involved and everyone's opinion matters.'
You take Tilley at face value. She's lived in the city's centre since she left home at 15 and moved to the Granby area in 1988 when she bought her home here. Snap her in two and 'Toxteth' would run through her bones like rock. She experienced the riots here in 1981 and the racism, deprivation and poverty that brought them about. She tells of the city council's active disinvestment in the area in the years that followed – 'the council stripped the lead off the roofs of the empty houses here so it wouldn't be stolen' – and also of New Labour's regeneration Pathfinder projects that looked to level swathes of inner city Liverpool in a tabula rasa approach. And though this was resisted, those who chose to remain here were marred by the creeping sense of despair and abandonment. Emotionally broken; when, at the end of the 80s, she was one of the six people left on the street, they decided to take matters into their own hands. Assemble's winning of the 2015 Turner Prize for its work at Granby4Streets has its genesis in this moment of collective action.
On a cold but bright December lunchtime Granby Winter Garden is resplendent, sunshine pouring through its fully glazed roof. Plants crawl up its bare-brick internal faces and in the space's residual warmth hangs the smell of moss and verdure. Of course, it isn't as full as it was when it first opened in 2019 – Covid concerns have put paid to that – but the door that's opened to me remains open for others to come in briefly and chat about local matters. Tilley admits that standing among pigeon guano, damp and dereliction, in two of the 10 houses originally sold by the council to the CLT for £1, along with an offer of £85,000 to do something with them, that she'd shrugged her shoulders in defeat.
Assemble's light touch approach that had facilitated social enterprise Granby Workshop was also put to use in this context. The idea for the Winter Garden came, explains Assemble's Anthony Engi Meacock, out of initial studies the firm did for the trust in 2013, looking into how to adapt and repurpose a row of derelict buildings on nearby Ducie St. That concept, for pulling the building line back from facades and allowing residents to expand into them with conservatories or accommodation as they wanted, didn't progress, 'but the idea of a garden at the heart of the community remained,' he says, adding that facilities like this are critical to any sense of social sustainability. 'At its core was the idea that we could create something beautiful and careful and extraordinary and spend no more money than the kind of shit custom-built versions in pattern book regeneration projects.'
But it's not just about the hidden drama of the Winter Garden's double-height, hidden behind the facades of two innocuous adjacent houses on Granby Street, where on any given day the space will be given over to community workshops, coffee mornings and neighbourhood drop-ins. It's how the space has the potential to catalyse beyond its limits. There are the obvious things, like the artist-in-residence space on the first floor that will spend half its life as an airbnb in order to help generate the income to make the place self-sustaining. Or its Granby Workshop's furniture and hand-made tiles in the accessible loo downstairs, keeping the worker-owned entity going. Or the local carpenter who lovingly took in Assemble's wish to mark the movement of the buildings by constructing sash windows with slanting reveals. 'He's so busy now he can't even come back to finish the snagging!' Tilley exclaims. 'It's a Robin Hood type thing,' says Engi Meacock later. 'You're providing local employment and using local resources; it's why we used Granby tiles inside and on the outside water cistern.' Returning the flow of money to the community and holding it there.
I'd almost tripped on a tonne bag of soil on my way in and Tilley tells me that in summer there were 10 of them out there. The pandemic hasn't stopped the CLT's community work; she and resident gardener Elizabeth just took it outside. They encourage local kids to get involved, potting plants with the draw of biscuits and juice in the same way that Assemble got them to help build the Turner Prize fireplaces in the street with smashed bricks and a concrete mixer. She says: 'People don't realise how little money there is here but before you know it, they've potted a plant for themselves and one for a neighbour.' Tilley bustles me through the Winter Garden and unlocks the back door to reveal the alley, its narrow length a wonderland of plants growing wild out of others' fly-tipped rubbish, which last summer was lush, sheltered and scented. 'This is what the Winter Garden did for us. It raised our aspirations and made us all believe we could do something good,' she says.
It's clear that there's still a lot to do. There might be fairy lights hanging in Cairns St, but the blight of poverty is not far from the Winter Garden's threshold. But hope has supplanted despair. The 'Four Corners' project will see Assemble paid to design a community café on the Granby St corner, with two, two-bed flats funded by Homes England. Someone who bakes soda bread wants run a bakery from it, slowly introducing a commercial aspect to this fragile social ecosystem. But Tilley is in no rush to make decisions now that they might regret later; the success to date has taken 30 years. 'When you think that all people were planning on doing was find a cheap place to live and now they're proud to live here, saying they're from the street with the Winter Garden…' I perceive a crack of emotion in Tilley's voice. 'To me it's like a fairy tale, a dream that at one point I couldn't dare imagine. I just look at all this and I think Wow! Assemble are so full of Wow!'
---
IN NUMBERS
2 terrace houses
150m2 gia
£300,000 total budget
£2500 cost/m2
Credits
Structural engineer Structure Workshop
QS Modero
M&E Max Fordham
Access consultant Burdus Access
Building control Liverpool City Council
Fundraising and arts advisor Maria Brewster
Horticultural research Nina Edge and Andrea Ku
Horticultural consultant Mima Taylor, Steven Perkins and Mount Venus Nursery
Lead garden design and planting community gardener Andrea Ku