Nearly-abandoned St Margarets's church found a community lifeline by providing space for services that locals really need. Studio B.A.D's transformation upped congregation numbers too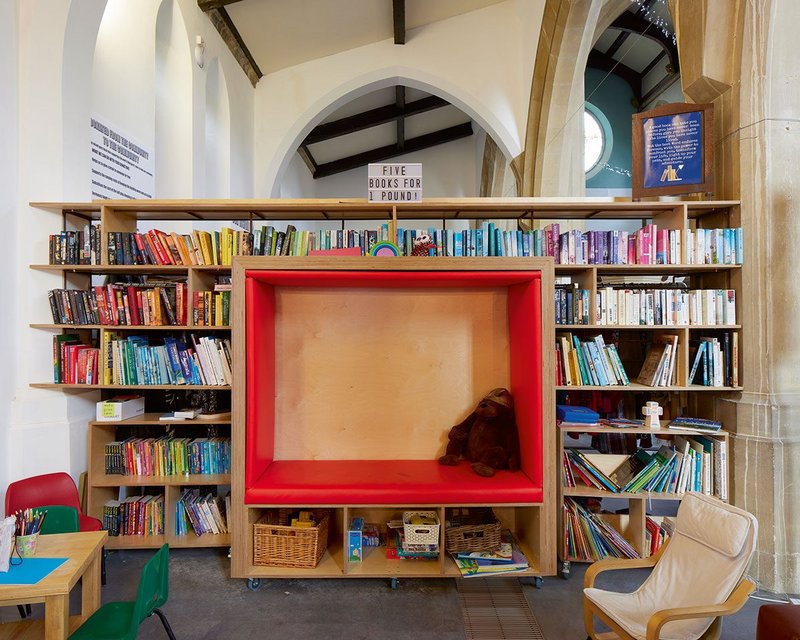 Snug place for kids' reading. Like most of the fittings it can be wheeled around.

Credit: Richard Chivers
Traditional churches have a big problem with dwindling, increasingly elderly congregations based in often uninviting, hard-to-maintain buildings. So what, you might say, especially if like me you're not one for religion of any kind? Well, this project is a convincing riposte from one diocese of the Church of England, working with a small and growing firm of architects committed to community engagement and enlightened reuse. To use a bad pun, it performs a real service.
St Margaret's was decaying and all but abandoned a few years ago, unlisted, its tiny remaining congregation dispersed. This slightly strange building – bricky, flying-buttressed Edwardian with a 1950s frontage and gallery and a 1980s church hall alongside – appeared to have little to offer and inevitably faced the chop.
But the diocese gave it one last chance, bringing in an outreach team to establish what people were lacking, what facilities they could benefit from that a church, with voluntary help, could provide – even on a shoestring budget. Then they set to work. Today it is the same physical building, but an entirely different kind of place: a real mixed-use community asset for everyone, not just those who happen to be people of faith.
It contains a well-used food bank, a café, a shop specialising in second-hand clothes and housewares, an impressively large two-storey children's soft-play area and – in a church context perhaps the most unexpected function – a bicycle repair workshop. This is run by the local youth-support charity Motiv8, its purpose being to impart useful, employable skills to youngsters who have slipped through the education/training/care net.
I arrive in Portsmouth at exactly the same time as Storm Barra. The wind is gusting, the rain is sluicing down, the coast road is closed by crashing waves. Inside St Margaret's, they are dealing with a roof leak. But it's only a small one and, given that the whole roof needs replacing, on a day such as this that's not bad. For now it has been patched up.
The key to this project was to do the maximum possible in fundable chunks, getting the new uses running as soon as the place could be safely used – rather than waiting years to accrue the money to do a total refurbishment. There's a lot of 'meanwhile use' thinking, involving clever use of cheap materials such as rebar-and-plywood shelving, scaffolding structures, and the repurposing of existing church furniture where allowable. Two large heavy communion tables from former side chapels have been given wheels and now serve as counters in the food bank for instance. And the rather nice tables and chairs in the café area were donated from the staff restaurant of the local Debenhams department store when it closed down. The key to making everything work, says architect Darren Bray, was one costly item: the floor. This is a zonally heated, polished-concrete floor powered by air-source heat pumps (there is a gas-boiler back-up for extremely cold conditions). At a stroke this transformed the look and feel of the interior: it became a pleasant place, good for just about any activity. Salvageable portions of the previous 1950s parquet floor were sold to help the funding (some remains in ancillary spaces). And when metal thieves started removing the leadwork from the side-aisle roofs, the church promptly sold the remaining leadwork (it's not visible from the streets) to help fund new non-valuable roof coverings. Metal thieves also tried to make off with the Arts and Crafts brasswork of the lectern and communion rails inside but were caught in the act and fled, so that survives – albeit somewhat damaged.
The diocese, advised by both the Victorian Society and Twentieth Century Society, insisted on keeping those fittings along with the stone pulpit and some good stained glass but pretty much everything else could be changed if need be, and was.
What's notable is how the original layout of the church lends itself to the new function. The nave is wide, as are the arches to the aisles, while there are usefully-sized spaces to either side of the chancel. The arch into one of these now has a birch-ply partition and sliding door to make it a more private space for Sunday schools and meetings, though still with glazing. Glazing is also important at the front where a new, less forbidding door has been fitted along with a gentle pavement-access ramp. The entrance lobby now has several new toilets, essential for any building with a programme of events. The main central space flanked by the new activity zones, one per bay (two bays for the soft play) is roomy enough to take on something of a bazaar feel.
'You don't have to do much to turn a church back to the community to enliven it'
Bray is clear that none of this would have been possible were it not for the ideas and energy of his client, the 'lay pioneer minister' Fran Carabott. In return Carabott remarks: 'Key to the project's success has been the practice's relationship with the diverse group involved at St Margaret's; it's really not just a church in the traditional sense, more like a hub for the community. Studio BAD's flexibility and mobility have enabled us to move very quickly from concept to site; we are now enjoying the results of that work.'
This is anything but a secular project, being firmly in the evangelical wing of the CoE. Aside from the footfall from non-committed people using its facilities, its core congregation is up from a mere handful at its low point to around 200. A second phase designed by the architects envisages a copper-clad entrance building at the front, linking the church with its adjacent hall under cover.
The MacEwen judges appreciated the ingenuity and effort on a tiny budget (much assisted by funds from the Community Infrastructure Levy). BDP's Robyn Poulson noted 'This provides a template showing you don't have to do much to turn a church back to the community to enliven it.'
Denise Bennetts added: 'What I like about this intervention is that it celebrates the building and the volumes. It acknowledges the joy of the building.'
Kathy MacEwen commended the fact that 'It is working really hard as a building, offering a lot of different things in terms of its reach and connectivity.'
Percy Weston appreciated the practicality of it all. 'They started with the basics and continued to add more uses – it can be executed in multiple phases. This move is smarter than it looks, it's important in getting the building back into use.'
Eleanor Young noted its 'good feeling' and how it achieves more than some projects with much more money. 'It has been done cleanly, neatly, allowing it to do so many more things.'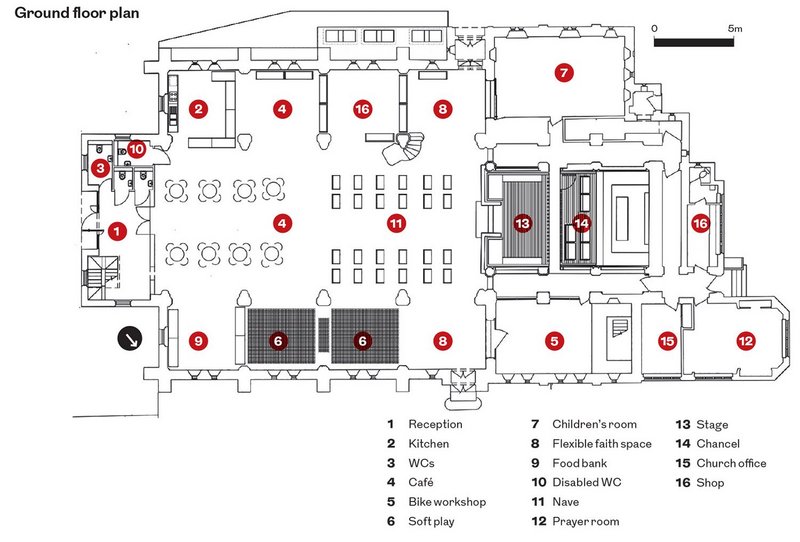 IN NUMBERS
£350,000 contract cost
475m² GIA
£737 cost per m²
Credits
Client St Margaret's Community Church, Diocese of Portsmouth
Architect Studio B.A.D
Architectural consultant Roger Tyrell
Environmental consultant MESH Energy
Concrete consultant Grey Matter