Beautiful and affordable housing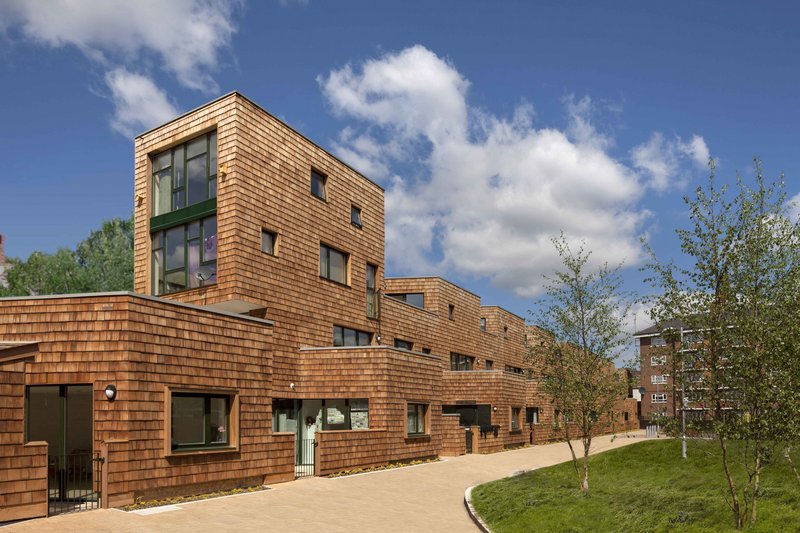 Peter Barber Architects for Southern Housing Group
Location: Hannibal Road Social Housing, Stepney Green, London
Beveridge Mews is a row of 8 new terraced houses and a new community garden located within the Stepney Green Estate in Tower Hamlets East London. Designed for the Southern Housing Group, it is 100% affordable housing. The London Borough of Tower Hamlets has a high level of poverty and a high demand for social housing. There is an under provision of housing for extended and multi-generational families in the borough and a significant problem of overcrowding within individual homes.
This considered, bespoke development seeks to directly address this problem by providing individual houses which range in size from 4 to 6 bedrooms designed to accommodate large, multi-generational families. Priority was given to families who were currently experiencing problems as a consequence of occupying overcrowded accommodation elsewhere on the estate.
The project is configured as a thin notched terrace stretched out along the west side of the site to create a backdrop to a beautiful new community garden and playground enclosed in the three remaining sides by existing estate housing. The new row of houses is made of timber shingles which references the make do and mend aesthetic of the existing sheds and patchwork garden fences of the building opposite. Our buildings complex stepped profile is designed to provide sunny spots for people to hang out and do stuff. Peter Barber Architects worked closely with the client to ensure the social ambitions of the design were retained throughout, and which, according to Evening Standard architecture critic Kieran Long 'transformed an unattractive piece of land previously occupied by dingy garages into a beautiful place.' Since completion, they've seen a little outdoor gym, a whirly gig, bikes being fixed, a sun lounger, and tomato plants being planted. Just what they'd hoped for.