Sleek urban designs for new council housing scheme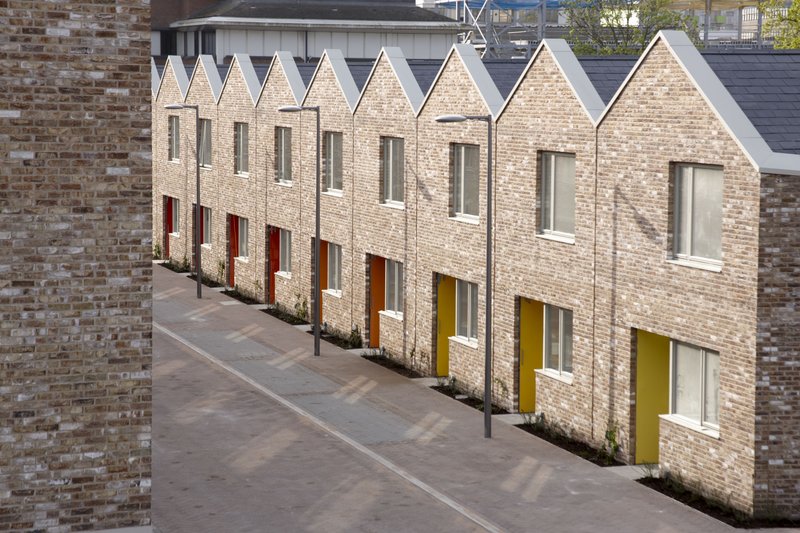 AHMM and Maccreanor Lavington Architects for the London Borough of Barking and Dagenham
Location: Barking, London
'Generation Rent' is well served here. William Street Quarter is a masterplan developed by Allford Hall Monaghan Morris and Maccreanor Lavington Architects to redevelop the site previously occupied by the 1960s Lintons Estate. The masterplan was delivered over two phases, the second phase being the first totally privately funded affordable social housing scheme in the UK. It provides 201 new homes for social rent - 23 four bed houses, 18 three bed houses, 84 three and two bed duplex apartments, and 76 one bed apartments. The first new council housing scheme to be developed in Barking for over a quarter of the century.
Three mews streets lined with brick terrace family houses define the perimeter of the site, while a central 10-storey tower terminates a mansion-block lined boulevard. Horizontally-banded and patterned precast concrete panels define the tower and mansion blocks, with projecting balconies and generously-sized windows helping to break down their mass. A high quality variegated brick was selected as the main cladding material for the mews houses. Individuality has been achieved by the use of colour and alternative finishes to the mews houses, tower and mansion blocks, with varying colours to entrances, pattern and balconies providing an enhanced sense of place for tenants.
The design creates a high quality urban landscape with a mix of private and communal amenity space at the heart of the residential blocks as well as a safe and attractive streetscape and home zone environment. The project is designed to Lifetime Homes standards, with 10% of the dwellings being wheelchair compliant, with dedicated disabled parking and generous level connections to front doors.
Making great use of offsite construction, William Street Quarter is highly visible in a key town centre location, building on the wider process of regeneration underway in Barking.