Stimulating new spaces based on the 'forest school' ethos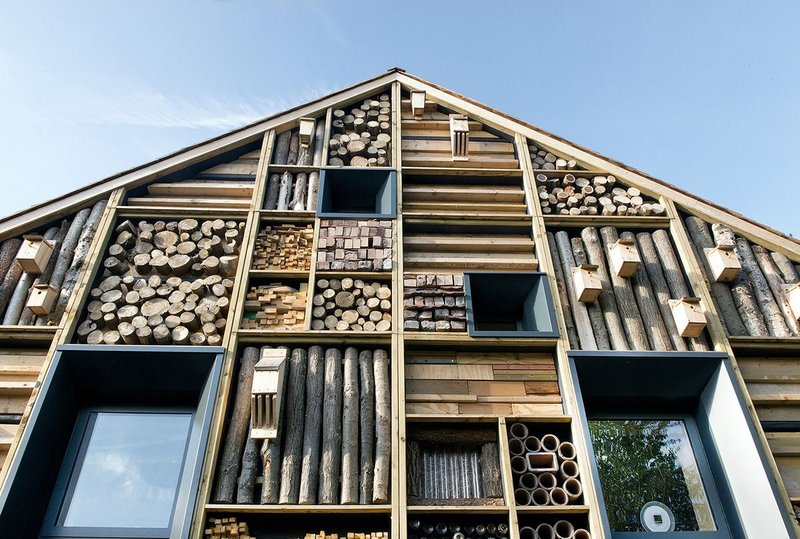 Credit: Beccy Lane
Sarah Wigglesworth Architects for Mellor Primary School
Contract value: £591,000
GIA: 226m²
Project Architect of the Year Award – Eleanor Brough, Sarah Wigglesworth Architects
Mellor Primary School extension provides a series of stimulating new spaces based on the school's 'forest school' ethos. The low energy building aims to harmonise with its natural setting, using locally sourced natural materials while featuring a striking habitat wall which was designed and built in partnership with the school's pupils.
From the outside, the remaining school building is typical of 20-year-old examples found across the country and is functional yet uninspiring. The architect has turned to the back of the site to provide an extension and remodelling, an area that may not have been first choice for some given its steep fall away from the building. Rather than eat up valuable play space however, this site presented the challenge and opportunity for the team to design a modest extension that nonetheless transforms the classroom experience.

With a limited budget the architect has achieved what many education schemes on much grander scales fail to do; provide a series of indoor and outdoor spaces that will inspire and facilitate learning. The dedication of the project architect to achieving the best for the client was evident with a commitment that extended to real hands-on engagement and support beyond what could be normally expected.
See the other winners of the RIBA Regional Awards 2016 - North West
---