Snug Architects for New Forest District Council, Milford-on-Sea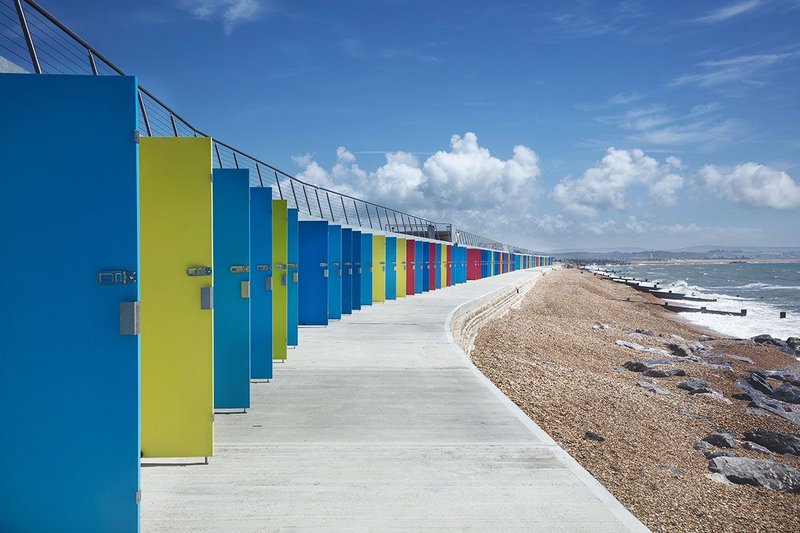 Milford-on-Sea Beach Huts and Public Realm Improvements

Credit: Martin Gardner
A simple beach hut replacement scheme seems unlikely to qualify for the MacEwen Award. But the 119 beach huts at Milford-on-Sea threw up an opportunity to improve the seafront and the way that could be shared between the hut owners and the wider public.
It quickly became apparent to the design team that simply replacing the huts would be an opportunity missed, as previously they effectively created a private lower promenade and blocked public views of the beach from the upper prom.
The council – which entered this project for the award – showed all-important political courage and expanded the brief and budget in response to a successful public consultation event attended by over 600 local people, where it became clear that the community wanted an enhanced public realm. The design achieves this without compromising the legitimate needs of the beach hut owners.
Milford-on-Sea Beach Huts and Public Realm Improvements

Credit: Martin Gardner
A new promenade placed on the roof of the huts supplied public art and improved views, seating and most significantly, integral sea defences – all using the structural capacity. By designing out any overlooking of the beach hut users, a new and improved public realm was achieved. The addition of a ramped bridge that dramatically cantilevers out over the sea allowed all huts to be fully accessible for the first time. Setting the huts back enlarged the lower prom, reducing tension between hut owners and the public.
The council client points out that perhaps the biggest contribution the project makes is the way it adds value through collaboration; between engineer and architect, public engagement and political will.
---
Credits
Clients New Forest District Council, New Forest Beach Hut Owners' Association
Engineer Ramboll
Architect Snug Architects
Contractor Knights Brown