Trafford Council's tight budget responds to the climate emergency as 5 Plus Architects gives Urmston Leisure Centre a sustainable refurbishment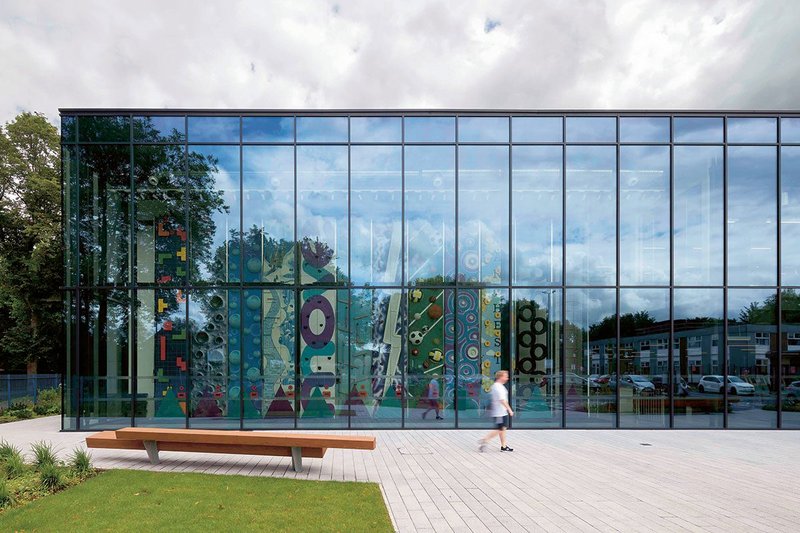 A new front section to the existing pool and sports hall is fronted up with a climbing wall.

Credit: Tom Bird
Urmston's leisure centre, Move Urmston, is not a new building. Nor is it a special old one. But it has gone a long way for £6.4 million by reworking the front of the building. ­Remarkably, even in lockdown, while closed, its membership has grown, perhaps thanks to an intensive two weeks of fully booked, half-hourly tours of the building in early March.
So how is it sustainable? First, in encouraging more people to be active. And secondly in presenting a new face to the world but with relatively little demolition, thus saving a huge amount of embodied carbon. In operational terms it is also bringing down energy use.
Public health is now firmly on the local authority agenda. And we saw how local this can be in August when a surge of Covid-19 cases caused Greater Manchester, which includes Urmston, to declare a major incident over a coronavirus spike, as other parts of the country continued to open up. This incident saw Move Urmston, which had reopened post-lockdown, close down for the second time. But long before we had heard of Covid-19, Trafford Council decided to invest in public health through its leisure centres.
For 5 Plus Architects, bidding to design these was a long shot, despite director Paul Norbury's stint at FaulknerBrowns working on sports buildings. The practice hadn't got 'three of these' under its belt. But its track record on its BREEAM Excellent Trafford Town Hall did count. Not only that but its design touched a chord and when it found the budget didn't match the council's aspirations the authority decided to focus its budget on Urmston, rather than other projects.
5 Plus kept the existing pool and sports halls and rebuilt the warren of rooms at the front of the building into a simply navigated space, starting with an open entrance, without turnstiles, and a climbing wall that acts as the energising face of the building behind the glass facade. An old and underused 'conservatory' becomes a poolside café and a sensory room. Studio spaces have been designed to work with different class sizes and give natural light even while, in one, the immediate plan is for a more immersive space where the big screen takes precedence.
Originally the brief had the sports hall chopped up into studios. 5 Plus argued to keep the generous flexible space – the sort of space few private gyms have access to. That will pay off as distanced activity returns. The sports hall was also seen as problematic, horribly overheating those who were already hot from their games and workouts. A study of the build up and possible solutions prescribed roof insulation and the addition of vents both high and low to allow for natural ventilation – a nice simple solution compared to the option of using air conditioning to keep players cool.
The government has often been urged to use its power as a client to effect change. Here, a requirement in the Trafford Core Strategy for a CO2 reduction of 5% on Part L (Building Regulations notional equivalent) has nudged the team into a better result. The leisure centre achieved a 6.9% reduction on the carbon emissions from the notional equivalent, a reduction of 5.3kg CO2 emissions per m²/year.
This came from a lot of small moves, though it started with the big one of revising the design to address solar gain. Savings were found in the fabric efficiency and that of heating, cooling and ventilation (an invisible intervention of replacing the 30-year old plant, a loss in embodied carbon but a chance to run the building more efficiently). Auto-off and dimming lights cut waste alongside a design to maximise natural light – noticeable in the entrance and in the clerestories of the existing axial spine. Air permeability has also been reduced to half that of the standard and the hot water system has been insulated.
Urmston shows that reworking, repairing and retrofitting, with plenty of attention to the tiny unglamorous practicalities, can start to make a difference to the climate as well as to people's lives.
---
Credits
Architect 5plus architects
Client Trafford Council
Client/operator Trafford Leisure
Principal contractor ISG Plc
Suppliers
Cladding (Equitone Linea) Equitone
Curtain walling Dortech Architectural Systems
Clip n climb Multiplay International
Equipment supplier TechnoGym
Gym flooring (Everlast Smash Tile) Ecore Athletic
Changing room equipment (cubicles and vanity units) T-IPS Washrooms
Steel framing system Metsec by Voestalpine
External louvres to plant room Gilberts (Blackpool)