Working overseas can open new doors in many ways but the challenges require tenacity, says Stuart Piercy
It isn't always easy for a young practice to find substantial and exciting work in the saturated UK market. So we look internationally. Design competitions, unlike pre-qualification questionnaires, played to our strengths and in 2006 we won two international design competitions. The first was the Spanish Manubuild ideas competition and the second the Living Steel competition to design sustainable steel housing in Kolkata, India.

Living Steel international architecture competitions were launched to stimulate innovative approaches to sustainable housing. A worldwide collaborative programme with members including Corus, Tata and Arcelor Mittal, Living Steel was established to promote the durability, flexibility and streamlined construction times of steel.
The competition brief – for a site in Rajarhat new town in eastern Kolkata – called for a flagship building showing how steel could be used for residential housing in a country traditionally reliant on concrete. The brief seemed to assume that as this was for the high end of the market it would be a conditioned, sealed box, and as 'westernised' as possible.
'We imagined that instead of slowly constructing a building of concrete and other wet trades, our design could be assembled quickly on site after manufacture in factory conditions'
Pragmatic poetry
Instead we proposed a conditioned contemporary living space enveloped by a permeable responsive outer skin of opening steel panels. These perforated panels help cool the building by maximising airflow and shading while also providing a screen during torrential rains. This environmental buffer zone conditions the climate naturally, minimising the use of air-conditioning. The outer patterned skin borrows from the expressive and permeable architecture of Kolkata and is a direct result of layering sun paths with external views to create a facade 'map' where some areas are more perforated, others more opaque. Thus a very pragmatic design tool creates something quite poetic.
From the outset the delivery strategy was based on a 'kit of parts' principle with each element selected from a standard catalogue of steel components fabricated by supply chain partner Tata Steel. We wanted to demonstrate one of steel's biggest advantages – the flexibility of mass produced components. We imagined that instead of slowly constructing a building of concrete and other wet trades, our design could be assembled quickly on site after manufacture in factory conditions. We had the best steel companies in one room, a willing client and very enthusiastic design team.
Ironically, this kit-of-standard-parts approach has posed the greatest problem on the project, while other technical challenges (like stopping the natural tendency of steel to rust in this humidity, stopping the 3m high screens being torn apart by extreme weather, or stopping the steel getting dangerously hot) could be researched and resolved. Early design workshops led to the assumption that we could easily order standard UK steel components – this underpinned the project's whole ethos.
It may have been a steel-based competition but India rarely builds in steel, especially on residential projects. Consequently, the supply chain is limited and even internal metal stud partitions or composite cladding panels become bespoke components. Importing steel elements from the UK and training local labour to work with them extended the programme. The pragmatism of our design was founded on an assumption of economy of scale and fast supply and assembly times, but this was turned on its head by our lack of local supply chain knowledge and a client frustrated by the cost of the shift in construction methods.
Elementary details have become bespoke fabricated solutions, for which it was generally difficult to find subcontractors able to give design input. The knock-on effect was more time spent and more liability gained. So we now have a much more bespoke and hand-crafted building than intended which will look the same, but is very different in its genesis.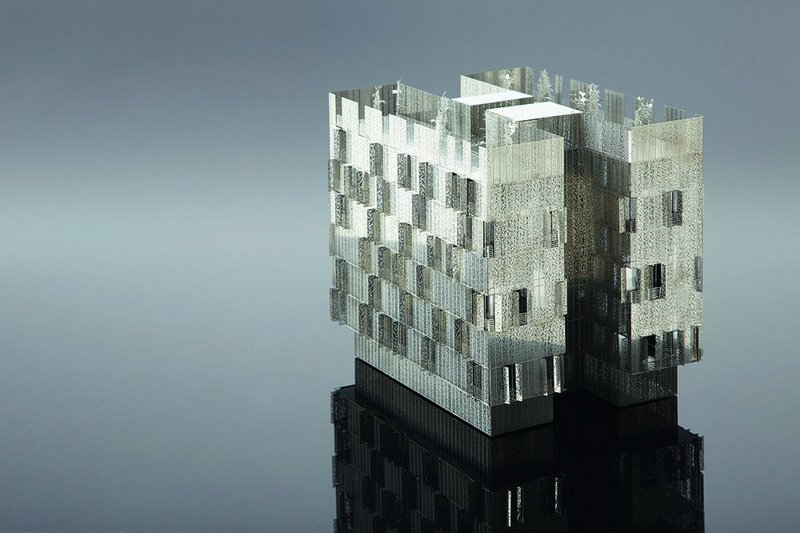 Hang on in there
The competition aimed to pioneer the use of steel in India and did experienced trailblazer teething problems. To an extent it has been a victim of its own process. Living Steel was disbanded last year, losing the project its chief champion – its programme director, Scott Chubbs. He was a tireless supporter and an essential conduit for both design team and client to vent their frustrations. In the last two years local financial volatility and a lack of communication hit the project's momentum. It had its ups and downs but working in a very different construction culture on the other side of the world magnifies every bump on the road.
This is still a beautiful project that we are very proud of so we are not giving up yet. We hear the steel for the superstructure has been ordered, and have received several pages of technical questions from our client's architect – so it should come out of the ground soon.
I think most problems are surmountable and we have learned a lot as a practice which we can apply abroad and at home. Our experiences in Kolkata taught us the immeasurable benefit of local knowledge and connections. We now see local collaboration as integral to international work and have since successfully collaborated on a Belgian masterplan with local practice Conix. There is great strength in collaboration for both design team and client, as long as you know why you are there.
We are busy in central London but are very excited by what will hopefully be our first built project in India – perhaps the first of many. n
Stuart Piercy is founder of Piercy&Company