A school that transformed life for a former mining community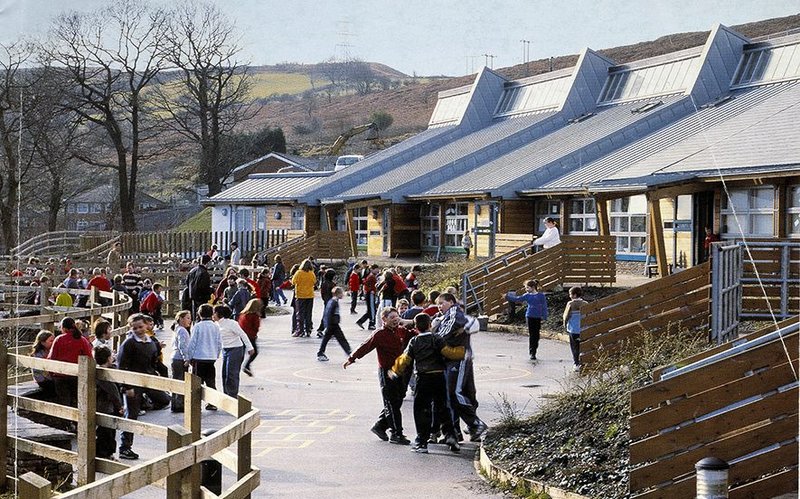 On first seeing the school, one pupil exclaimed 'You wouldn't think we were in Perthcelyn'.

Credit: Jim Lowe
Photographs of Perthcelyn Primary School, hunkered into a Welsh mountainside with dramatic slopes behind, suggest some kind of rural idyll. But nothing could be further from reality.
Perthcelyn was a 1970s attempt to improve the lot of the deprived in the Welsh Valleys. It relocated people from the tight terraces, who had been deserted by the industry that gave birth to them, to a huge new housing estate above Mountain Ash. It is known locally as the Lost City. By the time local authority architect Richard Woods arrived in the late 1990s, the school, one of the few community facilities there, was on its knees. A group of mothers had spent years petitioning for a new school to replace the leaky post-war prefab school building.
With ERDF money Rhondda Cynon Taff Property Consultancy took on the £2.1m job. Woods devoted hours working through the options and details of the school with the parents and the head teacher before planning. Not that there were too many options. The ground dropped 30m across the site and the design dug the school into that, using the gradient within the building to create a clerestory-lit central street, warmly delineated by the glulam structure. The classrooms and their low zinc roofs curved around following the contours and opening onto a playground whose intimacy belies its grand views.
The tender for the school was won by Rhondda Cynon Taff Council's direct labour organisation and the school was built out by them with great care and commitment with a bit of a family feel. The idea of a council designing, building and even running a school now seems alien and the contractors and architects were indeed soon to find themselves looking for private work. But the legacy remains. On first seeing the school, one pupil exclaimed: 'You wouldn't think we were in Perthcelyn.' Attendance jumped to excellent over the following years and the head saw an improvement in children's health and wellbeing. She also found it far easier to recruit good teachers. And, in the community at large, the school making it onto the telly as an example of great architecture was the cause of enormous pride in Perthcelyn.
Enter the awards here
---