Allows connection without compromise to an inspirational setting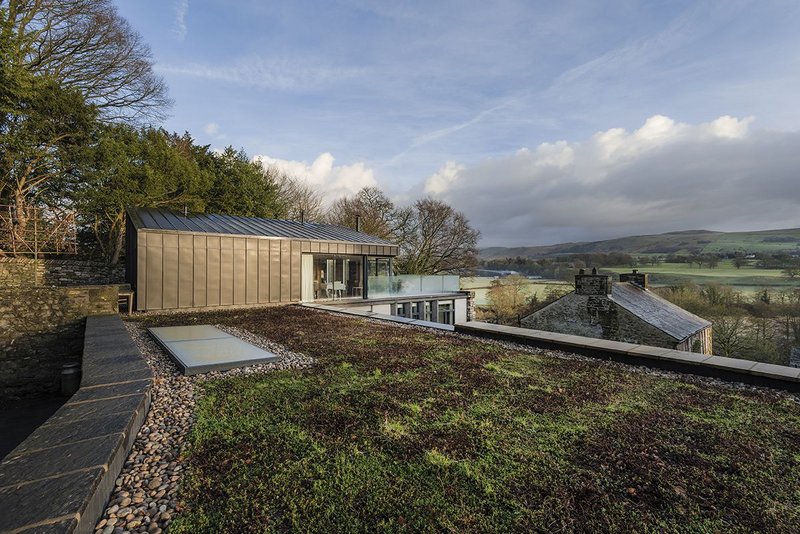 Credit: Brian Ormerod
Bennetts Associates for private client
Contract value: undisclosed
GIA: 386m²
The context of a heavily constrained Cumbrian market town with a very active conservation lobby is not where you would expect to find support for such an essay in contemporary domestic architecture. The architect worked hard to demonstrate how its design would, despite being more contemporary, be a far better 'fit' for the town than the higher density pastiche units that were originally given planning permission.
The design arranges the bedrooms and a guitar workshop in an L-shape around a walled garden at ground level. A planted roof continues the slope of the ground above, giving the effect of a ha-ha, with stone walls unifying the ground floor into the characteristic topography of terraces and retaining walls. There is quality in abundance, but the building does not shout or present as being ostentatious. The planning of this upside-down house takes full advantage of the spectacular views, while maximising privacy within a tight urban fabric. The high quality of workmanship is evident from the natural stone walling through to the bespoke carpentry within the living spaces.

This year's jury found that this house, despite its design credentials and high quality materials, still feels like a home that could and should be lived in. It allows people to connect with an inspirational setting without compromise or reversion to stereotypes.
See the other winners of the RIBA Regional Awards 2016 - North West
---