Two cantilevers that don't quite meet in the middle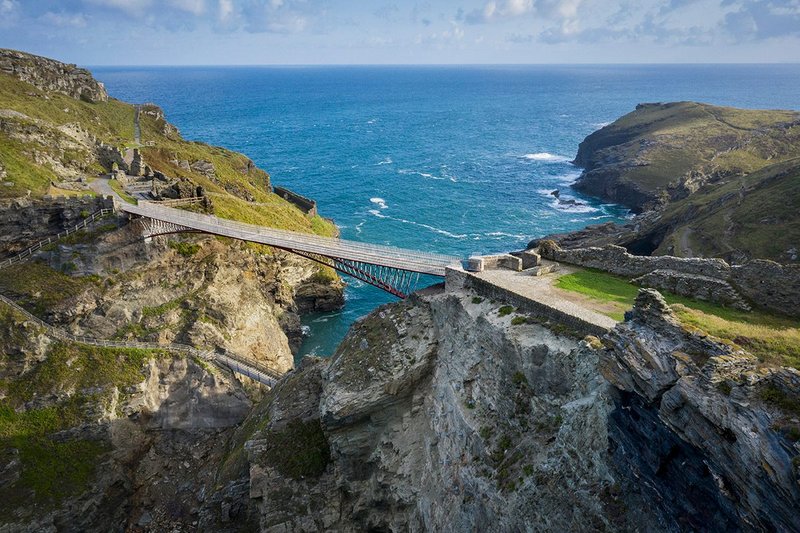 Tintagel Castle Footbridge.

Credit: David Levene
RIBA National Award winner 2021
RIBA South West & Wessex Award winner 2021
---
Ney & Partners and William Matthews Associates for English Heritage
Contract value: £3.5m 
Length: 68m 
Cost per m2: £20,000
This is much more than a bridge. It is a connector, an enabler, an interpreter and a spectacle all within its own right.
Located on a north Cornwall cliff top on a site that's the legendary base of King Arthur, this new bridge is beautifully executed at all scales, from the way it respects the silhouette of the landforms it abuts, down to the tactile detail of its path, made from slate laid on edge.
Retracing the approximate width and length of the natural land-bridge and castle structures that have long since fallen into the water, the bridge notionally links past with present and physically connects two stranded sections of the castle precinct, which dates from the 13th century. With its highly ceremonial presence, articulated in every piece of finely crafted stainless steel, it also allows contemporary visitors to retrace the steps of predecessors who would have passed through this section of the castle to gain entry to the grand hall on the island side.
The structure is formed from two 30m cantilevered bridges separated by a 40mm gap, intended as a symbolic and playful threshold from mainland to island, and from present to past