As demand for hotel rooms rockets, new ways of thinking are needed to please both customer and planner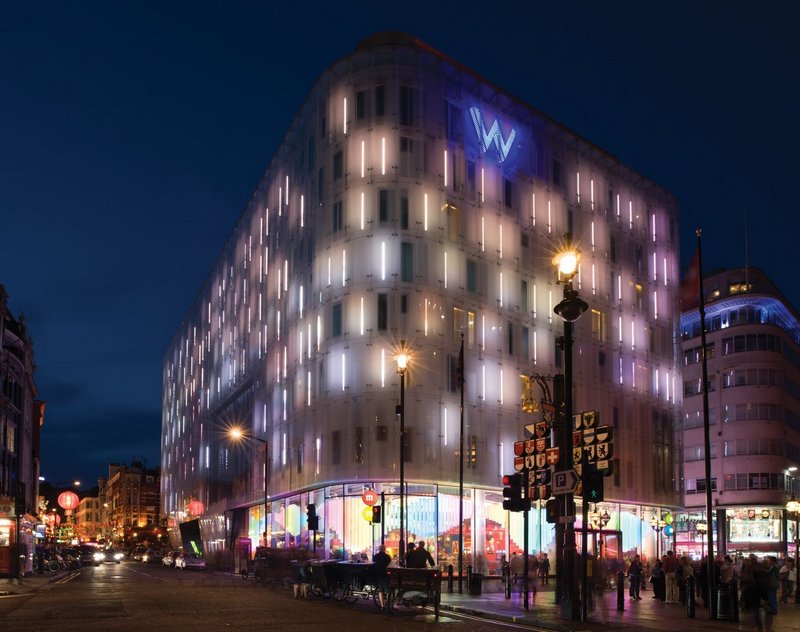 Jestico + Whiles' W Hotel – exploiting Leicester Square's 24-hour culture.

Credit: James Newton
The hotels sector is on the brink of an economic boom as a rise in tourism and business travel and the UK's continued emergence from ­recession drive up room rates and trigger a new wave of construction.
Average daily room rates (ADR) in London are forecast to rise to a record £142 during 2014, up 3.4% on last year, with 83% occupancy, the highest level since the 1990s, according to the latest figures from Price­WaterhouseCoopers (PwC). In the regions, ADR is expected to rise 2% this year to over £60, the highest since 2008, with occupancy also set to rise by 0.9% to 73%.
Hotel construction is ramping up to meet this demand. In the London area 25 are under construction, adding roughly 3,500 rooms to the city's stock, and a further 266 have detailed planning permission up to 2017, according to London & Partners, the official promotional body for the capital. A further 8,200 rooms are due to come onstream in the regions during 2014, up 1.8% on the long term trend, says PwC.
'Increased development activity is a result of general market upturn, the UK economy is improving, people have more money, and banks are lending to the right investors,' says Nuno Galvao Pinto, senior vice president in the hotels and hospitality team at real estate firm JLL.
'There is also a lot of foreign money coming in, particularly from Asian and US investors, and the lack of London sites means it is spilling into cities like Manchester, Birmingham or Newcastle, which were previously less popular.'
Notable schemes supported by foreign investment include the massive One Nine Elms mixed-use development due to be built on the south bank of the Thames, acquired last year by Chinese firm Dalian Wanda, which will feature the first 5-star hotel built in London by a Chinese firm. Asia-Pacific's leading hotel brand, Hong Kong-based Shangri-La Group, opened a branch ­inside the Shard at London Bridge last year, designed by Dexter Moren Associates. And later in 2014, US hotel chain Gansevoort will bring to site its first hotel outside the States, in Shoreditch, also designed by Dexter Moren.
'We're seeing more opportunities outside London, with projects under way in Manchester and Aderdeen and opportunities in Southampton and Bournemouth,' says Jacqui Kirk, director of business development at the practice. 'We also designed Leeds' tallest hotel, the 14 storey Hilton Leeds Arena, which is on site.'
In Birmingham, the HS2 rail project is ­unlocking strategic sites, ripe for hotel developments. And in London, schemes are springing up across areas that have not traditionally included hotel accommodation, such as Shoreditch and Stratford, with a significant amount of new stock on the budget side as low-cost chains look to widen their offer. Developments are also growing around planned Crossrail stations.
Guests will check in using their smart phone and then use it to control the room's lighting and temperature, and control the TV or radio
The budget sector is outperforming the mid-range, boutique and luxury hotel sectors across the country, as business and leisure travellers continue to seek out competitive rates. Significantly, Premier Inn announced late last year that it planned to build an impressive 170 new hotels in the UK by 2018.
'Budget hotel developments are attractive because they are simpler to build, and there are fewer constraints in terms of where you can site them,' says JLL's Galvao Pinto. 'But when you move up to the higher level you need to attract a higher room rate to support an investment, and a higher rate constrains you to city centres, major business locations, or airports where there is less opportunity to build.'
The budget sector is moving towards smaller 'cabin-style' bedrooms, with clean basic finishes and more focus on the hotel experience, with free wi-fi, connections for handheld devices, a comfortable bed, quality shower and branded outlets for food and drink inside the hotel.
An example of where things might be going is Hub by Premier Inn, due to open in St Martins Lane central London in September. This 'space efficient' hotel will feature 11.4m2 rooms, with a desk that slides into the wall, luggage storage under the bed, a large flat screen TV and power shower. Guests will check in using their smart phone and then use it to control the room's lighting and temperature, and control the TV or radio. A similar product will be provided by the Moxy hotel brand, recently set up by Marriott Hotels to cater to 'millennial global nomads' – tech-savvy travellers on a budget, who want fairly standard bedrooms with high-speed internet, communal spaces and remote check-in.
'Hostels are also breaking into the budget hotel market, providing trendy accommodation for travellers aged 16 to 50. Generator is an example, with branches across Europe expanding quite quickly,' says Niall Canning, JLL director in the hotels and hospitality building and construction team. 'Many major hotel brands have already launched lower value market brands, viewing this as a significant area of growth.'
A lack of suitable development sites, particularly in London, has meant - or 5-star luxury hotels are increasingly focused on refurbishments or change of use conversions. One such is the iconic Admiralty Arch on the Mall, which will be turned into a 5-star hotel, plus flats and a private members' club as part of a government drive to sell off some of its estate.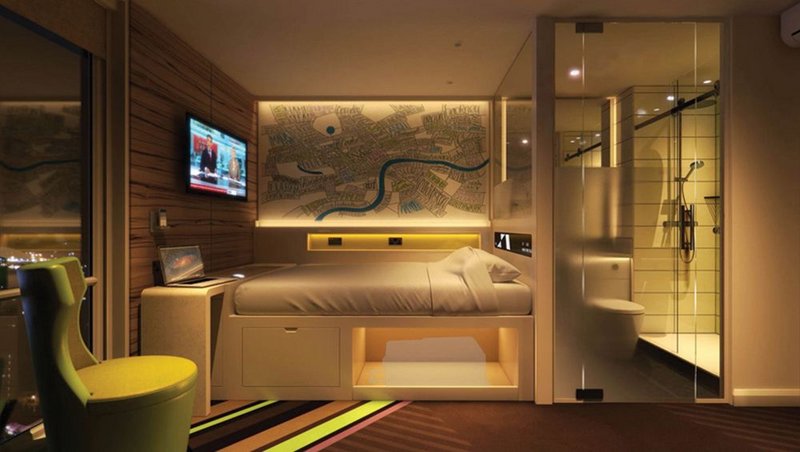 Visualisation of a capsule room in Premier Inns' new Hub hotel, soon to complete in London's trendy St Martin's Lane.
Many would argue that architects have a responsibility to re-use buildings, in line with pressing sustainability requirements, and it takes a certain type of creativity to envision how existing room layouts, service and circulation routes can be adapted to create a functional, comfortable and economically sound hotel.
'The good thing is hotels require only a limited variation between rooms, so they can work for almost any building type, from offices to public buildings, we even helped convert a disused listed prison (and former castle) in Oxford to create the Malmaison Hotel for the Trevor Osborne Property Group,' says James Dilley, head of interior design at Jestico + Whiles.
Architect 3DReid has built its reputation on breathing new life into existing buildings and its hotel refurbishments have revolved around estate or resort properties, such as Turnberry in Scotland, the listed Cameron House on Loch Lomond for luxury brand DeVere Deluxe and the Belfry Hotel in the West Midlands, after its recent acquisition by US owner KSL Capital.
'Post recession, there is a lot of distressed property coming onto the market that can be repurposed for hotel use,' says Mark Bruce, hotels divisional director at 3DReid. 'Architects well versed in hotel operations, with a strong understanding of different standards and guest expectations, can craft vibrant and enticing places to stay that work efficiently from an operational perspective and commercially. As with KSL, there are newcomers to the market, often from overseas, with the capital and vision to take whole portfolios or individual trophy assets and turn them into something special.'
Competition for city development sites is fierce, particularly when hotels are up against residential schemes, which typically generate more value per square foot and satisfy council requirements for new housing. Having a good architect on board can make or break a hotel project when it comes to feasibility assessments.
'We work with developer clients, preparing feasibility studies. Often we go in with an aspiration for a hotel or a residential scheme, and the one that stacks up financially is the one they go for,' says Dexter Moren's Kirk. 'An interesting sector is residential serviced apartments [flats used as quasi hotel accommodation by business and leisure visitors for periods of less than 90 days] which straddle the two sectors.'
Dexter Moren is developing an extended-stay concept hotel in Whitechapel as part of a £16m mixed-use development due to open next year. The Urban Villa will offer 220 bedrooms with flexible self-catering facilities and Manhattan loft-style common areas.
Extended-stay is one of the fastest growing hotel sectors in the US and Asia and the hybrid of hotel and serviced apartment block has lower overheads for the operator and better occupancy rates, because business clients stay during the week and tourists can check in at weekends.
'We have seen a lot more imagination by developers in their interpretation of the C1 Use Class for hotels, hence the emerging trend for serviced apartments,' adds Galvao Pinto.
Councils and planners generally look on hotels favourably when they are part of mixed-use developments and some schemes require the C1 Use Class to help generate employment and revitalise areas. 'In terms of design, we're seeing hotel schemes with much more emphasis on externally-facing restaurants and bars to help create social activity at street level and attract interest from locals,' says Galvao Pinto.
An example is the recently-completed 10 storey W Hotel on Leicester Square in London, by Jestico + Whiles, in a mixed use scheme of residential accommodation, leisure facilities and ground floor retail space and restaurant. 'It was a difficult location architecturally and in planning terms, but it had that vitality to exploit the 24-hour bustling location,' concludes Dilley. 'It was the right place for a hotel.' •