JDDK Architects for Northumberland National Park Authority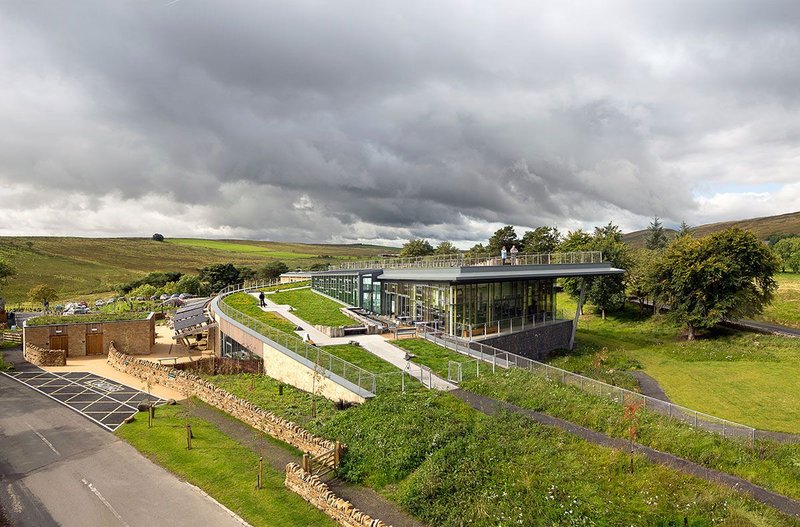 The Sill Aerial View

Credit: Sally-Ann Norman
Named after the adjacent Great Whin Sill, the volcanic crag on which Hadrian's Wall is partly built, this building is part of a seven-year investment plan to increase visitors to Northumberland National Park and Hadrian's Wall World Heritage site. The 3070m2 facility features exhibition, learning and event spaces, a local produce café, rural business hub, a small youth hostel and a local crafts shop.
But the building is an attraction in itself. The result of a truly local enterprise, with more than 3,000 residents involved in the community consultation, the most striking feature is Whin Sill's grass roof, planted to replicate the natural grasslands of the surrounding area. Sweeping gently upwards, it gives visitors a bird's eye view of one of the UK's most magnificent landscapes and Hadrian's Wall.
The building also targets a BREEAM Very Good rating, including orientation to maximize solar gains in some of the public spaces, with offices placed to the north to prevent overheating. A central atrium provides daylight while allowing a summer time natural ventilation strategy. The south facing entrance canopy provides solar shading to the glazed frontages of the classrooms and main entrance while also supporting photovoltaics for generating electricity. Solar panels on the Youth Hostel roof provide hot water.
Since it opened the Sill has received 50% more visitors than anticipated, the youth hostel is booming, local employment has been boosted and produce suppliers have seen an upturn in their revenues. As a welcome shelter, it sees even Hadrian's Wall visitors staying longer.
---
Credits
Client Northumberland National Park Authority
Project tenant Youth Hostel Association
Architect and lead consultant JDDK Architects
Landscape architect Glen Kemp
Green roof advisor & plant supplier Cumbria Wildflowers
Botanist Janet Simkin
Project manager, cost manager and principal designer Gardiner & Theobald
Planning consultant Cundall
Civil and structural engineer Patrick Parsons