Sou Fujimoto revives former ryokan in Maebashi, Japan, by creating a soaring concrete 'living room for locals' and inviting artists from around the world to design bedrooms and site-specific artworks
At one time, the name Maebashi was synonymous with one thing in Japan: silk. For centuries, the small city in Gunma Prefecture, wrapped in hot springs and mountains, flourished as a global silk production hub, creating Japan's first modern silk factory and fuelling the nation's modernisation.
Although its silk industry has declined, the city continues to innovate. Now home to around 334,000 people, it is following a creative programme of urban regeneration that brings together contemporary architecture and art, food and culture.
At the heart of the project is Shiroiya Hotel, which opened in December 2020. Creatively masterminded inside and out by Japanese architect Sou Fujimoto, the hotel incorporates two buildings – a renovated empty 1970s structure that formerly housed a centuries-old ryokan inn, and a new space embedded in a curved grass hillside.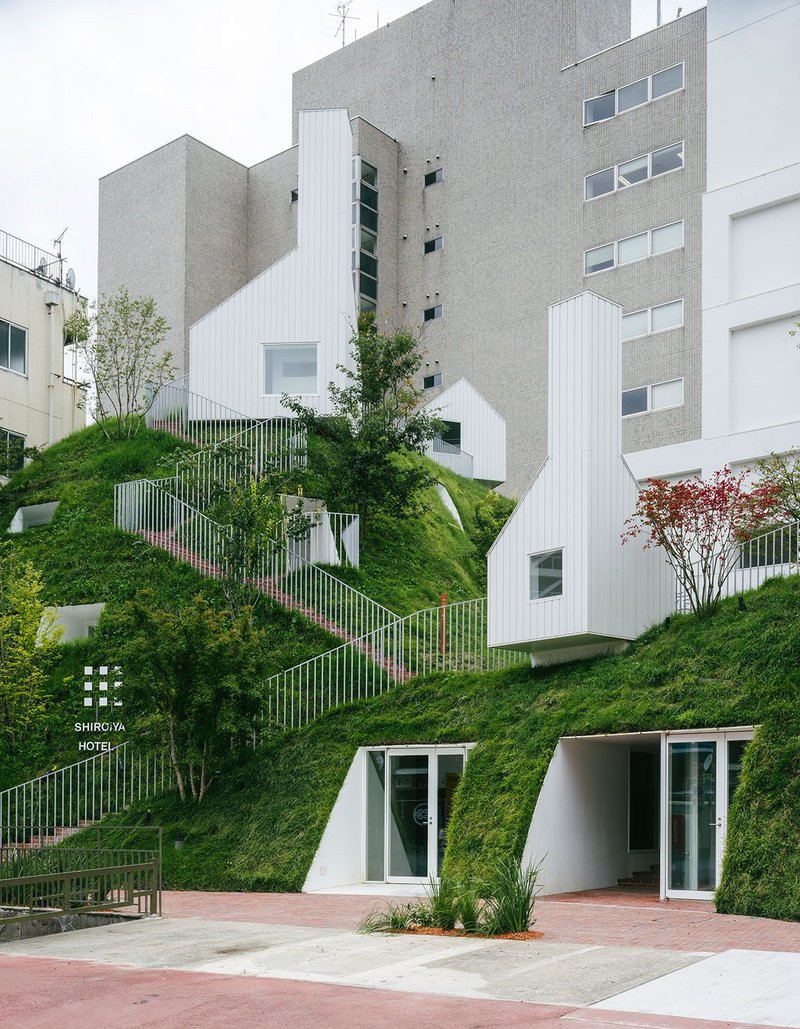 The Green Tower, a new structure created by Fujimoto resembles a small grassy hill, home to guestrooms, a sauna and hilltop artworks by Tatsuo Miyajima.

Credit: Daici Ano + Tomoyuki Kusunose
Fujimoto, famed for a minimalist purity of form harmonising nature and human-scale living, choreographed a raft of collaborators, from artists Yoshio Shirakawa and Leandro Erlich to designer Jasper Morrison. A key concept was the idea of establishing Shiroiya Hotel as a 'living room for the city' for both locals and guests, says Fujimoto. 'The hotel is a reinvention of the urban environment as well as the interior environment,' he explains. 'Inside and outside are not divided – we treated the interior design as though it's part of the urban setting and treated the exterior like a comfortable human living space.
'This is a hotel, so it's a place for the guests. But it's also a very important place for local people. I thought if we could create a space for both, people from across Japan and all over the world can meet with local people and they can all enjoy communicating with one another.'
The project was ignited by hotel owner Hitoshi Tanaka, CEO and founder of eyewear company Jins, who is enthusiastically rejuvenating his hometown Maebashi. 'It was young people in the city who asked him about the possibility of rebirthing this hotel, which was once a prestigious ryokan but had been empty since about 2008,' reports Fujimoto, who built his first residence, T House, in Maebashi in 2005, for Tanaka's brother. 'He thought it would be an interesting project – so he bought it and then he made a phone call to me.'
The idea of renovation – rather than demolition and rebuild – was set from the start, with Tanaka keen for Fujimoto to balance local memory and a new creative energy.
'Right after the phone call, I went to see the building,' says Fujimoto. 'It was just a really normal four-storey concrete structure. I felt that if we just did interior design renovation without touching any structures, it would not be special. So I immediately found myself imagining demolishing the floors, while keeping the frame of the structures, to open up the sky, with the sunlight coming down. This idea of excavating the interior was a very nice starting point.'
The 25-room hotel turns heads from the start, with a facade emblazoned with a bold text artwork by conceptual artist Lawrence Weiner, reading 'From the heavens, from the prairies, from the sea, from the mountains'.
Inside the Heritage Tower, after passing a Hiroshi Sugimoto photograph hanging on raw concrete behind the front desk and a monochrome duct tape Ryan Gander artwork, it's clear the hotel's heartbeat is its atrium. Spanning four dynamically excavated levels, Fujimoto made the whole structure 'lighter' by removing internal columns as well as walls, floors and ceilings (discreetly reinforcing some remaining columns with carbon fibre fabrics).
The result is a 15m high minimalist shell, in which empty space feels as critical a protagonist as the structure itself, with a rough concrete frame tempered by white walls, a spiral staircase and red brick herringbone floors (hinting at Maebashi's silk warehouse heritage).
There are tumbling expanses of plants; a large communal wooden table by Naoto Fukasawa for Maruni; Alvar Aalto's Cantilever chairs for Artek; a caramel Rodolfo Dordoni sofa; Arik Levy's Vibia lighting; and silver textile artwork Lightfalls by Yoko Ando flowing down an entire wall. The space is further dissected by the tubular artwork Lighting Pipes by Leandro Erlich.
'The atrium was very special, but an artwork really brings it to life,' believes Fujimoto. 'Leandro visited the site when demolition and construction work had already started – and the idea of the ghost of the pipes came to him.'
He added: 'His father was an architect so he was already a link between architecture and art. He really respected our architectural concept for the space and tried to create a beautiful harmony with his artwork.'
The Heritage Tower guestrooms are individual in layout, with each showcasing the work of a different artist, from Hiraku Suzuki to Chiharu Shiota. Rooms share a minimalist aesthetic of exposed concrete, white walls and clean-lined modern furniture, their edges softened by diaphanous white curtains by artist Ando and a Fujimoto-designed carpet inspired by concrete.
'This is an old building and we like to expose the existing structural slabs as much as possible,' says the architect. 'But we didn't want too much hardness. We needed to the balance the edges with softer comforts. We took the patterns of exposed concrete and put it on a carpet and it felt quite warm.'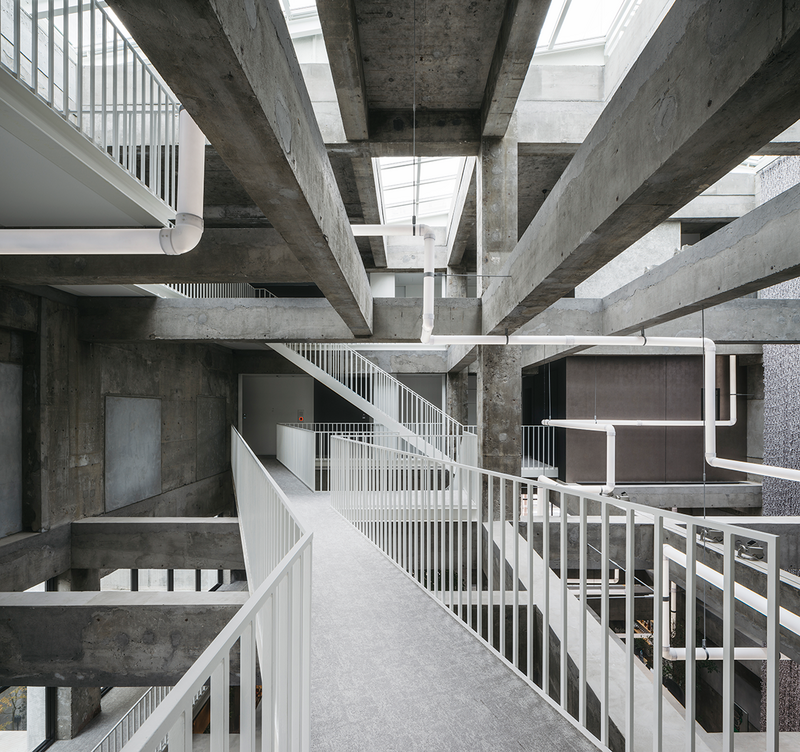 Guests can also enjoy a bird's eye view of the 15 metre-high atrium, walking among a network of pathways alongside Leandro Erlich's tubular installation.
Meanwhile, four special rooms offer entirely different experiences. Michele De Lucchi's room evokes a contemporary tea room, with a precise 2,725 black curved-edge wood shingles (traditionally used in roofing) lining walls, alongside glimpses of dark green walls.
No less serene is Jasper Morrison's room, inspired by the idea of an art crate. Guests are entirely cocooned in light wood, alongside crafted modern Japanese touches, such as a simple Isamu Noguchi paper lantern and a hinoki cypress wood bathtub. 'I wanted to make a wooden box to sleep in, having something of the atmosphere of an inside-out packing case,' says Morrison.
Erlich's bespoke room has a labyrinthine mesh of pipes flowing across walls and ceilings (right down to the towel hanger and toothbrush holder), in an intimate echo of the atrium; while Sou Fujimoto has created a peaceful minimalist white haven, peppered with a 'forest' of green plants in white tubular containers.
The concept of bringing the city into the hotel – and the hotel opening up to the city – is further personified by an art-lined public walkway that flows between the scheme's two buildings, linking the main front street to an intimate network of back streets.
'There was one level difference – about 3m or 4m in height – between the front street and the back street,' says Fujimoto. 'The back street has a really nice atmosphere, I love the small stream that flows next to it. It was important to recreate the atmosphere of the street here and understand the importance of the water here too – as Maebashi is home to Tone river, Japan's second longest river.
'So we imagined how before the architecture of the city was created, this area probably had a hilly landscape – and we decided to recreate this ancient topography. At the same time, we wanted to make a walkway that flowed and felt exciting to follow.'
This was the genesis of the new Green Tower, a curved grassy hillside into which are cut external staircases, doors and windows for eight further art-packed guestrooms. It's also home to a small Finnish-style sauna reached by a winding external pathway; a hut housing a meditative digital installation by Tatsuo Miyajima at the apex and an exposed digital counter by the same artist. Behind a discreet facade handcrafted from 100-plus layers of glass is the intimate dining space Matcha-tei, designed by New Material Research Laboratory, the architectural practice founded by Hiroshi Sugimoto and Tomoyuki Sakakida.
'The structure itself is made of zig-zagged, stepped concrete,' says Fujimoto. 'We worked with a manufacturer who had the technology to create artificial hills, using foam, and added about 10 to 15cm of soil to the surface.
'The tree roots need about 1m by 1m of space, so they are inserted into pods. For a few years, we need to cut the grass every two months but then it will be ok to leave it. Different greens will start to grow and it will become even more natural with time.'
The end result is a hotel that balances its environment with Fujimoto's bold structural innovations and the playful alchemy of a smooth mesh of creative talents. As Jasper Morrison says: 'The original hotel was quite a depressing, if not to say ghostly place. He went way further with it than anyone expected, in particular with the remarkable development at the rear of the building, and he managed to transform the whole place into something both architecturally interesting and entertaining.'
The hotel may be officially completed, but it's clearly a project that is destined to evolve organically, with numerous new creative collaborations, artworks and ventures already in the pipeline. Perhaps most tellingly, the hotel is at the vanguard of Maebashi's ongoing urban renaissance. During the six years it took to create Shiroiya, owner Tanaka completed several other nearby projects, including a small sweet shop by Jo Nagasaka of Schemata Architects, a seafood restaurant by Fumiko Takahama and a pasta restaurant by Ryuji Nakamura. And more are in progress: Fujimoto is already involved in a (still confidential) second project with Tanaka in Maebashi.
Fujimoto thinks that Tanaka, by embracing a strategy of scattering individual projects among local life rather than mass redevelopment, was not only putting Maebashi firmly on Japan's creative map, he was also creating a potential revitalisation template for other cities. And it's compatible with Fujimoto's own architectural philosophies: 'I always talk about the forest as a model for my architecture. The forest means a place where everybody can feel their own place – and can make their own relationships with others while keeping privacy if they like.'
Danielle Demetriou is a British writer and editor based in Tokyo