Mecanoo and shedkm have transformed a former university site in the city centre into a verdant housing scheme
When Adam Higgins of developer Capital & Centric first imagined the place that would become Kampus, he saw it as an apocalyptic vision, its 1960s structures subsumed by a cloak of vegetation, wild and ruined; and all three minutes' walk from Manchester's Piccadilly Station. It was likely influenced by the state of the 1ha site that Manchester Metropolitan University was offloading: the 1964 tower that had housed its business school, with concrete panels precariously held on by wire mesh; a lecture theatre; a caretaker's flat on stilts; and two old warehouses, one unused for 40 years and in quite a state.
The intimate green enclave that has emerged is a testament to that vision, though likely more palatable to the renters who no doubt prefer to walk to their flats rather than fight through vines with machetes. You find your way into the central courtyard or 'hidden garden' through narrow alleys. 'We made it almost too close,' Rick Splinter of Mecanoo explains. It is more plants than paving, silver birches, tree ferns, euphorbia and fatsia threatening to claim paths as they expand over the edges of the sandstone flags. A colonnade of newly exposed 1960s concrete columns sits in pools of plants, with climbers promising to colonise the structure further. Keeping the raised caretaker's flat – dubbed the Bungalow – allows glimpses through its stilts to the adjacent canal rather than a more formal framing.
After four hours criss-crossing Manchester city centre, I had seen three scrappy patches of green, some drearily deserted paved 'public' spaces and barely a tree. So it is clear why, in rational moments, green was one of a series of attractors that Capital & Centric identified to give character, value and a certain uplift in rents to this tall, super dense build-to-rent project of 533 homes.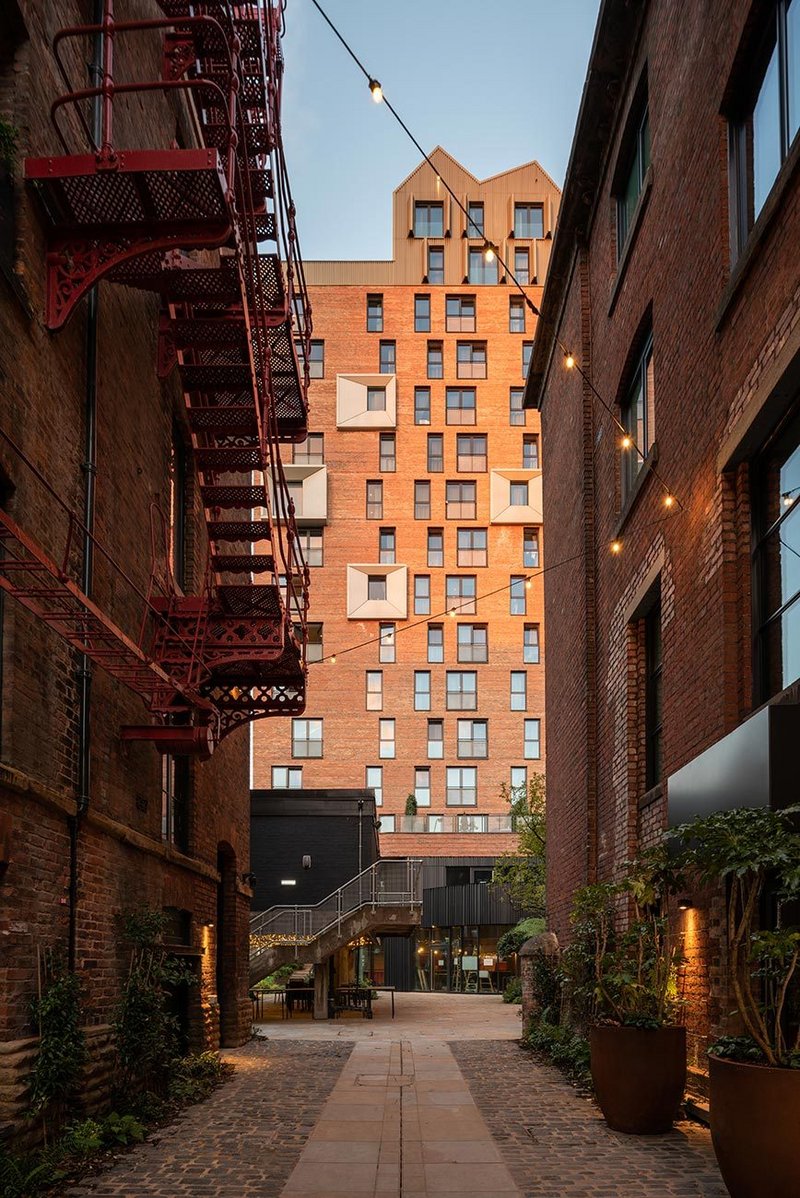 South-west entrance to the complex through Little David Street, which runs between the warehouse buildings and had been closed off for decades.

Credit: Greg Holmes
Residential use was not a given. The floor plate of the business school suggested commercial uses, and Higgins doesn't remember there being many large-scale residential projects in the city centre at that time in 2013. Likewise the build-to-rent sector was nascent with only a few built examples Higgins could find, even in London. But Higgins, his business partner in Capital & Centric, Tim Heatley and joint venture partner Henry Boot Developments decided build-to-rent was the best route, partly based on ease of financing for the £250 million scheme.
The Amsterdam rhythm of Canal Street, across the Rochdale Canal from the site, suggested there might be a Dutch influence to tease out, says Higgins. Delft-based Mecanoo, which then had a Manchester office, was engaged to masterplan and design the site. The density and massing is so different from traditional Amsterdam streets it seems a rather vain hope, but 'Dutch' houses perched atop two of the new-build brick-clad towers are a nod to it. Liverpool-based architect shedkm, a long-standing collaborator, was called in to deal with the old warehouses. And Chapman Taylor took the new build through to completion.
As well as bringing a topping of Dutchness, Mecanoo wanted to emphasise the small-scale experience of the pedestrian; Kampus is experienced on foot rather than when driving past. These are big buildings, the most dense in Mecanoo's office. They could have been denser. The strategic development framework had agreement for a 30-storey tower but, when it came to detailed planning permission, Capital & Centric settled for 16 storeys and three extra on the 12-storey business school.
Mecanoo wanted to emphasise the small-scale experience of the pedestrian
Mecanoo took cues from the city's surrounding Victorian buildings, borrowing the classical tripartite division. At the base, the podium has ins and outs, a colonnade and raking columns and a jettied warehouse and places to shop. And at the top, the specials of the Dutch houses snip the towers into a more airy formation, reducing the sense of bulk.
But the mid-section was more of a struggle to break down. There are red bricks with horizontal banding, windows staggered floor on floor, splayed reveals in white and a spattering of balconies on the reclad business school, some projecting, some inside the building line on higher floors. These are simple devices, relatively inexpensive though requiring extra thought through design into construction. They subtly animate the building and, compared to many of the other towers pushing up into Manchester's skyline, this is a friendly, relatable set of buildings.
In plan it is less easy to get excited about. The flats created have a logic and efficiency but renters will not be paying for special spaces but for the location and neighbourhood. The exceptions are the warehouse flats. They borrow texture and character from the brick walls and cast-iron columns (exposed floorboards had to be covered up post-Grenfell), add blocks of yellow opening up spaces and choose pleasure over super efficiency (though I am assured they still manage 70 per cent net to gross, not far behind the 80 per cent of the new builds). Both buildings have clever, tightly worked circulation, and the flats have apparently effortless plans that look easy to live in (the coordination of the exposed services is pretty spot on too). Shedkm has tackled the issue of small windows by amalgamating some existing ones and taking others down to the ground. On the narrowest of the warehouses, flats overlook the canal while windows are taken out to create open access decks. Pulleys, fire escapes and cobbles bring an energy to the reopened Little David Street.
As we leave one, a tenant comes out, clutching his nervous dog. I am interested in whether living in a specially designed build-to-rent development like this really makes a difference, but not so far – he has yet to meet his neighbours, use the residents' gym or find out about the residents' Dutch house and terrace with its mini cinema and entertaining space (which is still to get up and running). Instead he wants to know about a co-working space, which is not really part of the plan. This build-to-rent is not about building a community through communal facilities, it is more about boosting a neighbourhood to attract renters.
Higgins reports that the flats have the highest rents in the city, £1,700-2,300 a month for standard two beds, £5,500 for a two-bed flat in one of the Dutch houses. Eighty per cent of the value for the joint venture lies in the apartments, 18-20 per cent in the ground-floor commercial tenants. Capital & Centric is augmenting an already energetic piece of city centre, the Gay Village of bars and clubs, the flows from Piccadilly Station, and from Pollen Bakery and General Stores (both successful enterprises born in the regeneration of Ancoats), and green surroundings. There will be events and happenings in the canalside Bungalow. With the inevitable churn of renters (average age 31) moving on, Capital & Centric will have to keep attracting people to Kampus to keep the flats let. But so far that is looking easy to do.
In numbers
Cost £250m
Area 44,000m2
Credits
Client Capital & Centric and Henry Boot Developments
Design and landscape architect Mecanoo
Architect for listed canal warehouse buildings Shed KM
Landscape architect and delivery architect for new build Chapman Taylor